Our Tiny House Build – Progress To Date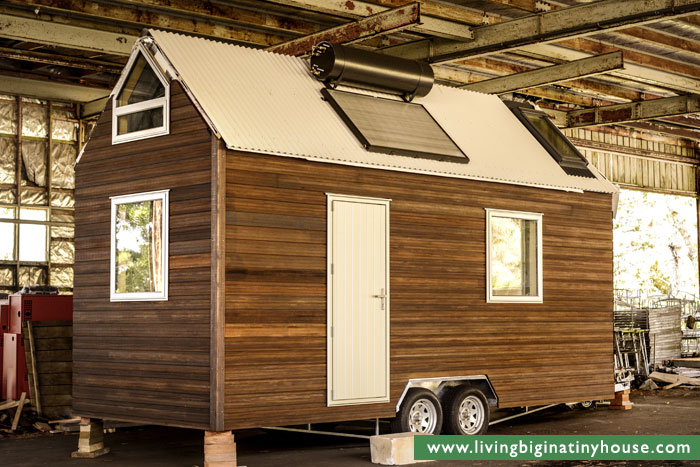 When we first started down the path of building a tiny house, I thought that because of the small size of the house it would be a quick and simple job. After all, how long could it take to build a 15 square meter (161ft²) home? How complicated could it be? After our first few design meetings with our architect Johann and designer Eddie,  I already began to realise just how tricky it was going to be (especially trying to stay as close as possible to the living building challenge), how much research would be involved (with the best, eco-friendly materials to use that will also keep us underweight) and then how much time it would take to actually go through all the stages of construction. After all everything that you need to consider when constructing a full size house needs to be take into consideration in a tiny house build and more.
You still need a bathroom with all features, a functional kitchen, living room, entertainment, bedroom, joinery, plumbing, wiring – and then because it's a tiny house you also need to look at trailer, tires, brakes system. We're off the grid, so water collection, tanks, fireplace, composting toilet, solar panels, water heater, wetback, charge controller and batteries have all needed to be extensively researched and chosen also. All in all, what I thought would be a very simple project, very quickly got very complicated. Add to that the fact that we have also been filming the whole process, and wow – what a journey!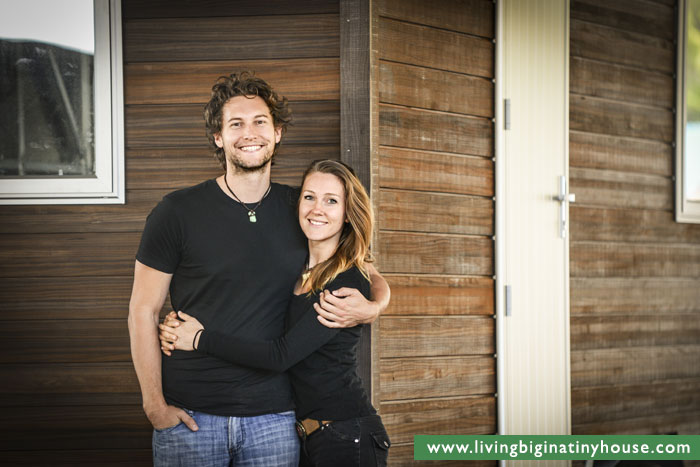 We are happy to report that we are now well under way with our construction and I'm feeling great about our design, the features and the materials that we are putting into our home-to-be. After over a year of planning and the first stages of construction, I wanted to do a quick summary of where we are at so far, and where to from here.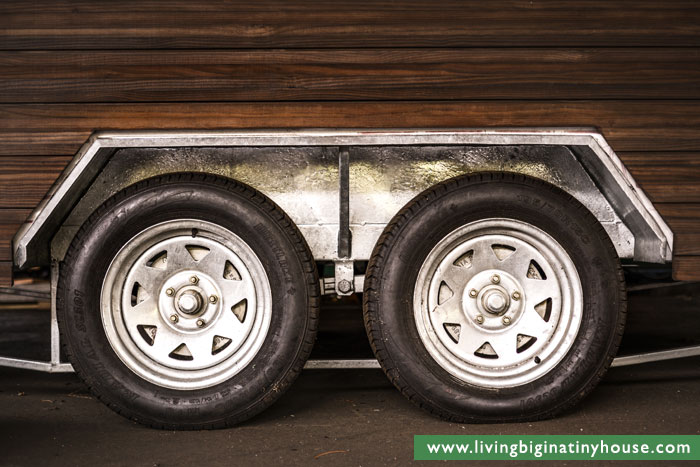 For those of you who have watched the videos on our trailer build, you'll know that this house isn't sitting on an ordinary trailer. Our custom design from the team at Monoway has (we think) revolutionised trailer design for tiny homes. From the special design of the outriggers to take the weight of the walls and roof and transfer them effectively back to the axel, the under-truss providing support to the frame, the commercial tires, the radio controlled electronic brake system and the galvanised finish, I am confident that our home sits on foundations that will stand the test of time, and travel.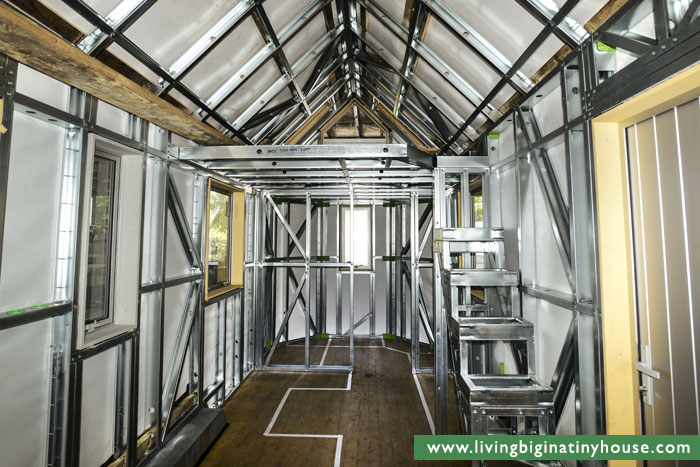 Inside the tiny house, our steel frame form FRAMECAD is holding the whole structure together. This allowed us to create a good size stud (90mm) whilst still staying very light-weight. The whole steel frame, including connections and fastenings weigh only around 550kg's and give the whole structure an incredible sturdy feeling to it. We have started using masking tape to draw out the floor plan and check if our design will feel good when we actually stand in the space. So far, we think we are on the right track when it comes to the internal lay-out. Our stairs (constructed as part of the framing) are incredibly functional, yet still tuck away gently against the wall. This is something that we will be featuring in a later video.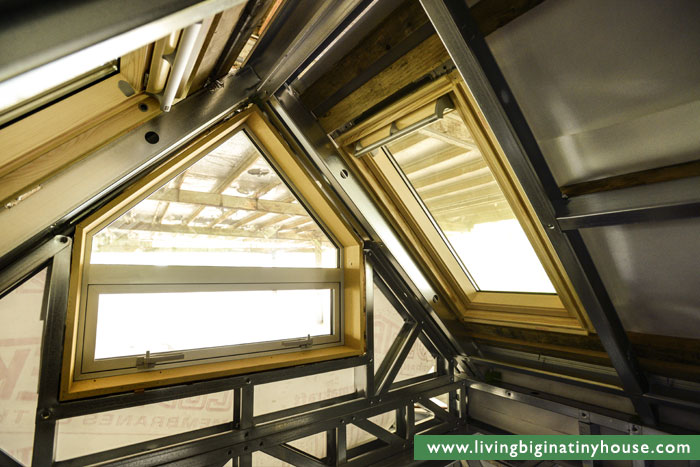 Inside the loft, our sleeping area is really beginning to take shape. The wonderful triangular windows form Windowmakers are fantastic feature that really helps to open up both ends of the loft area. They each have an awning opening window below the triangle which helps to add a lot of ventilation to the loft. Perhaps our favourite features in the loft though are our Velux Roof Windows which will allow us to watch the stars as we fall asleep or look out to the clouds when we sit in bed with a book. I can't wait for this cosy space to be completed.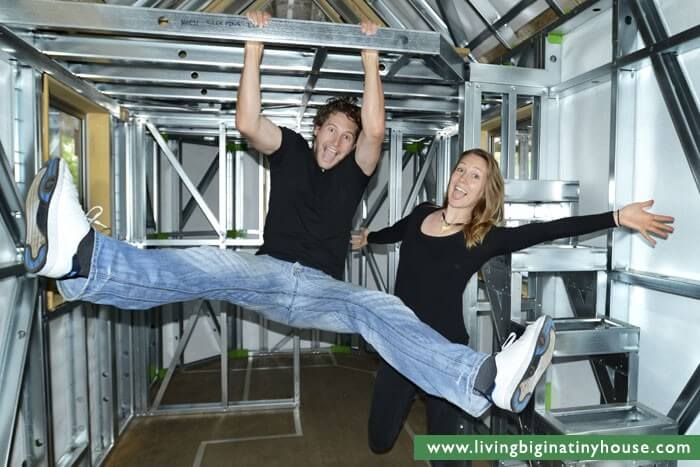 Overall, both Mel and myself are ecstatic with how the tiny house is coming together and we are incredibly excited to move to the next stage of our interior fit-out, which includes lighting, wiring, plumbing, fireplace, insulation and also the cabinetry.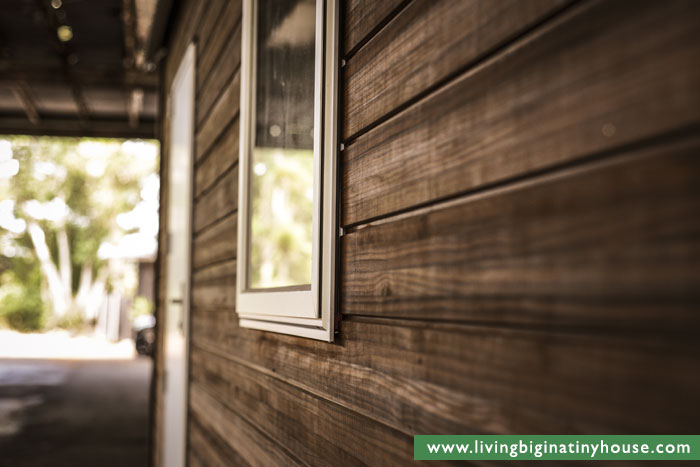 Back outside, the house is really beginning to look like an actual home! Alan and his team from BioBuild have been very busy installing the roof, fitting the joinery and installing the weatherboards. The weatherboards that we have chosen are Vulcan Plus Cladding from Abodo. This is a fantastic, sustainable, high performance and lightweight cladding for our home that provides a wonderful combination between a modern architectural profile and rustic warmth. We will be featuring this product in our next build videos as we show how to install them, so more information on that to come.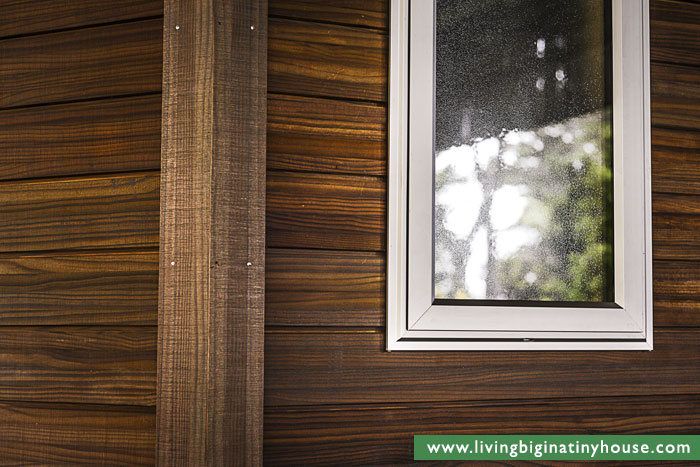 The BioBuild team are doing an incredible job and the house is looking wonderful from the outside. We are so happy how all the materials are coming together. With the anodised aluminium finish of the joinery, the rustic wood with the graphite oil and the white colour steel corrugate roof the aesthetics of the house are truly coming together even better than we had hoped for.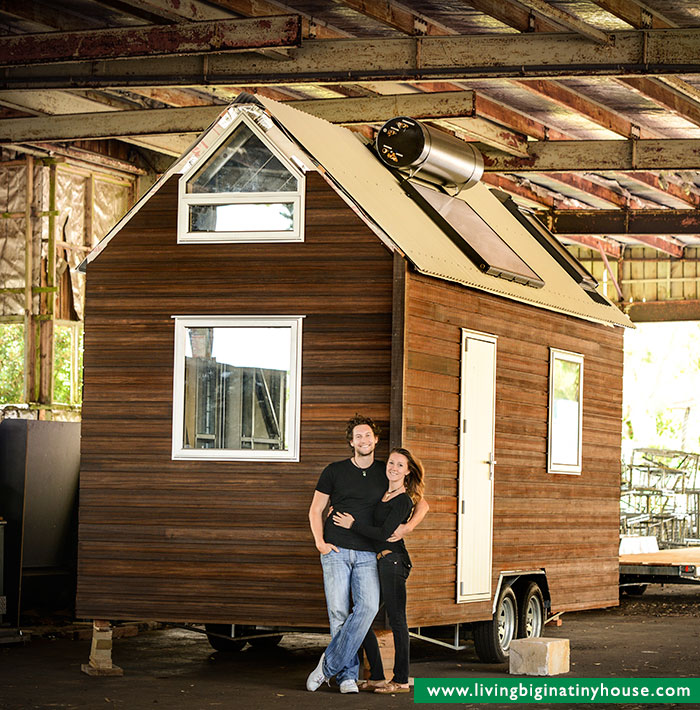 Our solar system install has also kicked off and the solar panel and tank are sitting in pride of place on the roof. Soon, the Solar Group team will be back to finish off the plumbing, and also install our solar panels. We have lots to share on our off-the-grid features and we are really excited to get into these topics in-depth for our videos.
A big thanks go out to all of the wonderful people who have been involved in our build so far. Building this house and creating the videos for Living Big in a Tiny House is an absolute pleasure and an experience that will last a life-time. Now close to the half-way point of the build I can already look back at the journey that has played out so far, and look forward to the adventures that lie ahead in finishing this wonderful little home. Most of all, I want to thank you, our audience for following our story and helping to make this all possible. It's certainly going to be an exciting few months to come!