• Tiny House
The Tiny Housewives Tiny House
Ness and Jess are two incredible ladies. After moving to New Zealand, they decided to begin their new life in a strange country by building a Tiny House on wheels. With minimal building experience but lots of passion, this dynamic duo have designed and constructed a true tiny masterpiece.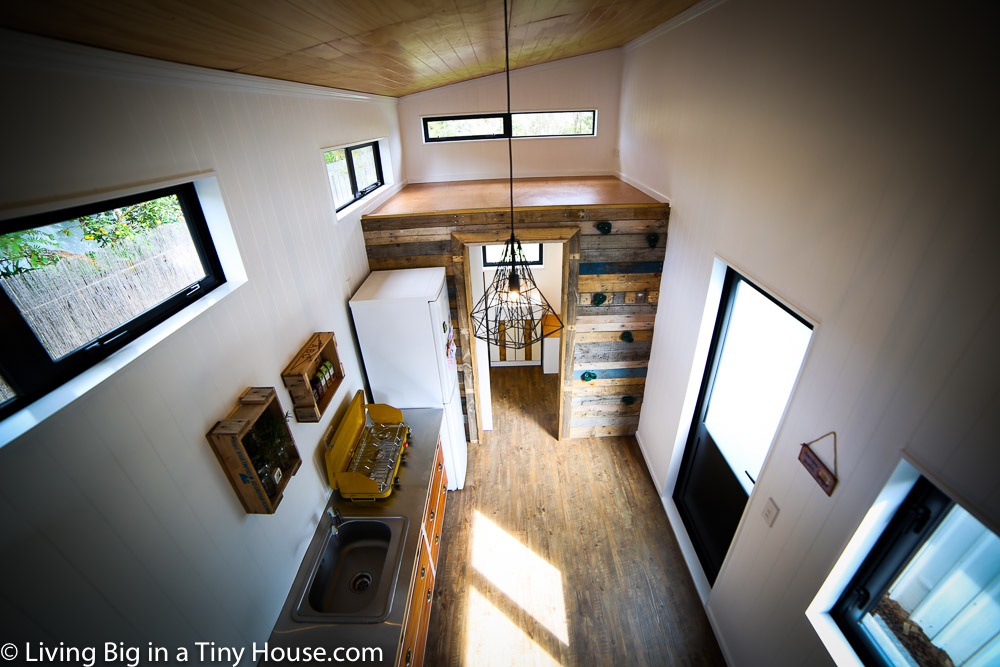 There's no doubt about it, this tiny house is packed full of great features and industrial design influence. Much of that character is testament to the couples resourcefulness, repurposing skill and eye for a good bargain.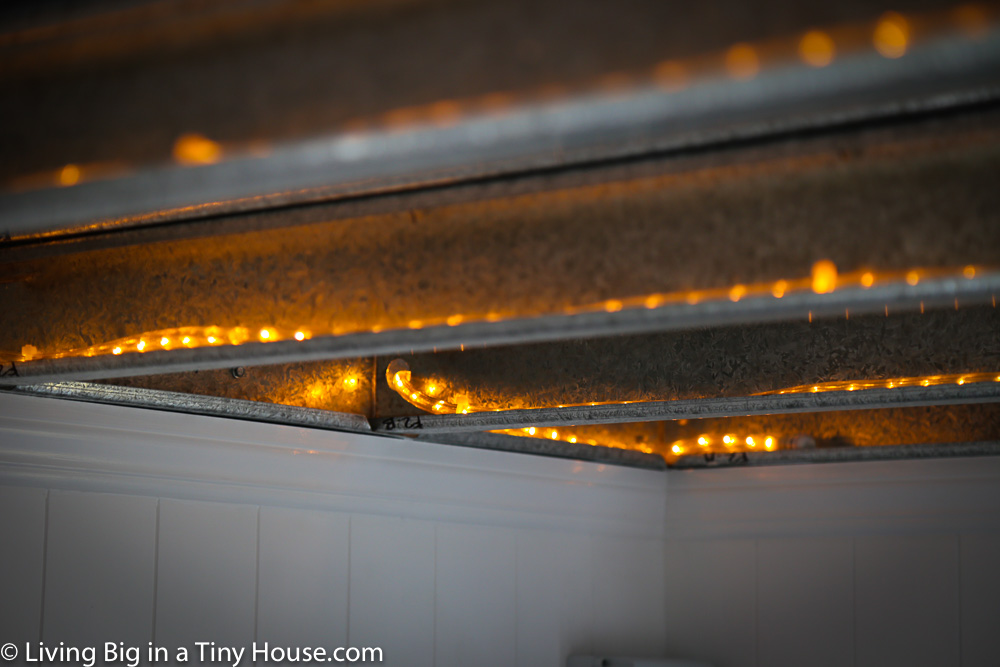 Elements such as the exposed structural steel beams that have been interwoven with LED rope lights help the home to not only build a bold impression but also somehow warms the raw nature of the materials and makes the cold steel feel like a cosy character piece for the home.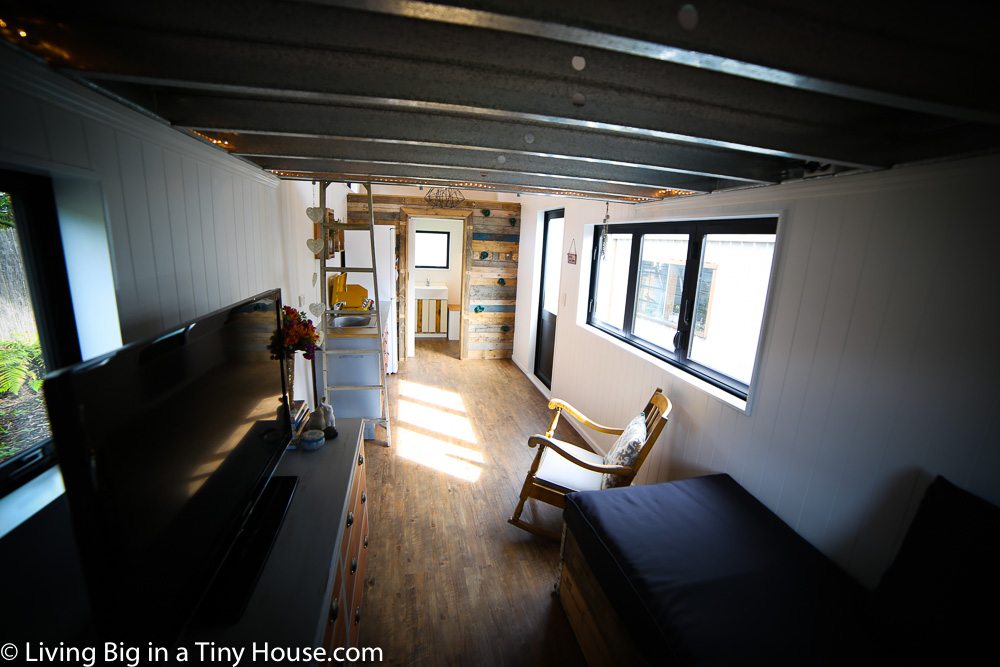 As far as tiny houses in New Zealand go, this one is quite large. At almost 8 meters (25ft) long, 2.5 meters (8ft) wide, and 4 meters (13ft) high, this little house on wheels carries a feeling of spaciousness all through it.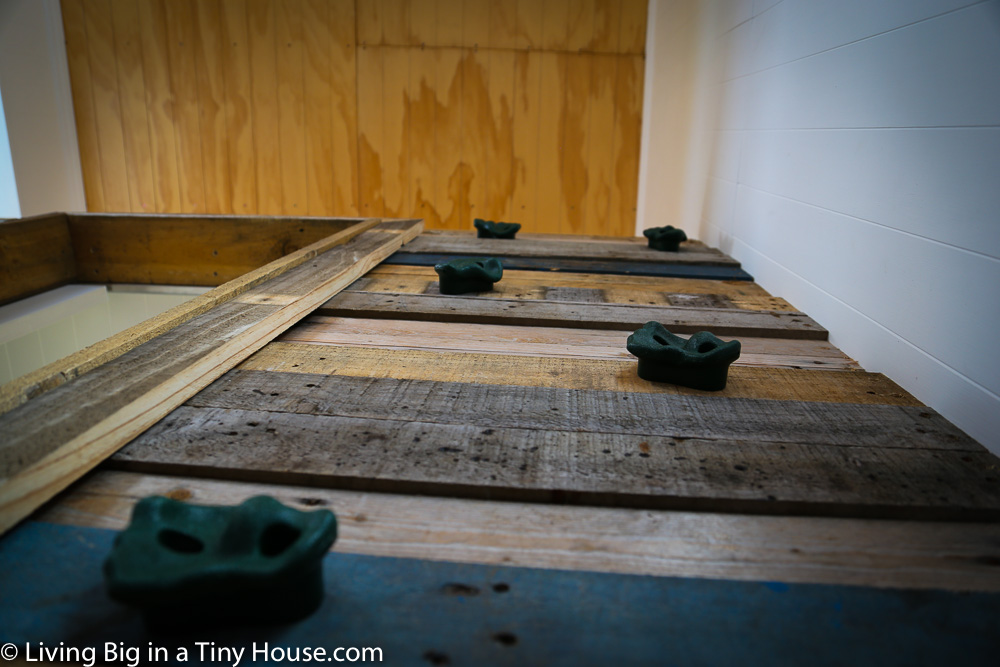 Quirky features such as the climbing wall help to bring even more uniqueness into the home, but also serve a very practical function. This particular walls provides access to the spare loft space (which the girls had intended for extra clothes storage) while also taking up minimal space when not in use.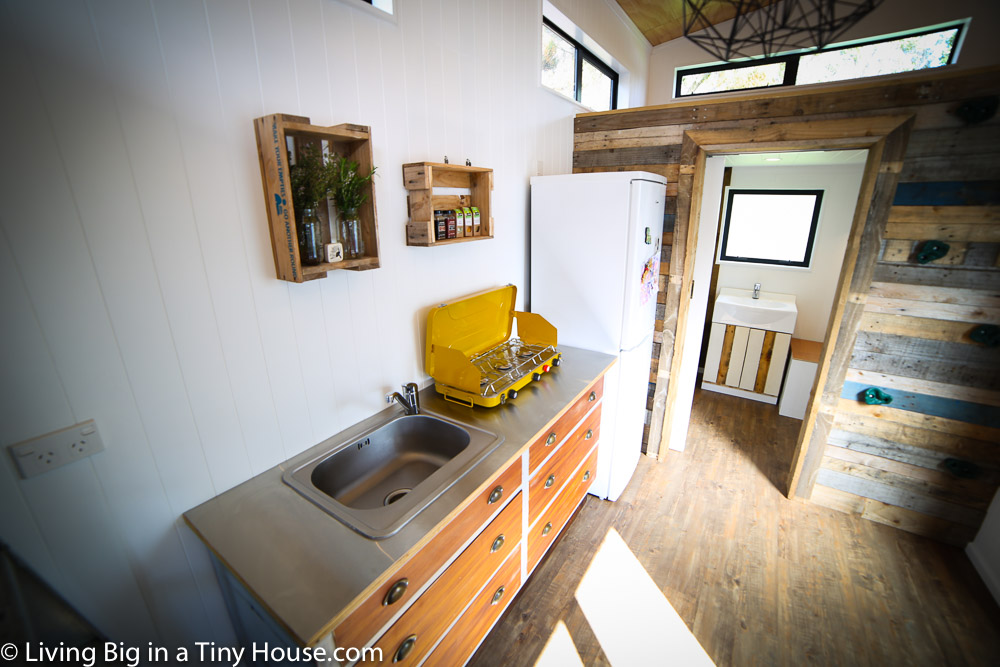 In the kitchen, the couples passion for repurposing and up-cycling becomes evident. An old dresser (whose twin lives in the lounge area) serves as the main cabinetry, while two old crates provide additional storage above for herbs and jars. The bench top was made from simple sheets of plywood (excess material from the mezzanine floor) covered with a sheet of steel.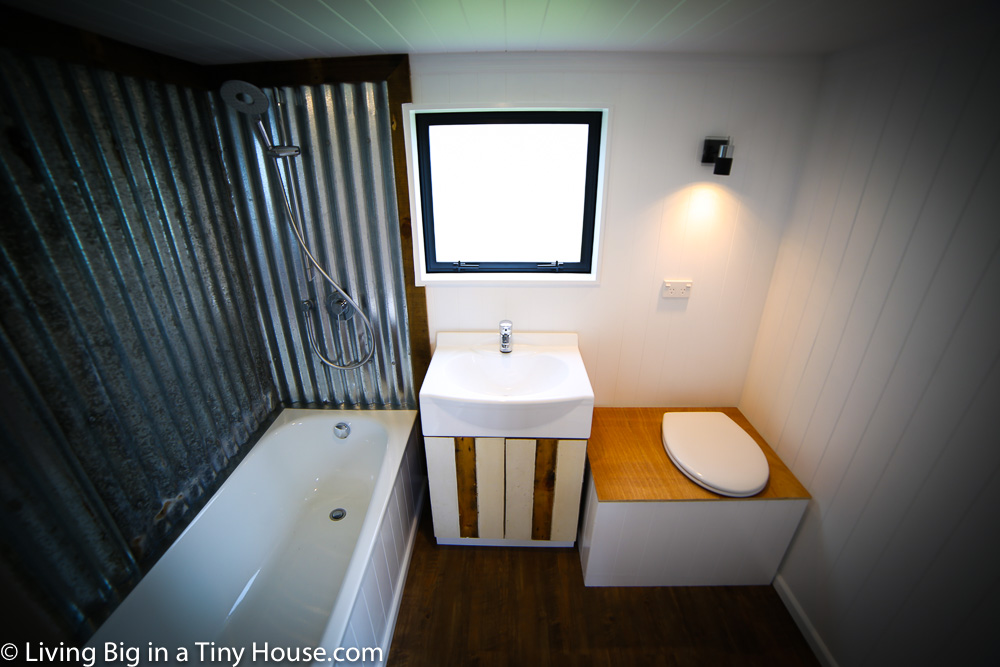 The bathroom is simple, classy and surprisingly large for a tiny house, even providing enough space for a full bathtub (one of the couples best deals and purchased for only $1 on the trading website TradeMe). A wash basin and simple composting toilet complete the room.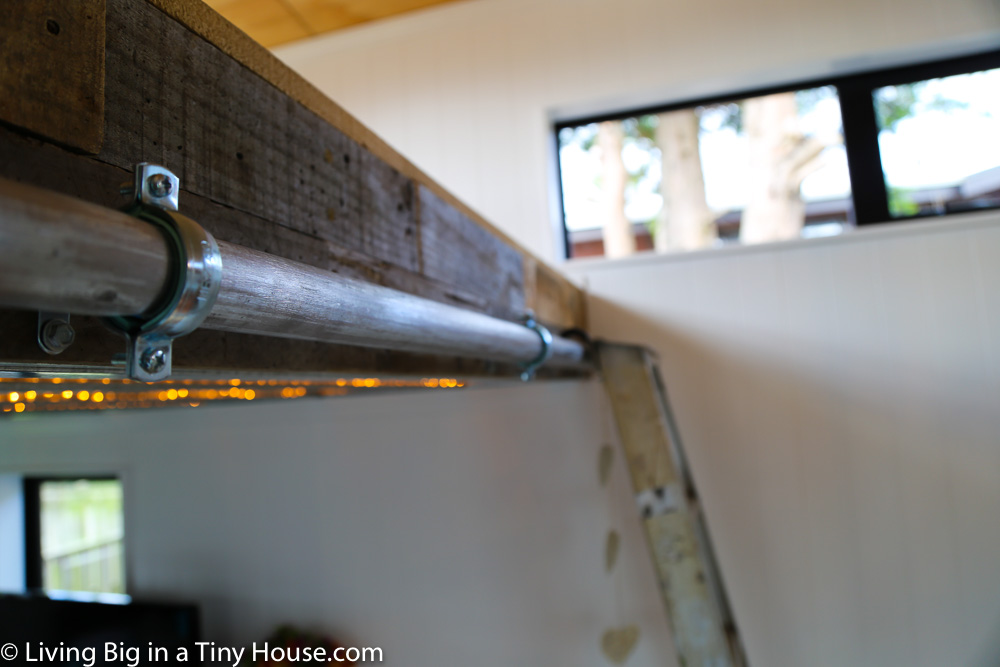 Desiring space and in an effort to keep the design of the house open and light, the couple opted for a simple library ladder style set-up for access to the sleeping loft.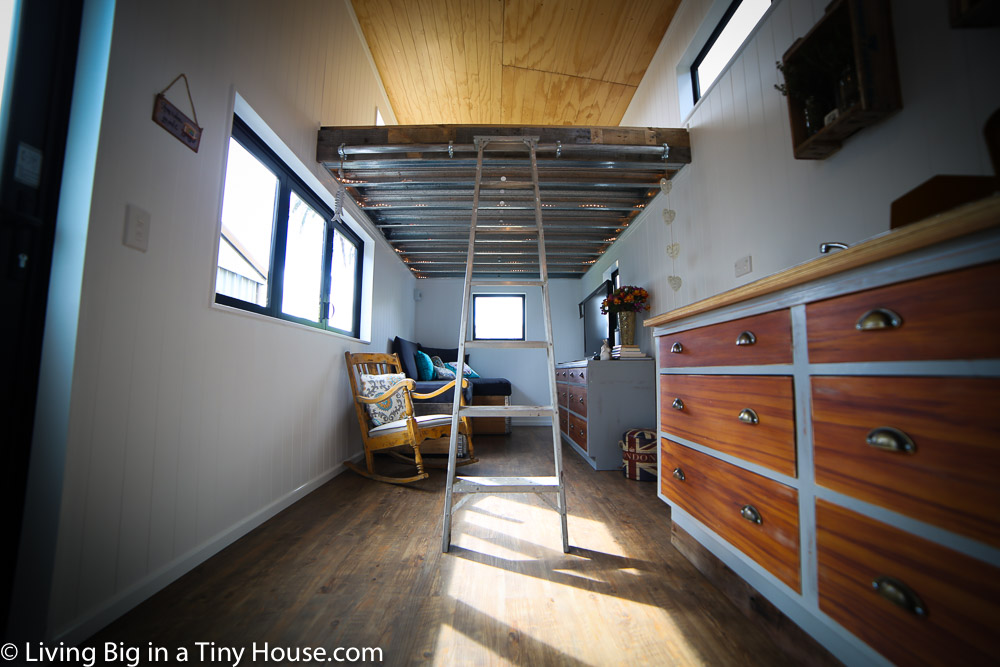 A simple old painters ladder has been repurposed for this task, and looks completely at home amongst the tiny houses many urban-loft-style features. Speckles of paint adorn the ladder and paint a wonderful picture of it's past life.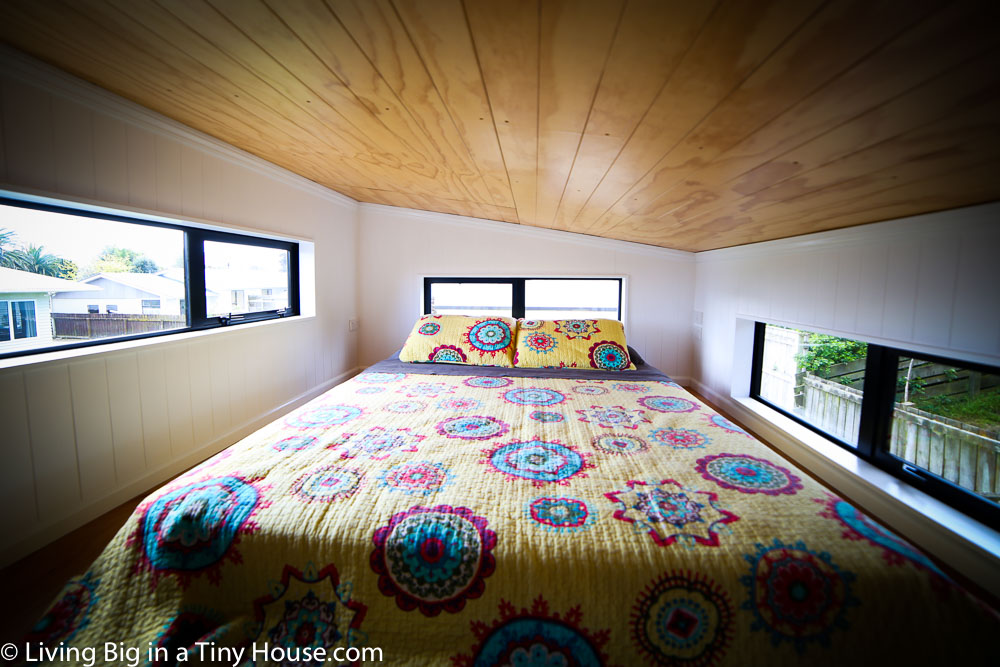 Upstairs, the sleeping loft is very simple yet has a wonderful open feeling thanks to the many windows surrounding the bed. Despite building a tiny house, Ness is usually no fan of small spaces, therefore extra care has been taken to ensure that the home never feels confined.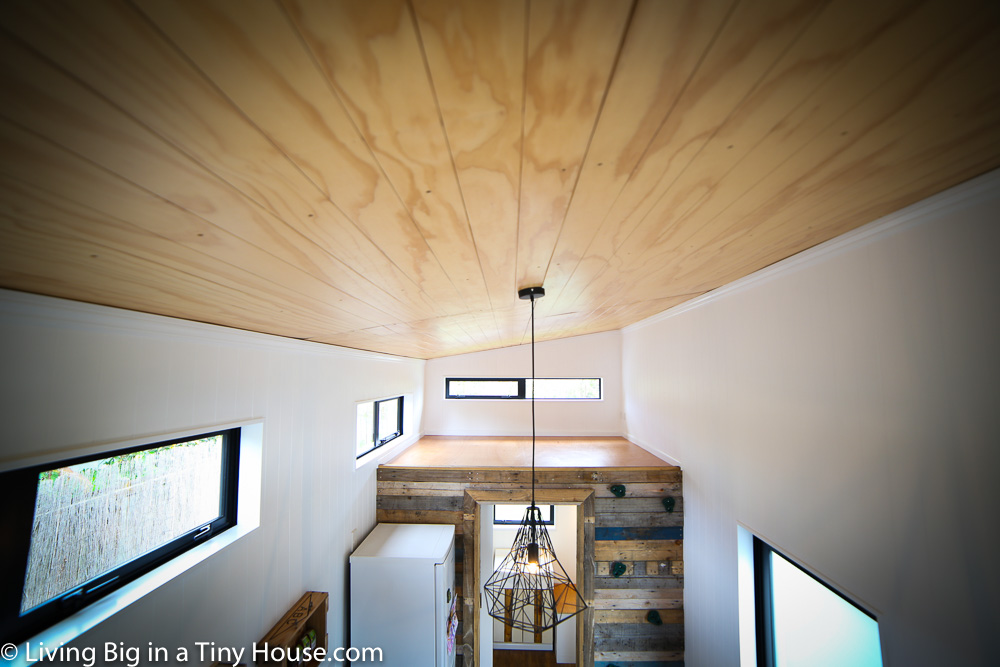 From the sleeping loft, there is an expansive view of the rest of the house giving the whole mezzanine an incredibly open feel, and allowing people to have private space when needed, but also not be totally disconnected from the rest of the house.
Underneath the sleeping loft we find the lounge. Again filled with decor reminiscent of a construction site, including the wonderfully up-cycled crates that Jess was able to find on her fathers work-site, and which Ness modified into a wonderful couch, packed with storage and comfortable cushions made from left over polyester insulation.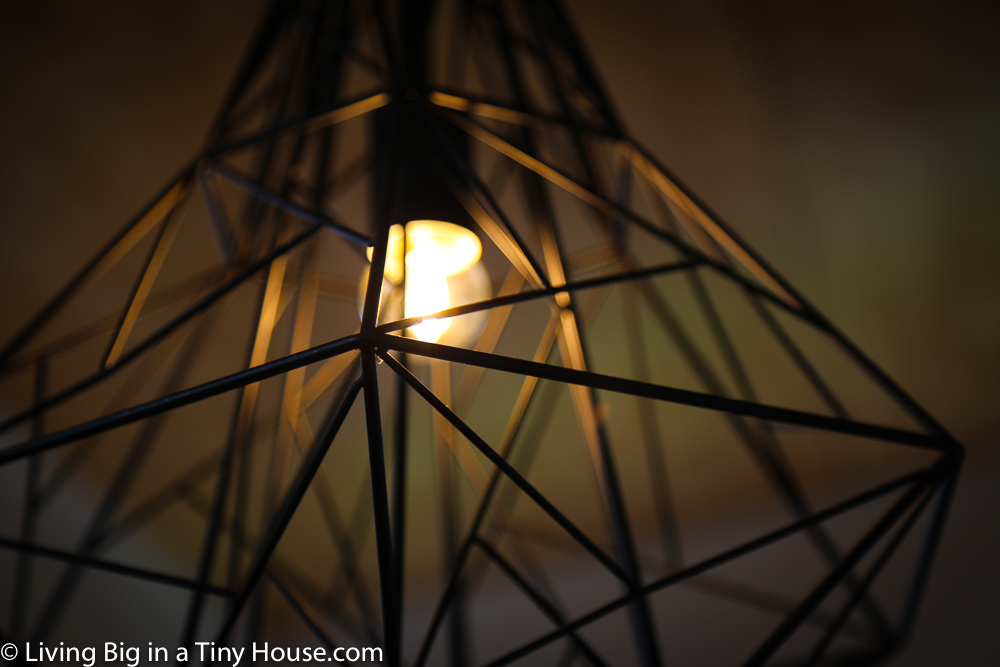 Everywhere you look, this tiny home is completely filled with the spirit of the girls. Art and tiny projects everywhere show off the creativity and talents of the two builders.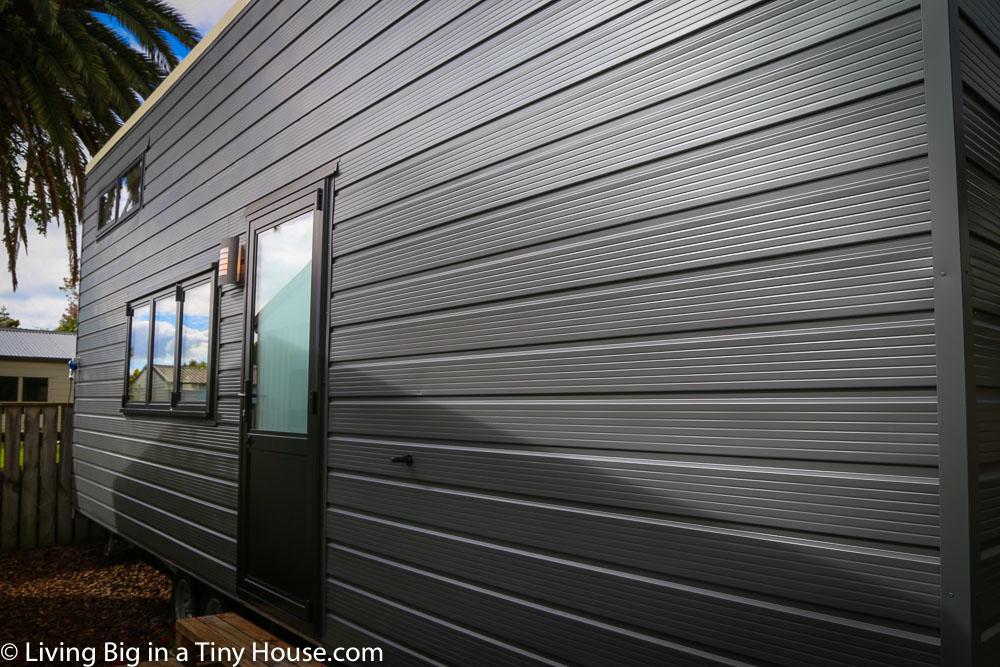 Outside, the home is modern and sleek. Many weight-saving features have been incorporated in this home, one being the clever use of a steel exterior cladding.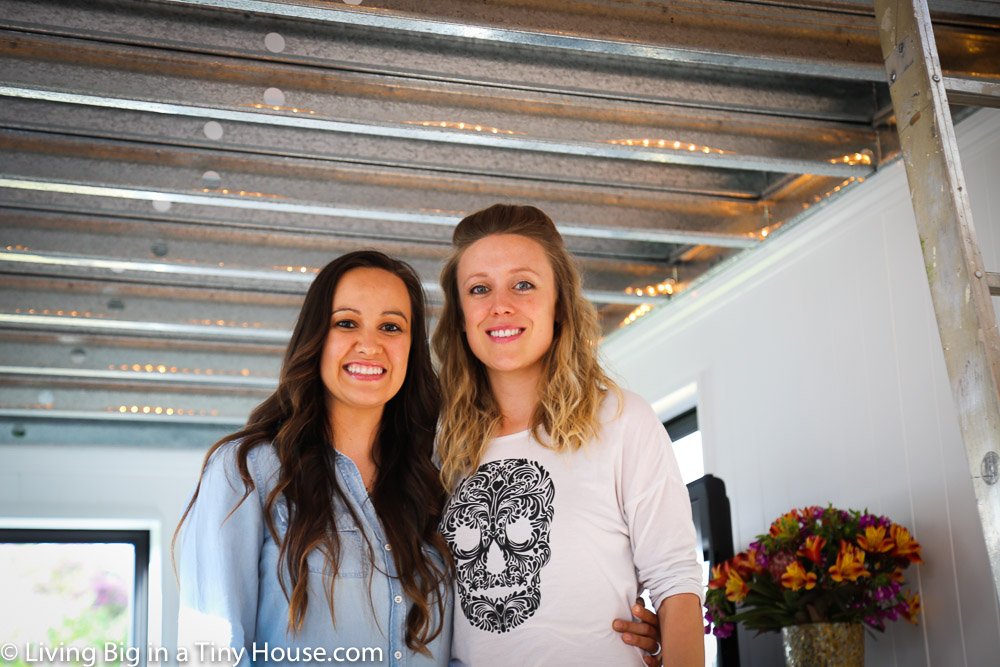 Jess and Ness are truly an inspirational couple. With no background in building they set about learning everything they needed to be able to build their own home. The couple are quick to thank YouTube for the abundance of resources and information which allowed them to learn the required skills. Their whole journey has been well documented on their blog, Tiny Housewives.