• Small House
This Small Passive House On Wheels Is Designed To Withstand Earthquakes
This small home on wheels is smart, modern, incorporates passive design principles and was even designed to withstand earthquakes! For those who love the idea of getting into an affordable home but are afraid that a Tiny House on wheels would be too small, this may be the ideal solution.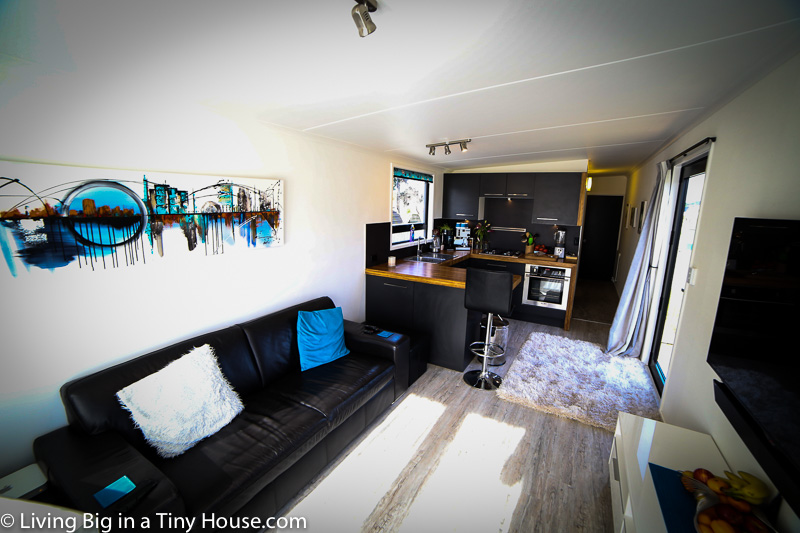 From the outside, the home's jet black exterior is modern and striking. Inside, the theme is continued with it's open, light and clean design. This house has been constructed using structurally insulated panels, which is becoming more popular due to their inherent strength, high insulation value and the convenience of construction.  The use of SIP's in this home is similar to a house we have previously featured on this site.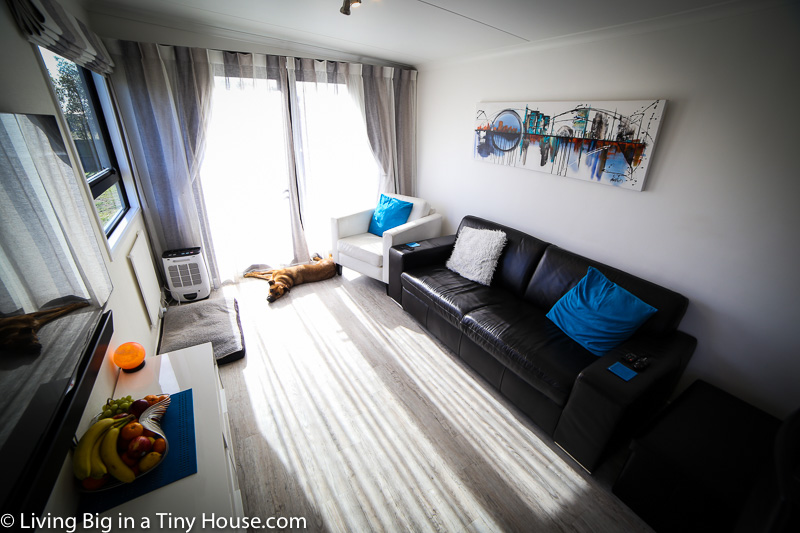 Interestingly, this home on wheels has even managed to incorporate many principles of passive house design. The construction is virtually air-tight, and utilises a super efficient heat-recovery ventilation system. Essentially, passive homes are designed to control aspects of the internal environment in order to make them incredibly energy efficient.
You wouldn't know it by just looking at the home, but it's actually sitting on a trailer which is hidden behind the removable  panels. At 13 x 3 meters (43 x 10 feet), this home is still highly transportable, although it does need to be lifted onto a truck in order to do so. The trailer it sits on allows it to be simply moved and relocated on the property, but were originally incorporated into the design to help the structure to become earthquake resilient, an important aspect to consider when you live in a town such as Christchurch, which has suffered from many earthquakes  and aftershocks since 2010.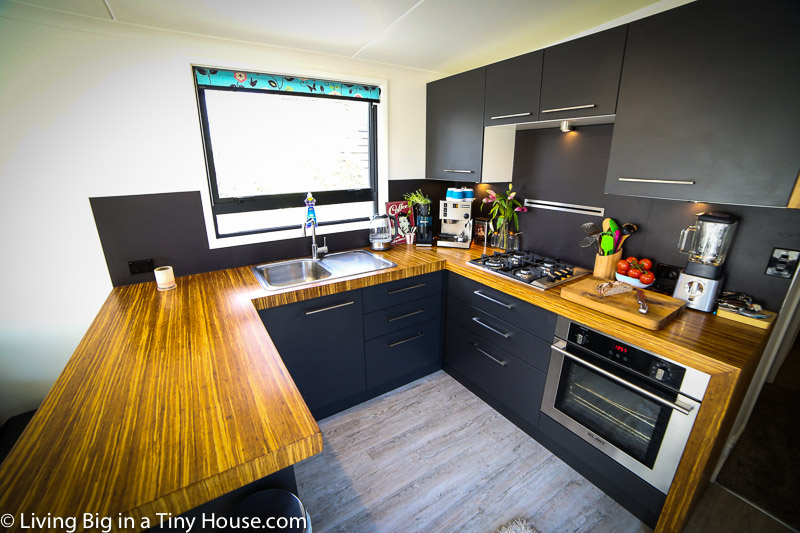 Although owner / builder Paul Hennessey is responsible for the practical elements of this build, all credits for the interior design are given to his wife Pascale who has done an inspiring job of turning this cleverly designed house into a beautiful and comfortable home for the couple.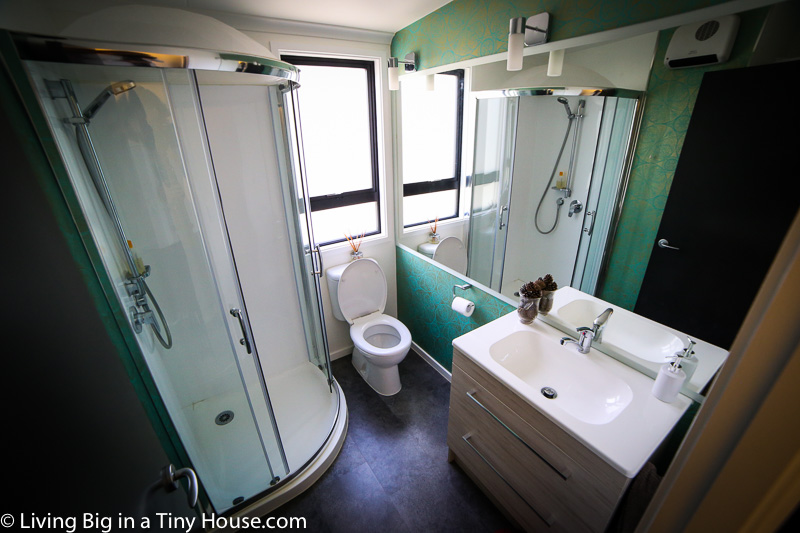 With one end of the home completely open plan, the other utilises a small hallway to lead to three other rooms. A small office (which could potentially be used as a child's bedroom, a bathroom, and master bedroom. Each room is lovingly fitted out and echoes the theme of clean modernism which runs through the house.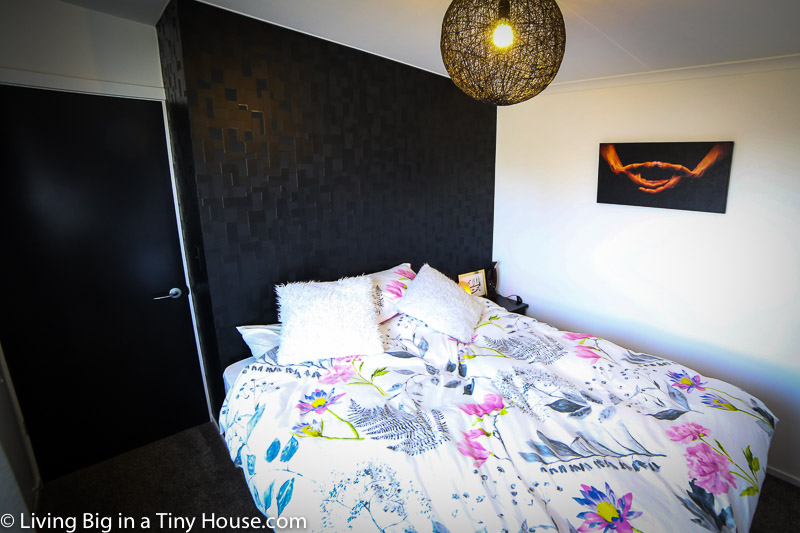 Despite being significantly larger than your average house on wheels, this home has still borrowed a lot from Tiny House design, such as this queen-sized bed which is almost entirely storage space under the mattress. It goes to show that even when working in larger spaces, we can still incorporate many design principles from Tiny Homes in order to efficiently use space.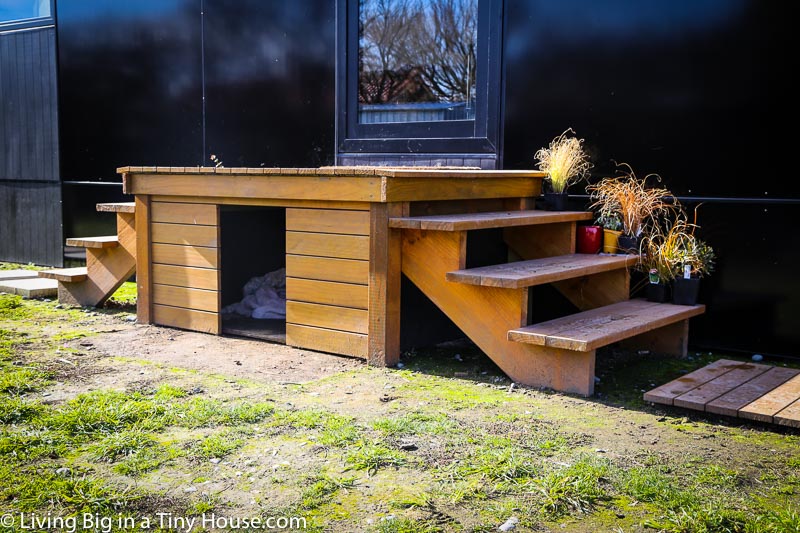 Even their dog Legend's home has been cleverly incorporated into the design of this house and his kennel sits brilliantly under the stairs which lead up to the homes main entrance.
Pauls work on this home is truly exceptional and his skill as a builder has brought to life a true model of cost-effective, modern, energy efficient design. For those who would like to know more about his work, you can visit his facebook page here.