• Tiny House
Living Big in a Tiny House: Our Traveling Tiny Home In North America
Together with the amazing team from Tiny House Chattanooga, we have built our very own tiny house on wheels in the United States of America! This incredible home on wheels is 16ft (5 meters) long and designed to travel while still being jam packed with clever design features which make it a fully functional home on wheels.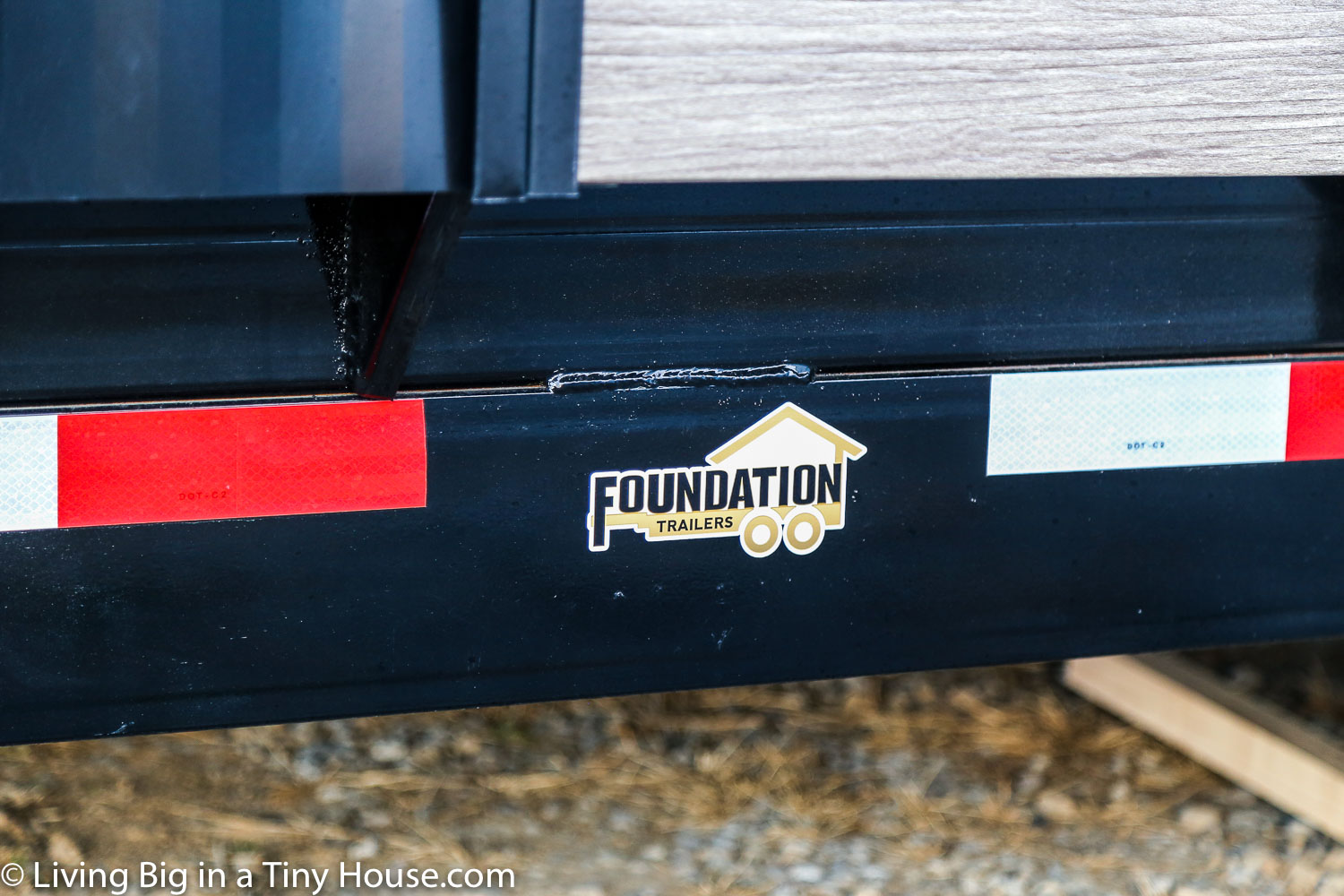 Because our tiny home is designed to live it's life on the road, the trailer was important to us. When on the move, a tiny house on wheels is subjected to some incredible forces and so insuring the home is well built and able to take the tremendous pressures of being on the move is of paramount importance. For that reason, we chose to build on a high-quality tiny house trailer from Tiny House Foundations. These trailers are designed by Mike Bedsole (from Tiny House Chattanooga), one of the leading tiny house builders in North America, specifically to take all the pressures that the road can throw at your tiny house.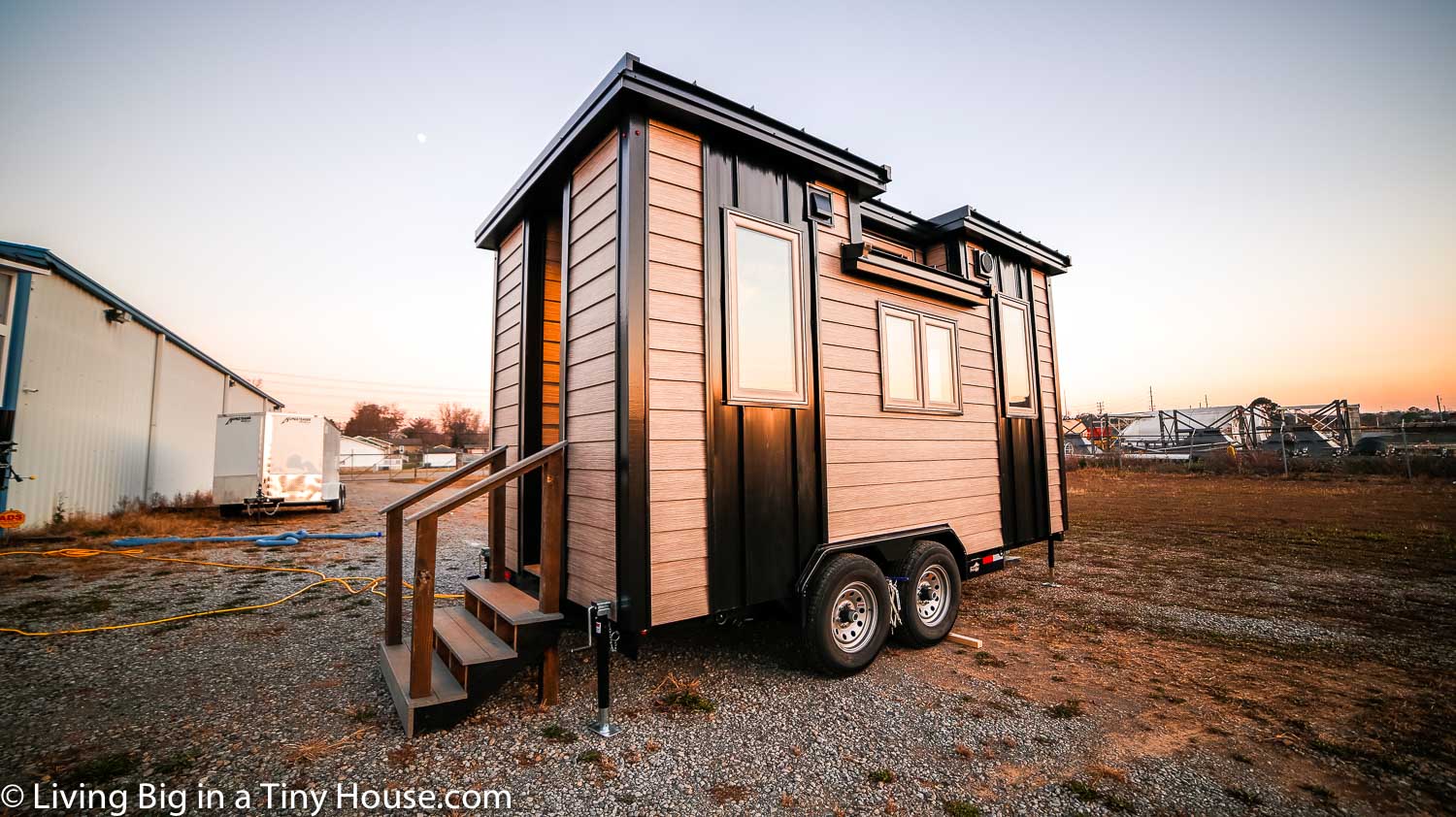 The design of the tiny house was largely inspired by many of the beautiful homes that I have visited around the world, borrowing many of my favourite design features and incorporating them in this build while also adding some new ideas. Because this is a traveling tiny house, we have chosen to use light-weight and robust materials to construct the home and prepare it for a traveling life-style. The home has a steel exterior, with standing seam metal siding together with TruCedar Steel Siding from Quality Edge to warm up the design and give the home a wooden look while still keeping the weight down to a minimum. We've used vinyl windows from PlyGem in this build which are double glazed to add insulation value and are made from tempered glass to ensure safety when on the road. This isn't essential, but we felt it was a good idea in this build as it will spend more time traveling than most other tiny homes.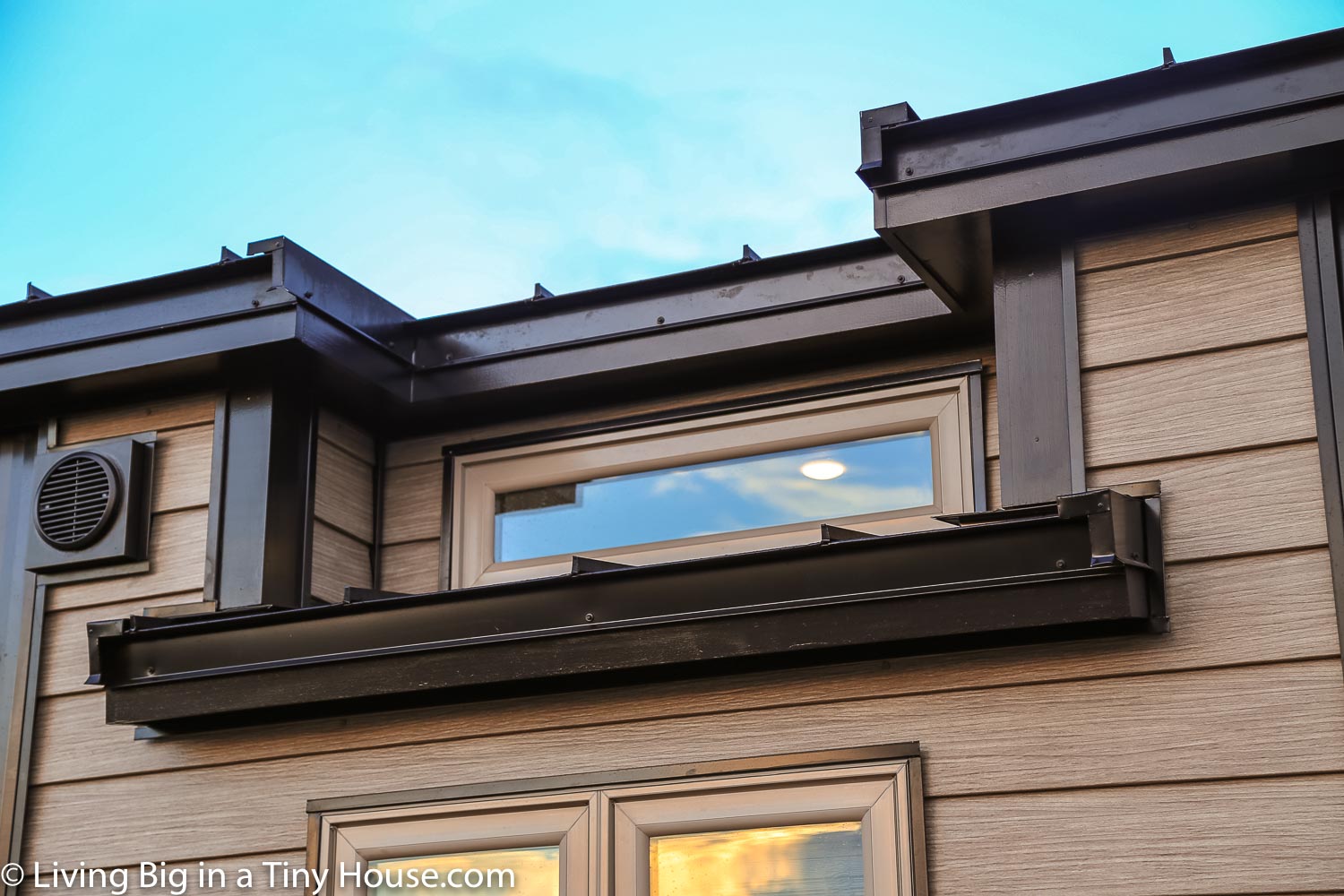 When designing such a small home, it's easy for the design to appear boxy. For that reason we have broken up the roof-line with little window inserts to make the house more visually interesting. This design feature can also be found on Tiny House Chattanooga's Lookout model. Not only does this create a great visual look from the exterior, it also greatly helps to break up the lines of the house on the inside and the high windows provide lots of light and great views of the sky from the interior of the home.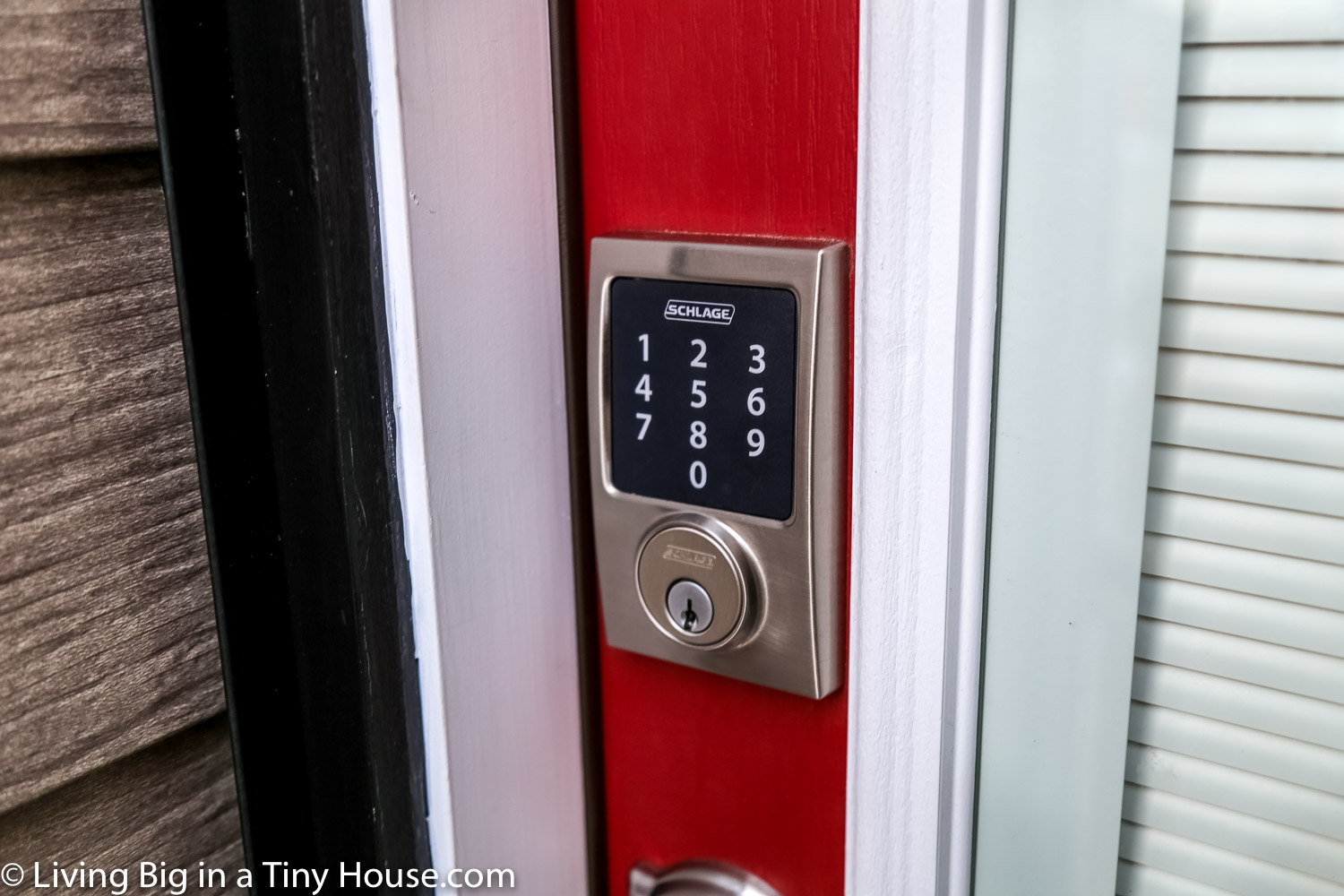 The tiny house has a small porch area which provides a break from the rain while entering the home. We chose to use a key-pad deadbolt system which makes entering the home simple without fumbling for keys. One of the other benefits to this is that it works with Amazon Alexa and our smart home system, which gives us remote control of the door meaning we can even allow guests to access the house when we are not home.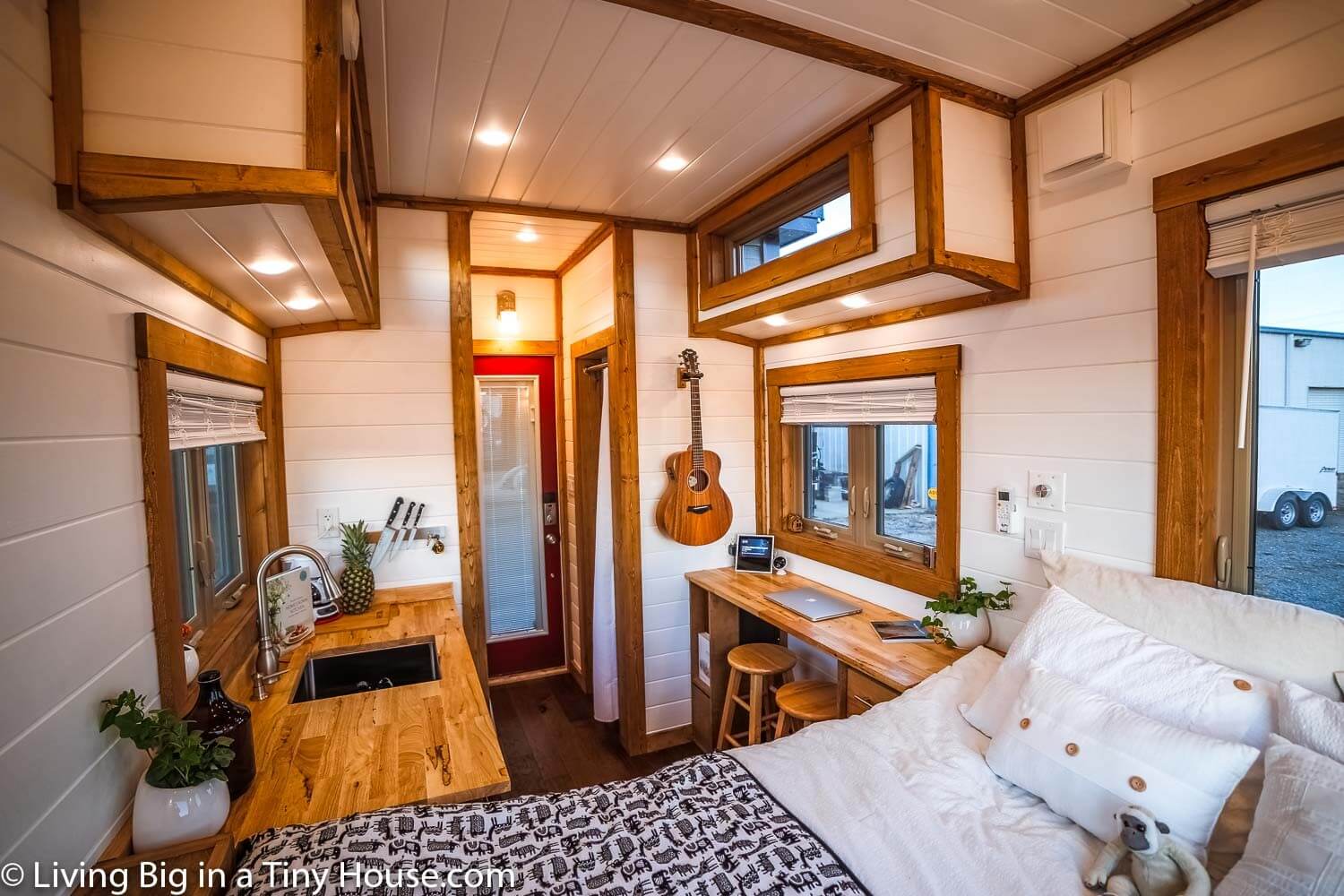 Inside, the home is designed to feel light and open. We chose to not use a sleeping loft in this design which allows us to have higher ceilings and a greater sense of space inside the home, while also reducing the overall height making it easier to travel and less stressful when it comes to moving the home under bridges or low hanging powerlines.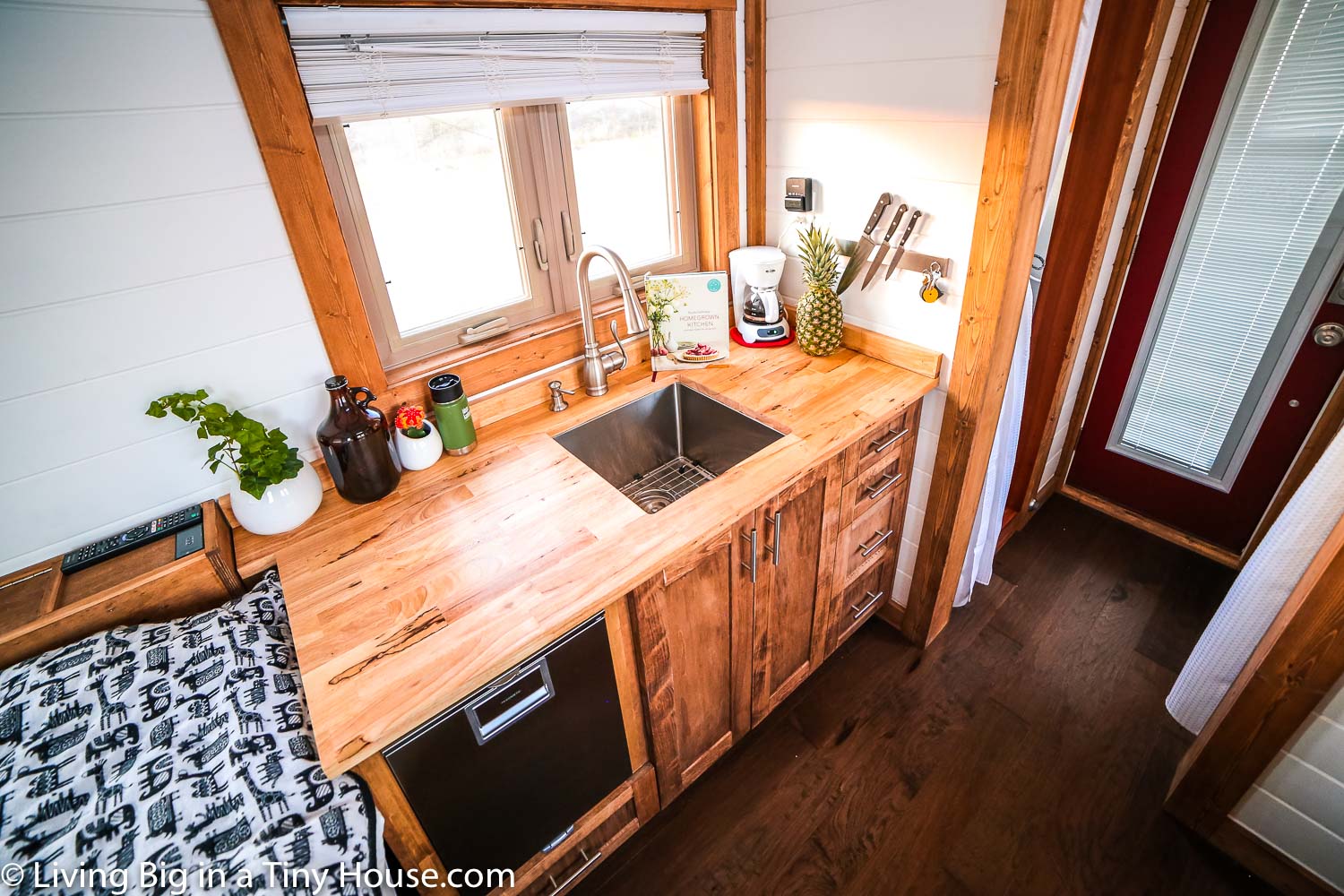 The kitchen is relatively small, yet feature packed with a comfortable amount of counter-space for working, a nice deep sink (so you can still hide away your dishes if you don't feel like washing up right away) and a compact 50 litre fridge from Dometic. The fridge is able to work on both AC and DC power, which means it can be powered from the home's battery while traveling meaning things in the fridge area always kept cold. The maple cabinetry provides plenty of storage space in the tiny house and was constructed by Brad from WoodTryst in Chattanooga.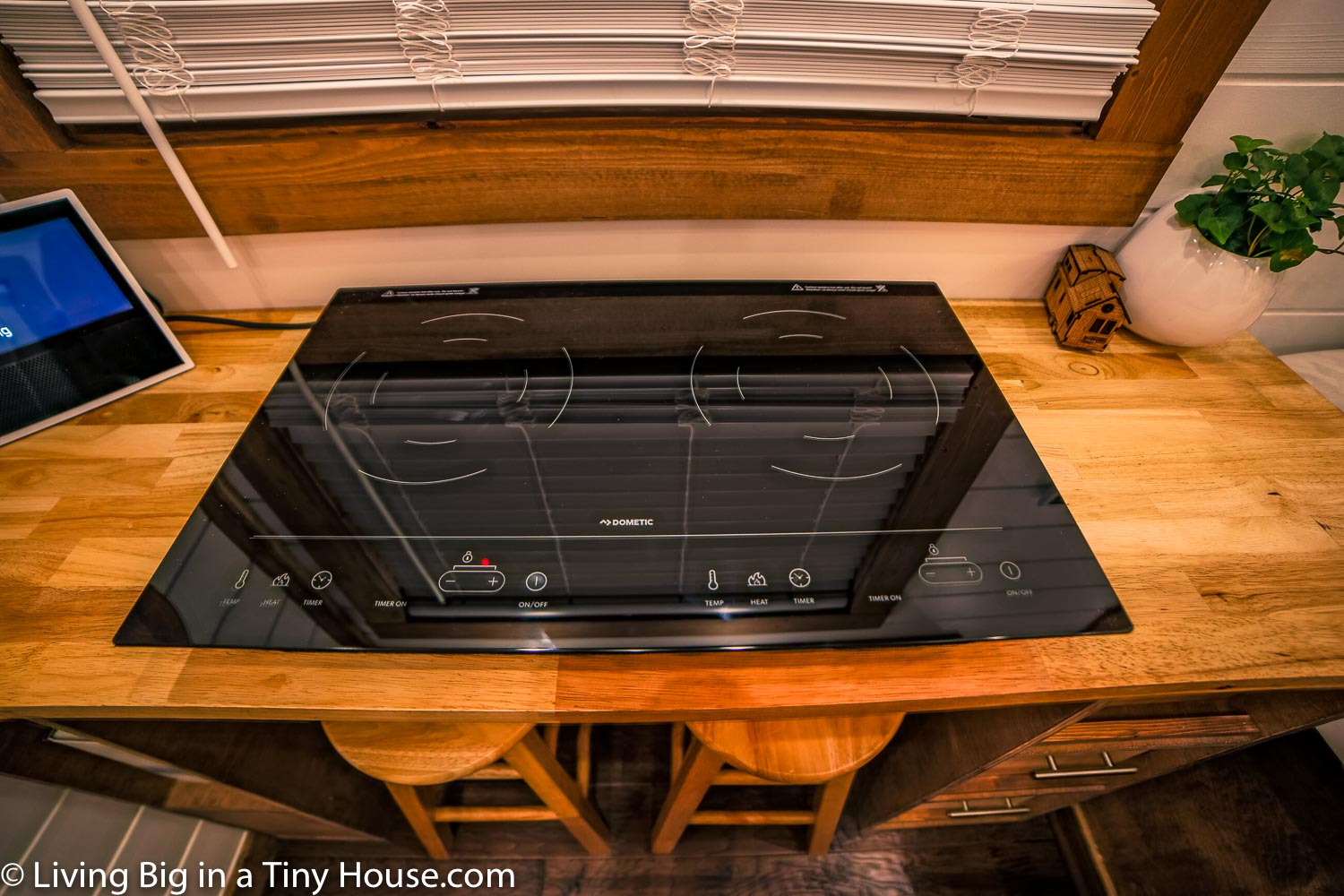 With such a small kitchen, it didn't make sense to use up valuable counter-space by building a cook-top right into the bench. Instead, we opted for a Dometic induction cooker which can simply be placed on the countertop and plugged in when we need to cook. As we won't always have access to AC power, it means that we can also travel with a back-up ethanol burner for off-the-grid cooking.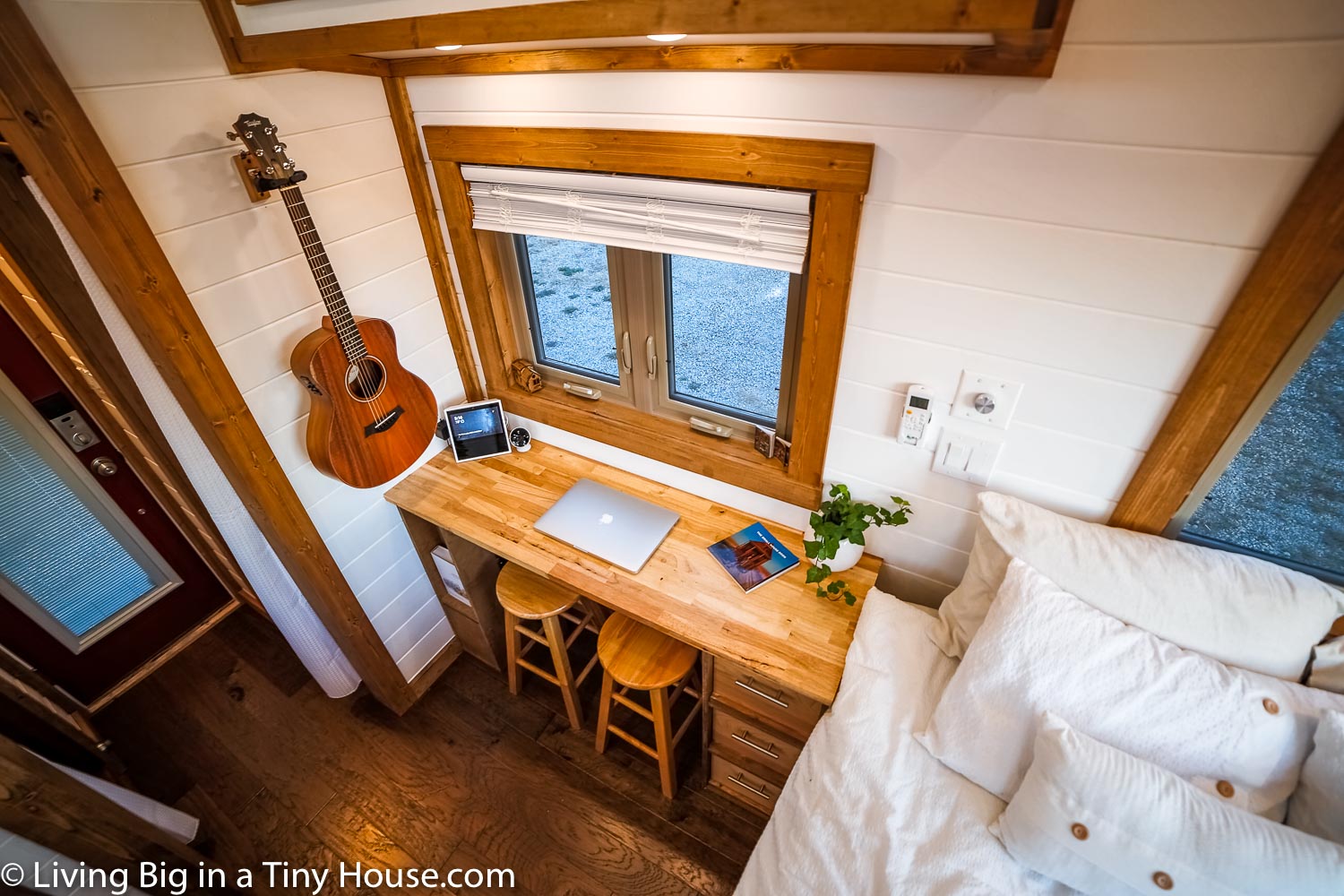 Across from the kitchen is our desk. This is an important part of the house-hold as we travel making videos for YouTube and need a comfortable place to sit and edit videos. This desk also functions as a dining table and can also be used as an extended kitchen counter when required. My travel guitar (a Taylor GS Mini Koa which compact and perfect for a tiny house) was also given pride of place in this space! Hidden under the desk is all of our electrical systems, including our battery system which provides 12 volt power to some of the homes systems while on the move. We will talk more about this system in a later post.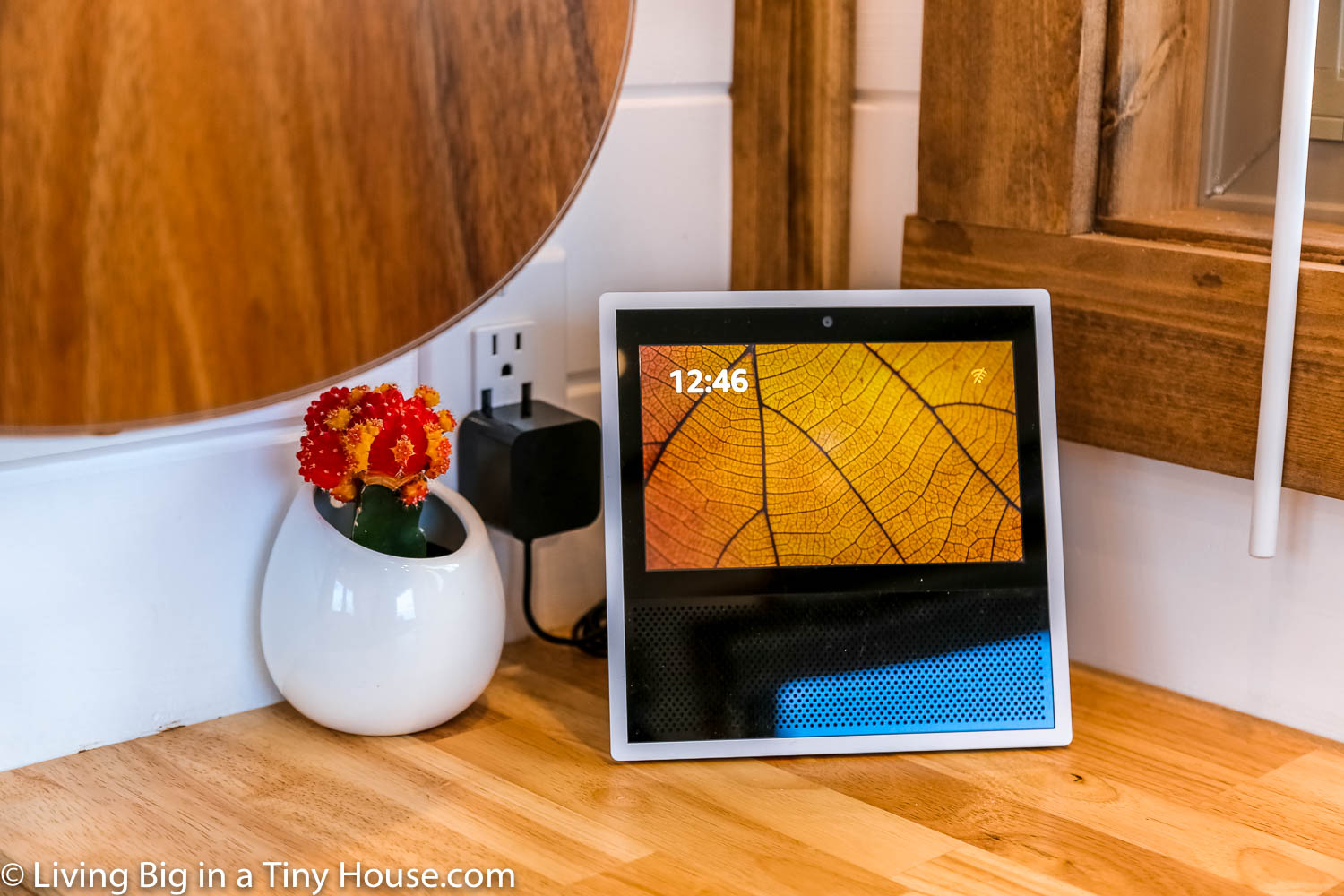 One of the unique things about our tiny house is that has several smart-home features built into it, which are controlled using Amazon Alexa via the Echo Show. Via Alexa, we are able to control features of the home such as the lighting, the door locks, security camera and our sound system.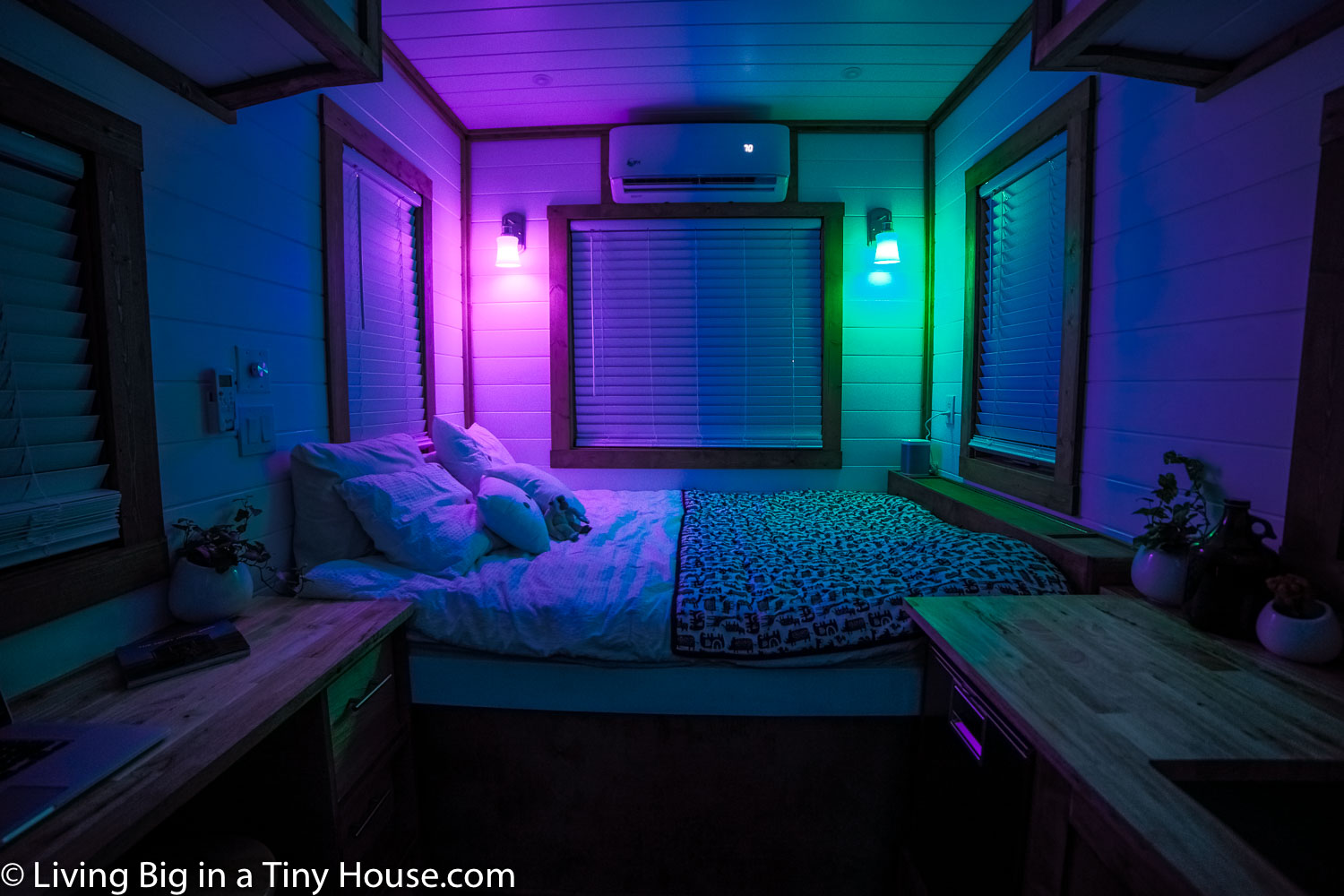 Using the Philips Hue lighting kit which integrates with Alexa (but also can work via simple app control), we are also able to change the lighting in the home and create moods depending on what we're doing in the home. This is great for entertaining and creating feature lighting at night.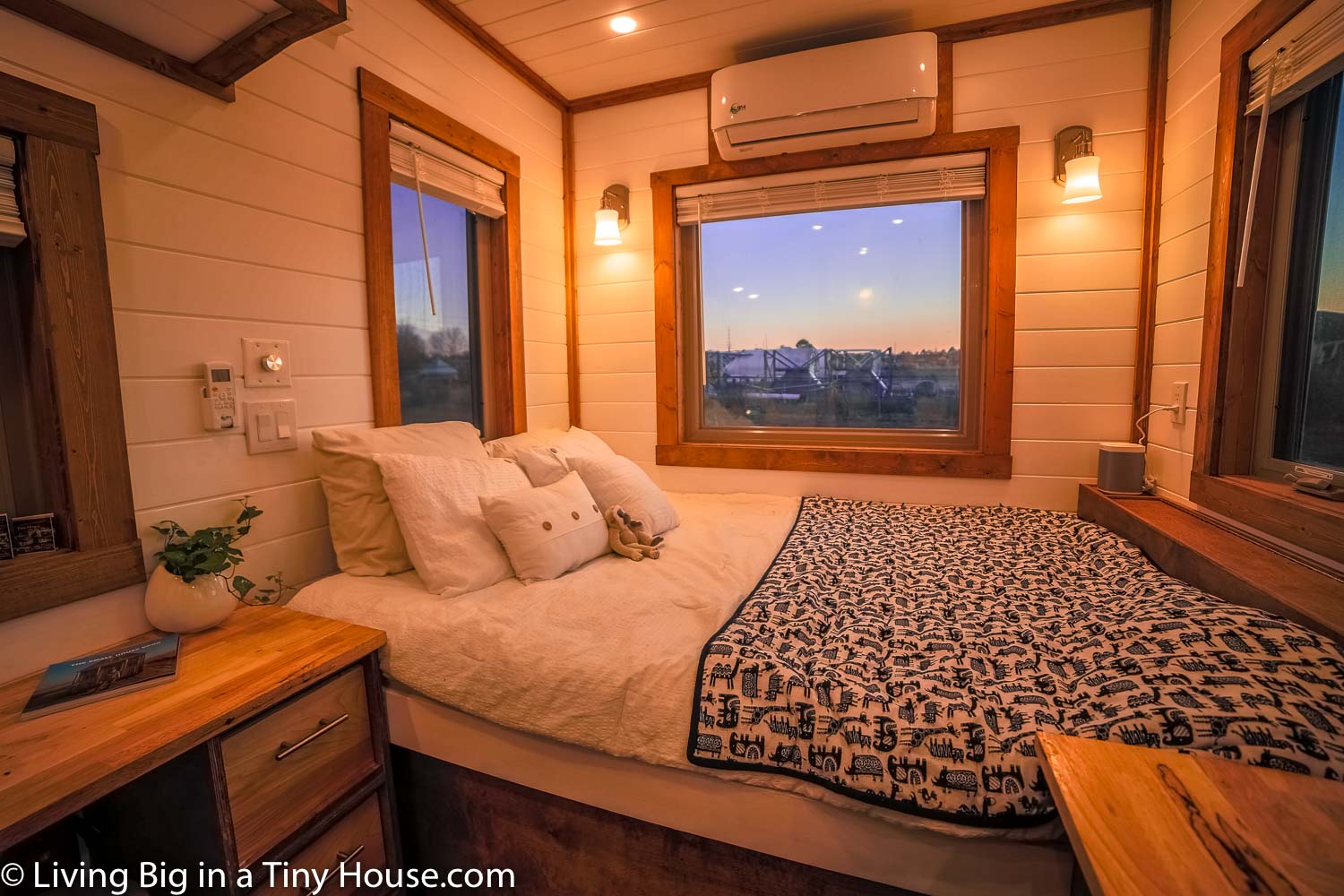 The bed is of course a vital feature in the home. Without a loft though, it takes up a lot of space, especially as it's queen sized. For us though, this isn't just a bed, it's also our living room, and where we relax. This whole set-up was custom built by the Tiny House Chattanooga team, who used gas-spring storage bed lifts to enable us to access a huge amount of storage space under the bed to hide everything away which we aren't using all the time.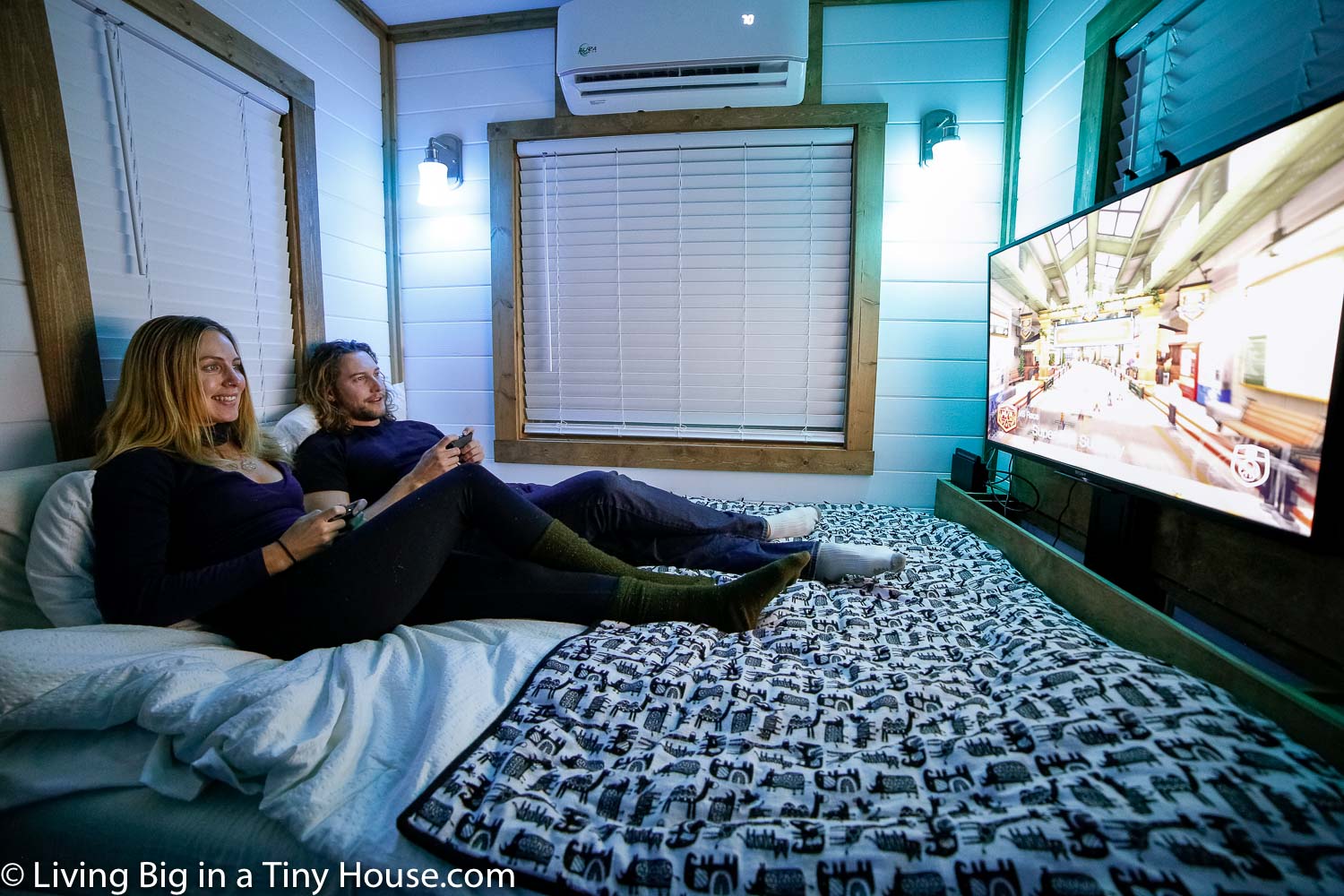 Of course, we still love to watch movies (and occasionally play some Super Mario Kart) so having a television in the tiny house was a luxury for us which we are so glad that we included. Naturally, in such a small space you don't always want to look at the television though, so it was hidden away in a custom built cabinet at the end of the bed and uses a television lift to raise it up when we want to watch. The television in this house is 43″ which may not sound big, but in this tiny house it looks truly huge and creates an amazing movie-watching experience!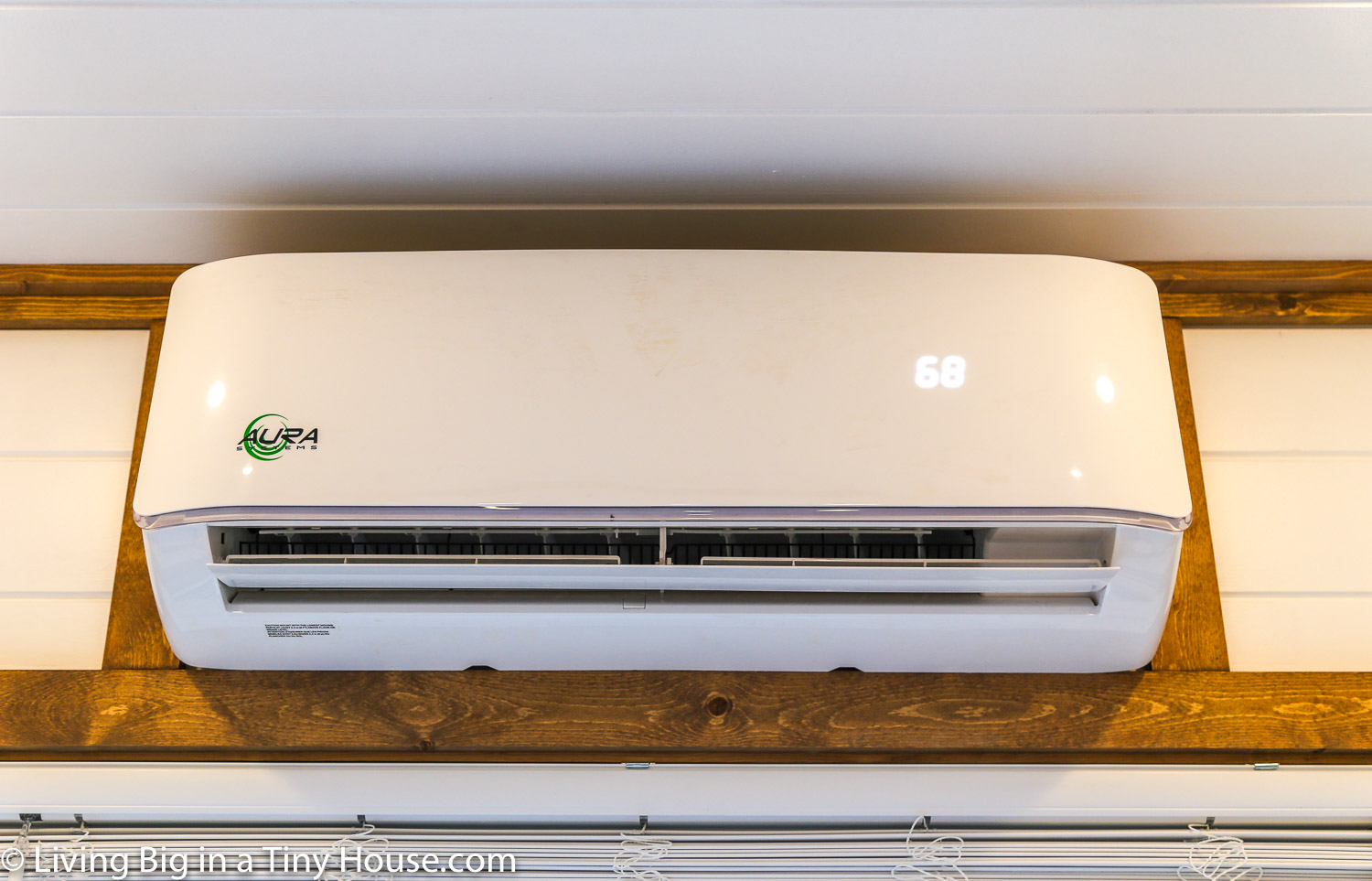 Of course, traveling North America we will be experiencing all kinds of different climate zones, so the ability to heat and cool the tiny house was very important. We used a 12,000 BTU mini-split air conditioner to handle this, which may be a bit excessive for the size of the home, but works incredibly well to ensure we are always at a comfortable temperature inside the house.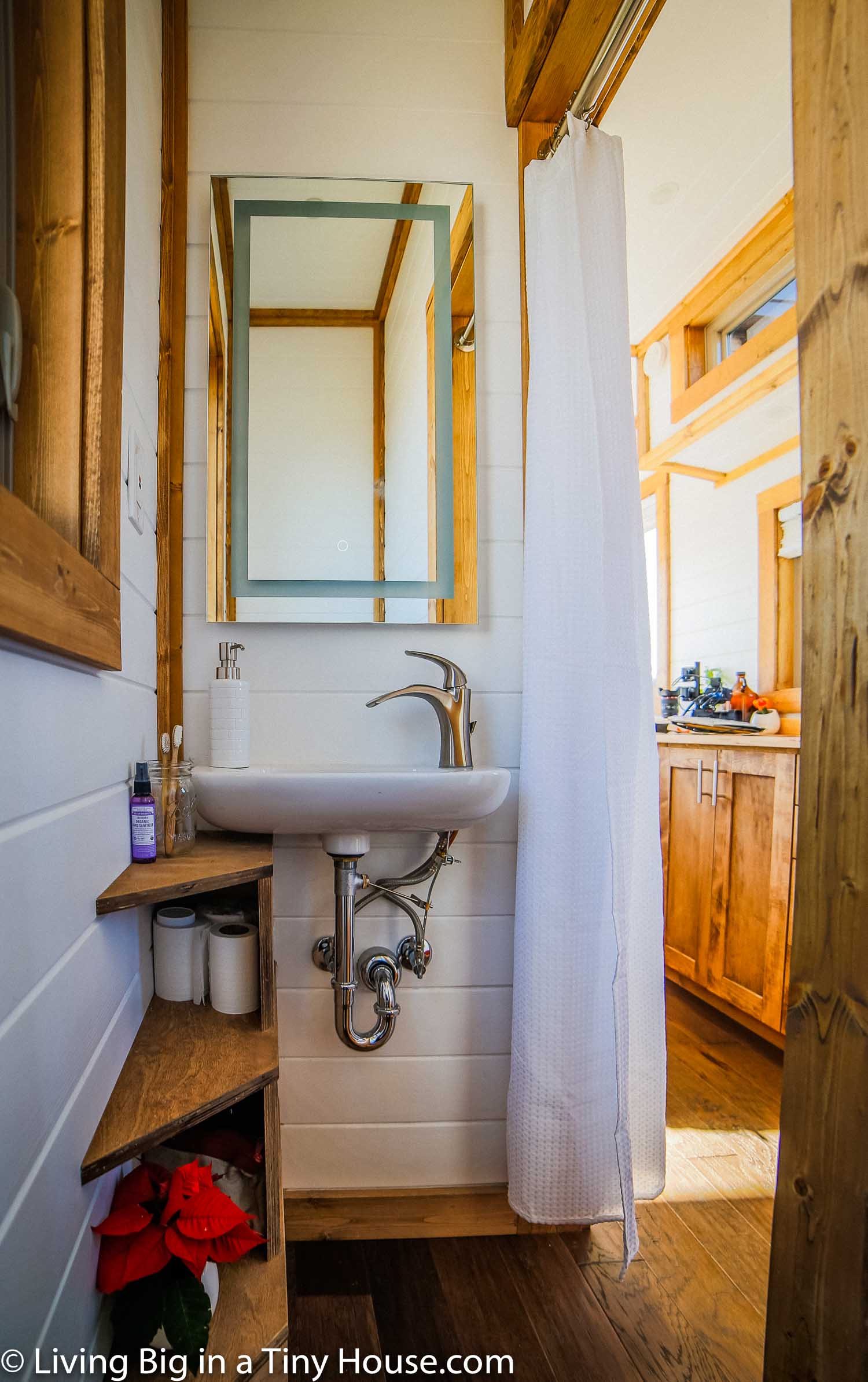 In this tiny house, we used a split bathroom deign with a toilet and basin on one side and the shower room on the other. Upon entering the bathroom, we have a compact basin with a feature back-lit LED mirror. To cover the wheel wells in this space, some custom cabinetry was built up to also include a bit of storage space in the toilet room.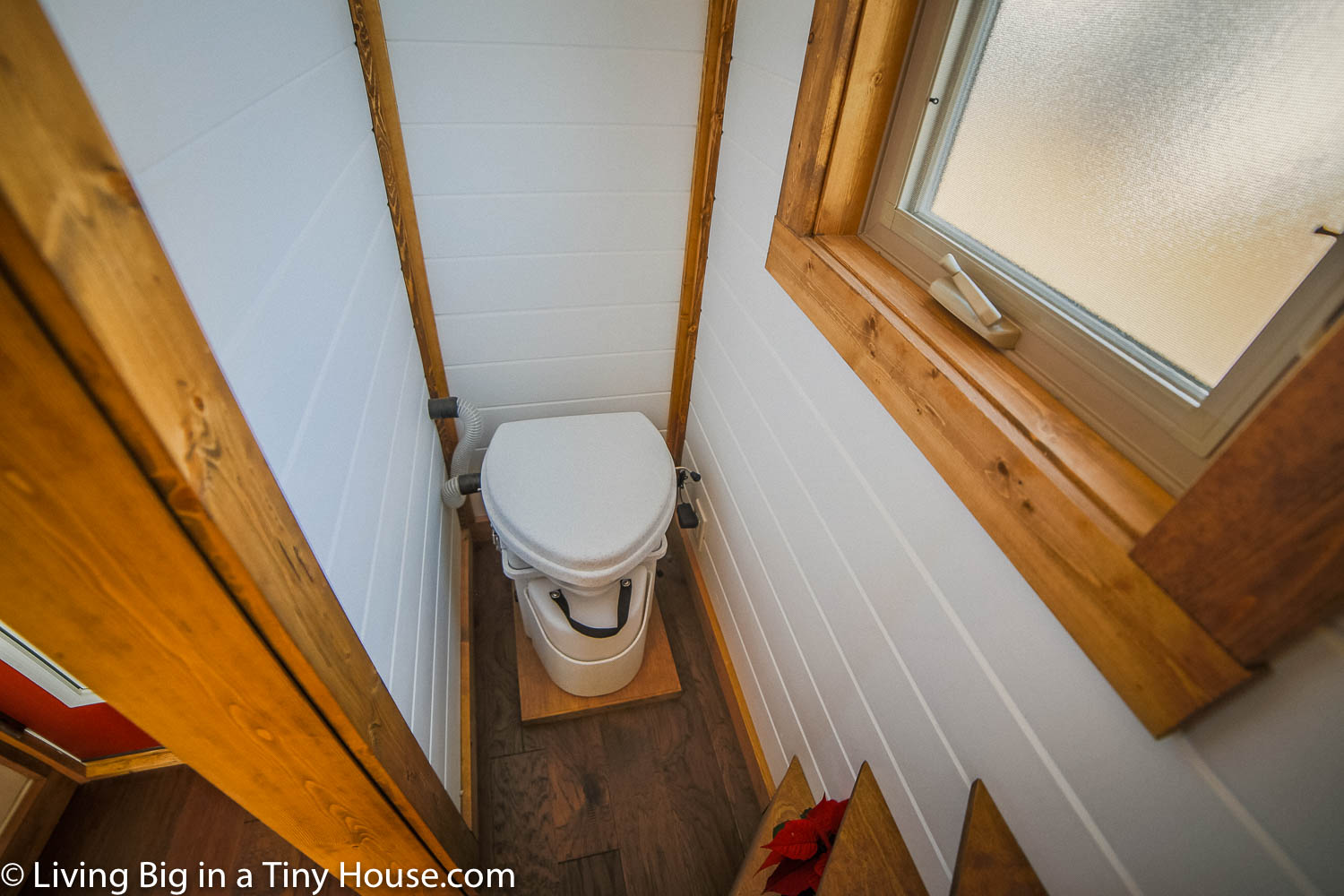 For a toilet, we chose to use the Natures Head composting toilet. This is a great option for a traveling tiny house as it requires much less maintenance than a more simple bucket system. Using urine diversion, the natures head composting toilet is simple to use and easy to empty when required. In the future I'll be writing more on my experiences with this composting toilet.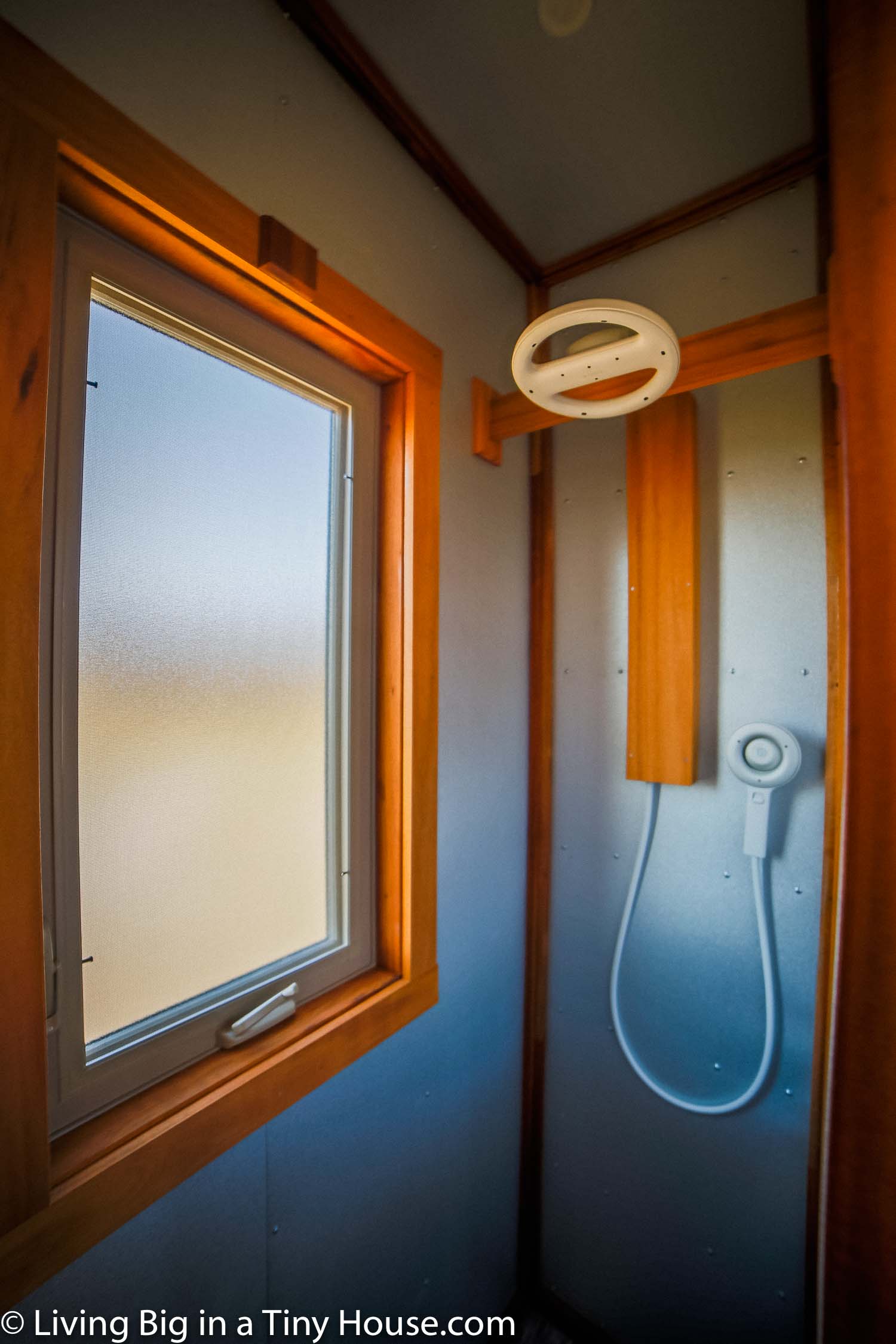 Across the (very tiny) hallway is the shower room. In order to not make the shower feel cramped, we designed this part of the home as a wet room. The Tiny House Chattanooga team actually custom built and water-proofed this entire room using galvalume and tiger wood. The end result is an amazing looking room! We have a limited amount of hot water in the tiny house, with only a 7 gallon hot water heater. To allow us to still have comfortable showers despite not having a lot of hot water, we chose to use a special atomising shower from Nebia which creates an immersive shower experience using high-pressure and tiny water particles.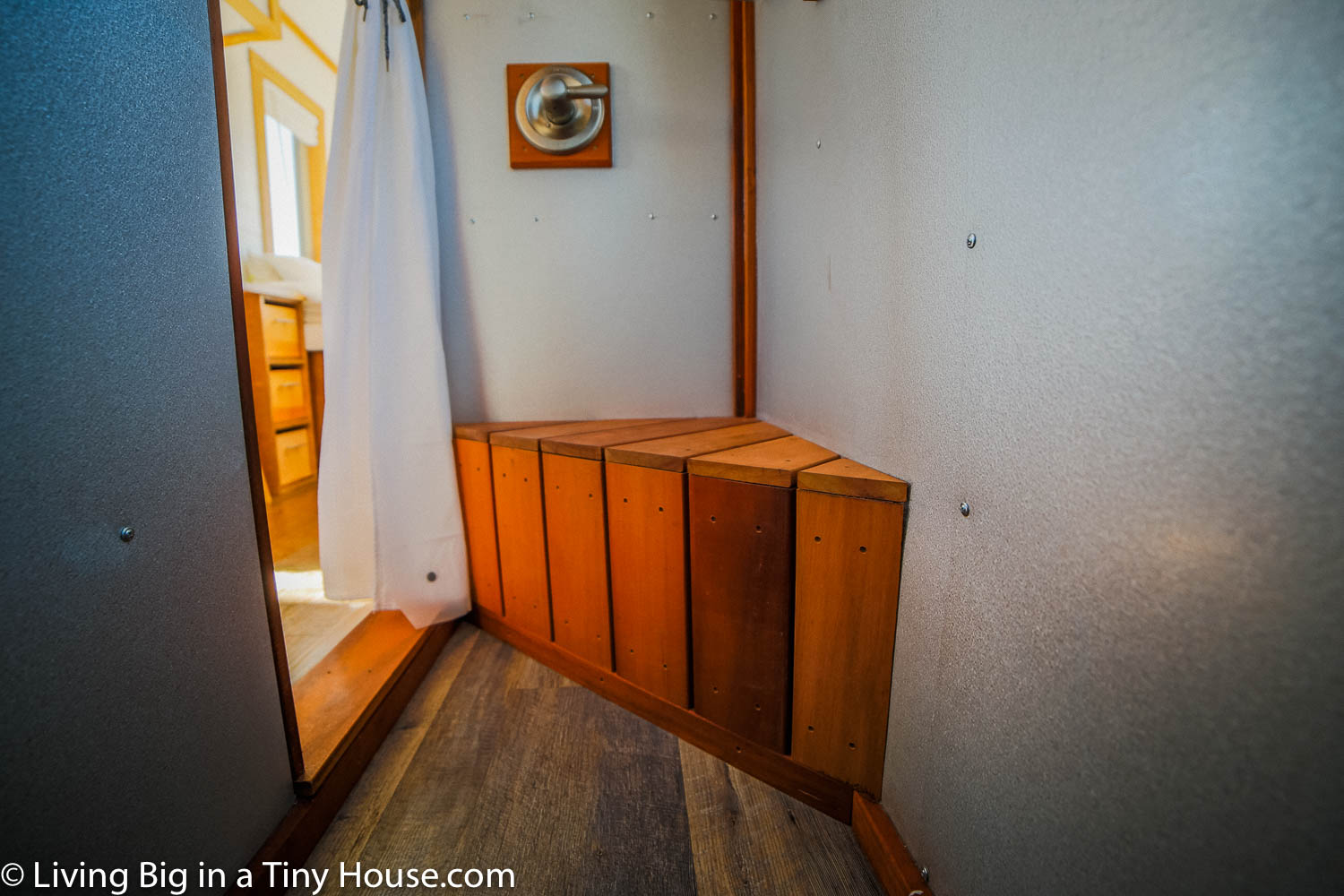 Again, we needed to hide the wheel well of the trailer in this room, and so the Chattanooga crew constructed a beautiful shower seat from tiger wood and galvalume to complete the room. There is a privacy window included in this room which can be opened up allowing us to enjoy the outdoors when we are showering in a private location. This is honestly one of the nicest shower experiences I have ever had.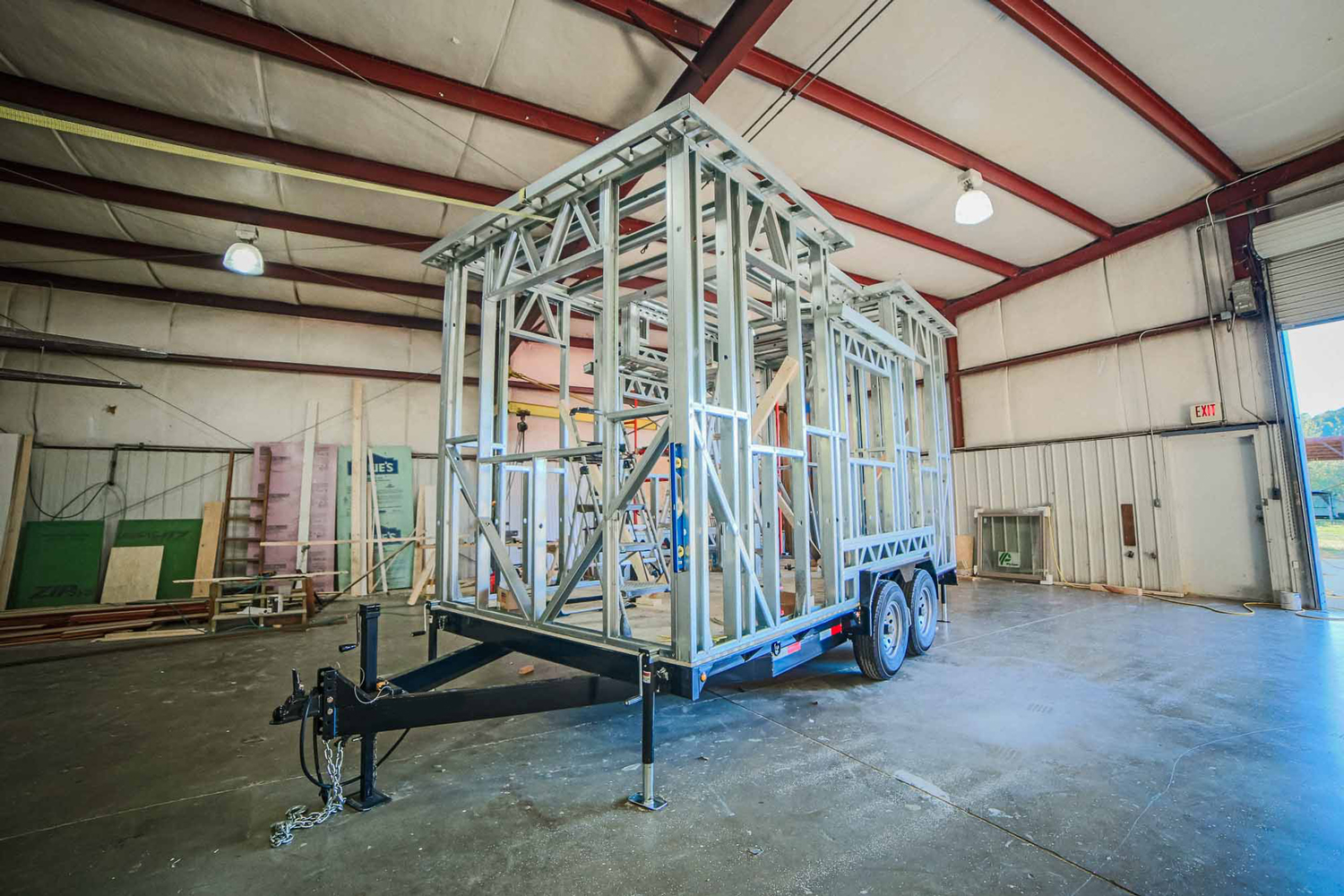 There is just as much (if not more) going on inside the walls of this tiny house as there is on the outside. To help keep the weight in the house down while still constructing an incredibly strong home, we chose to use light-weight steel framing from Volstrukt. This uses the same steel framing system which was also used in my build project in New Zealand.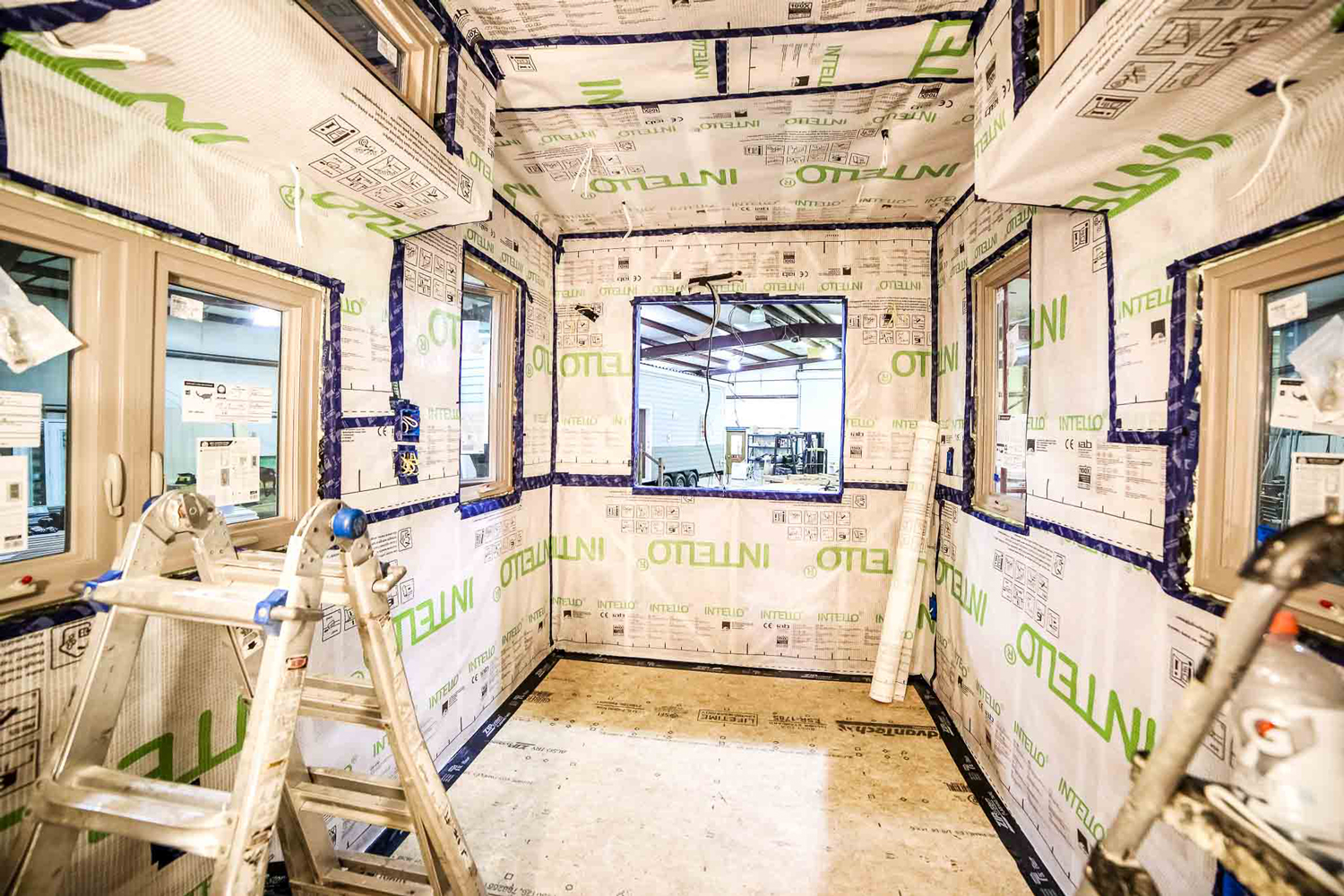 The tiny house was also constructed using the Healthy Tiny Home Kit from Mainstream Corporation, which includes eco-insulation, a Lunos heat recovery ventilation system and a system of membrane wraps for the home which essentially allow you to build your tiny home to passive house standards and prevent the possibility of mould from ever building up in your walls. In our next post, we will go into much greater detail about the construction of this tiny house and how all these systems work in our home.
With the home now complete, we are ready for some serious adventures and travel across North America. Mike Bedsole and the team from Tiny House Chattanooga worked incredibly hard to realise this build and I'm so grateful to have been able to work along-side these talented craftsmen with this project. I look forward to sharing many more stories of this home with you in the future as we travel all over North America in this home.