• Tiny House
Off-Grid Artisan Tiny House Built To Escape Wildfires
When we first met Ryan, he was living in a different tiny house on wheels. It was a beautifully handcrafted 28ft home which was finished to an exceptional standard – you can see the full video tour of that first home here. Today, almost two years later we caught up with him in a completely new and much smaller home.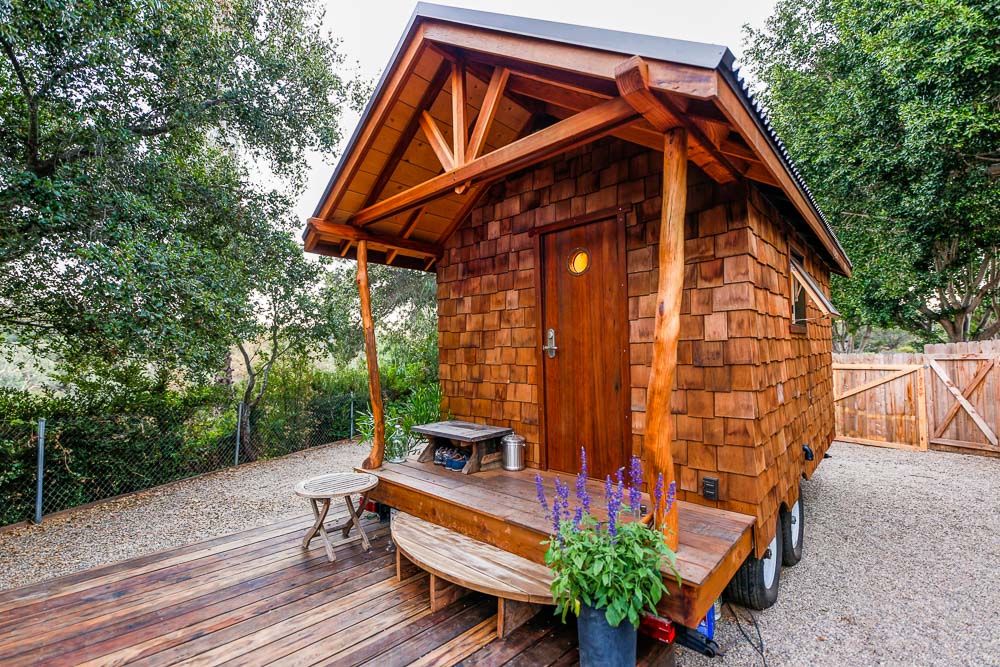 In 2017, wildfires swept through Ojai, California causing a tremendous amount of destruction. Ryan watched as the eerie glow on the horizon turned into a wall of flames racing towards his parked tiny house. It was about 4am when he hitched up his home to his truck and managed to move it to safety moments before the property was engulfed in flames. Thankfully, his tiny home was safe but the property it was parked on was completely torched, the property owners tragically loosing their home.
It was that event which prompted him to build a second tiny house. Firstly, he wanted to build cheaper, so he didn't have quite as much capital invested in his home on wheels and secondly so that it could be smaller, easier to find a parking space for and even more simple to move should the fires ever sweep through the area again.
We filmed this tour with Ryan close to two months ago. At the time of writing, California is again experiencing tragic wildfires, causing devastating loss of life and property. Ryan is currently safe in his home, and is ready to move should he need to.
At 13ft (4m) in length, this home is much more compact than his last design. It's height has also been reduced to allow it to travel better on the roads. There is standing room in the kitchen and bathroom areas, but the rest of the home has been divided vertically, to enable only sitting room in the lounge area downstairs and lying space in the loft upstairs. Thanks to some great design, this doesn't interfere with either the liveability of the home, or a sense of space when inside. The home still feels open and welcoming.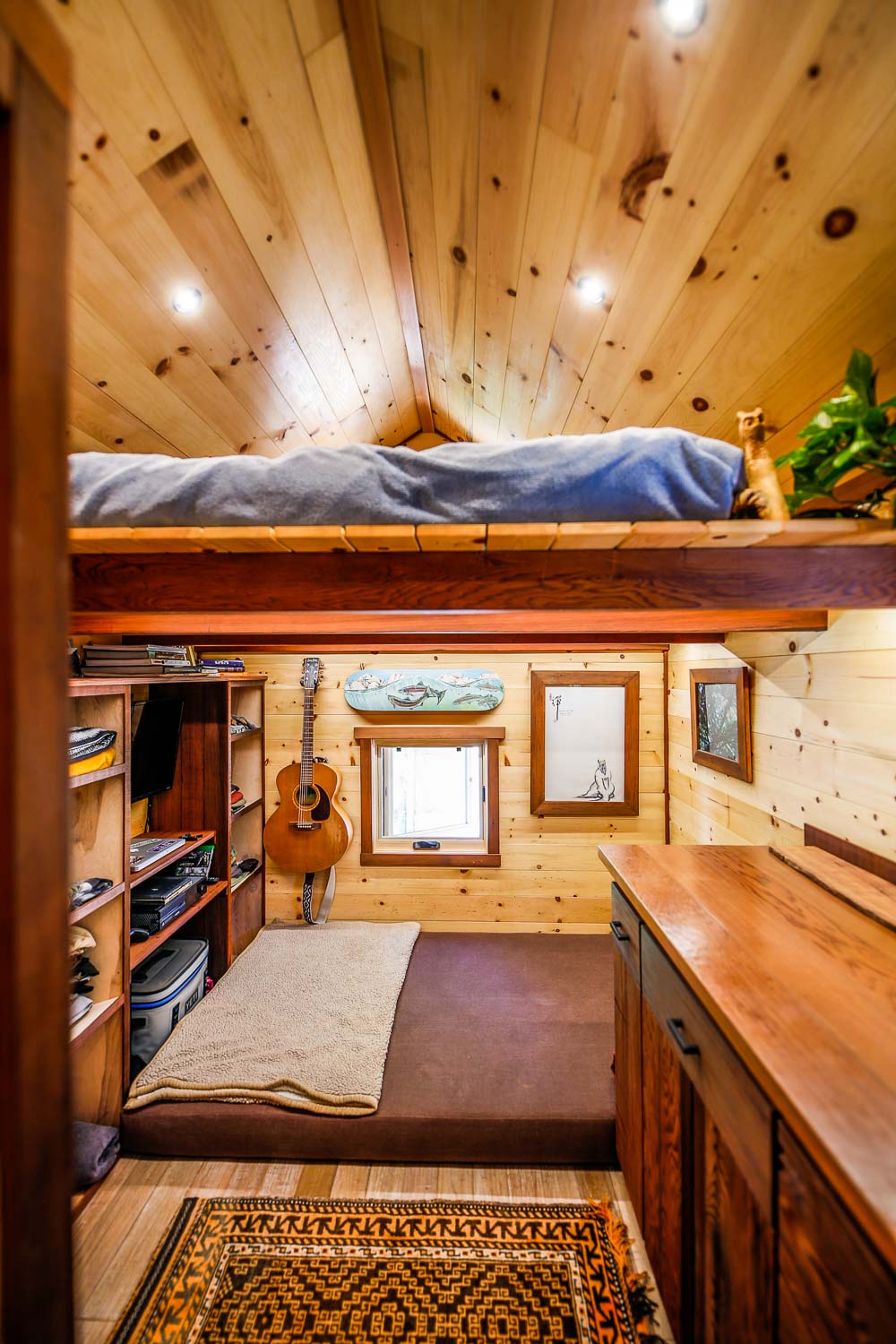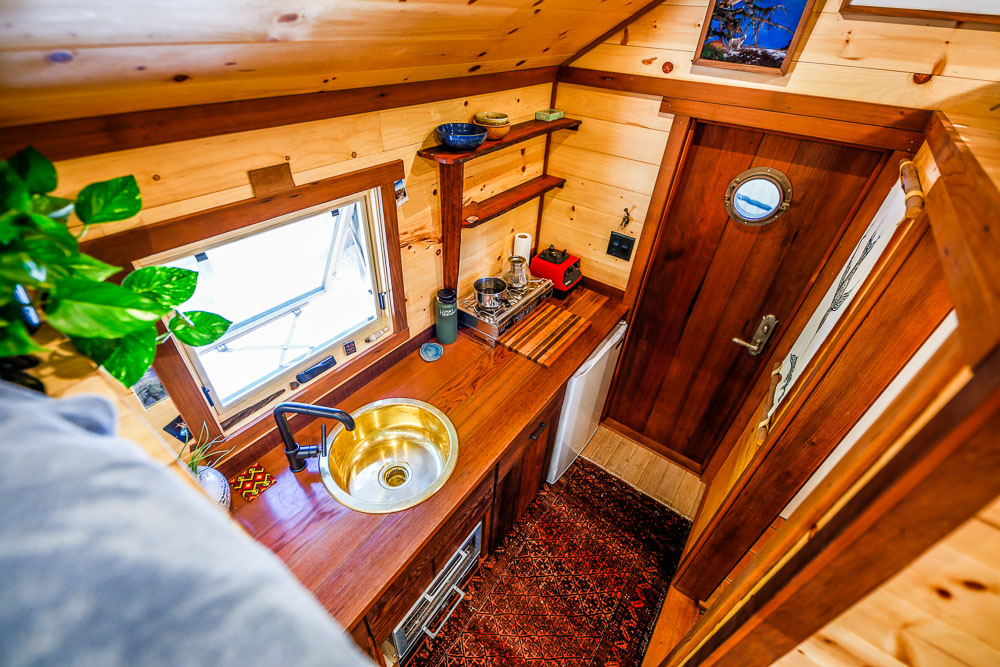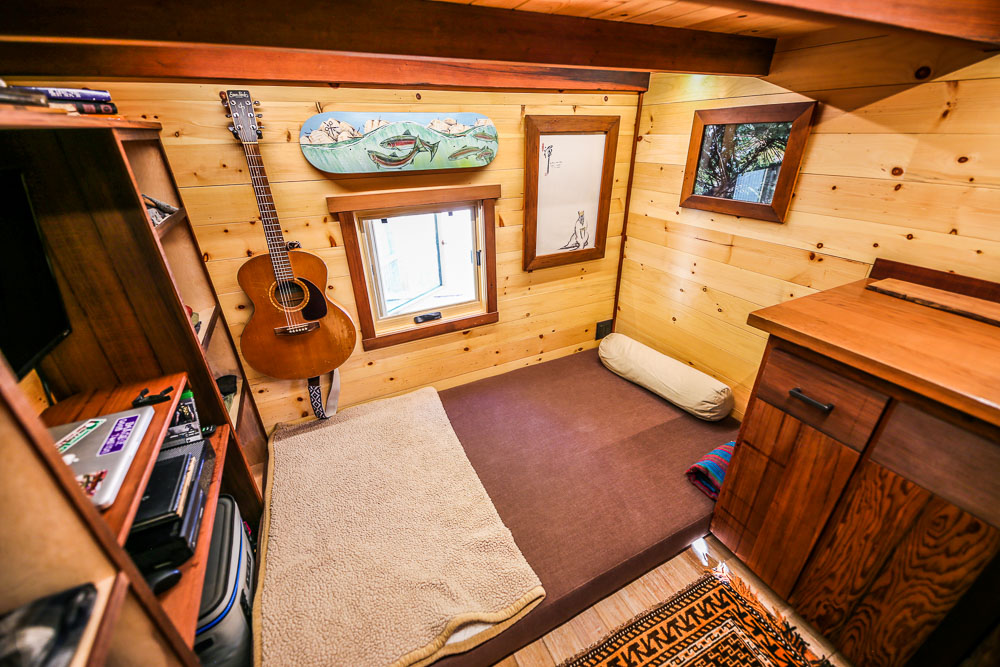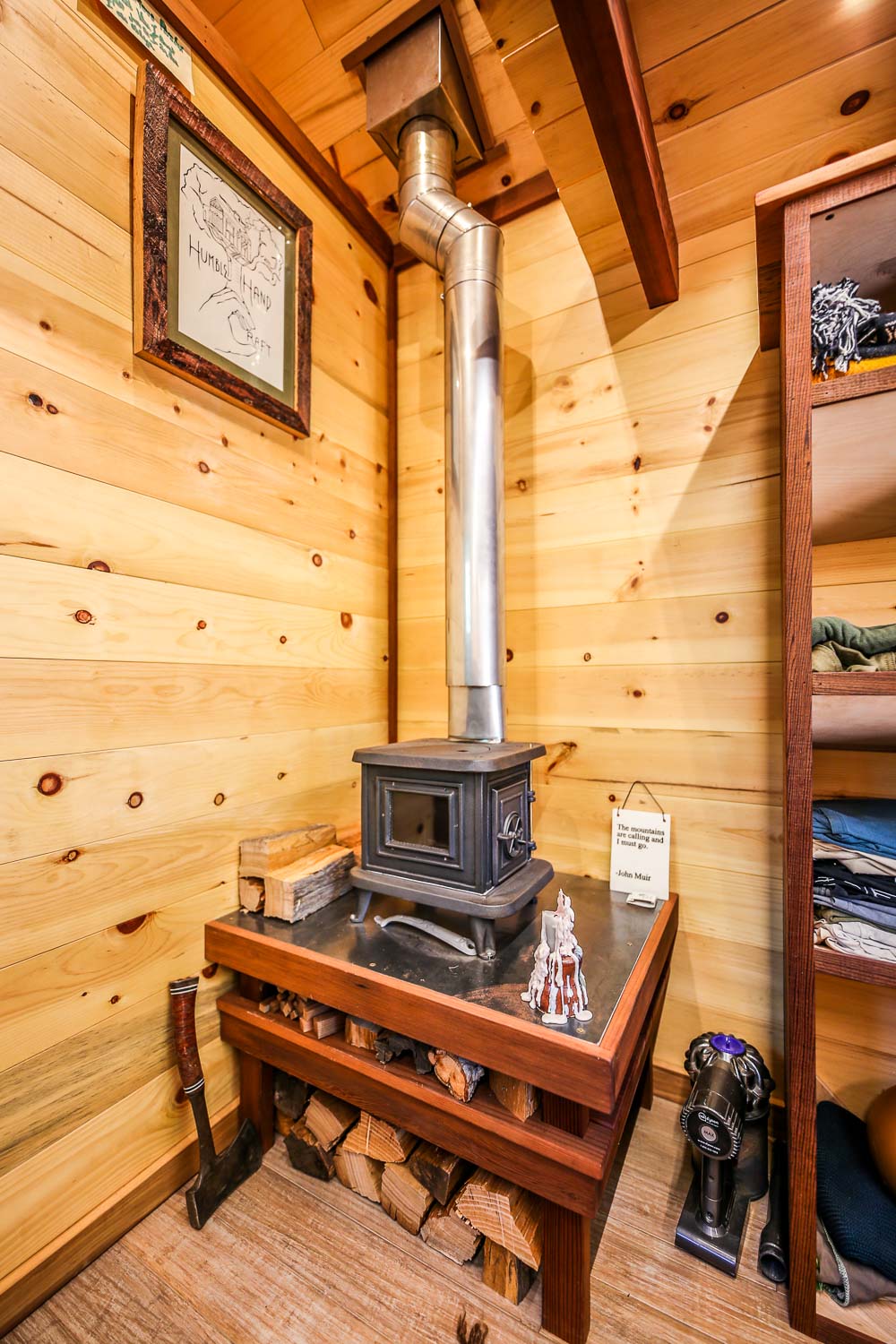 Despite it's very compact size, this home has absolutely everything Ryan needs, including a full functioning kitchen with oven, stove and fridge. There's plenty of storage, a great space to entertain guests or relax for an evening in watching television and even a wonderful small wood stove to keep the home warm during the cooler winter months. The home is designed with a full shower and space for a composting toilet to be added when required. Currently, his composting toilet is set up in an out-house area next to the home.
The more compact size means that it was very easy for Ryan to find a great place to park his home. It's also super easy to hitch up and take on the road. An avid surfer, Ryan plans to spend a good amount of time traveling in his tiny house to some of the countries best surf spots. The home is designed to be off-the-grid too, so he will have full use of all the homes facilities while on the move.
One of the most noticeable things about this home though, is the exceptional craftsmanship which has gone into it's construction. Ryan builds tiny houses through his company, Humble Handcraft where each of his custom built homes are crafted sustainably with expert hands. His own home is no exception, most notably when it comes to the use of exceptional timbers in the homes construction, coupled with the fine cabinetry and character-filled touches such as the old port window in the front door. The home is simply a delight to be in.
Be sure to watch the full video tour above, to find out lots more about this beautiful, off-the-grid, artisan crafted tiny home on wheels.