• Tiny House
Exquisitely Handcrafted Eco Tiny House
When you first walk into this home, it's hard not to be taken aback by its striking beauty. It's not often you come across a tiny house, or indeed any house for that matter that has been finished to such an incredibly high standard. Perhaps even rivalling the homes build execution, is it's design with every inch being cleverly and effectively utilised.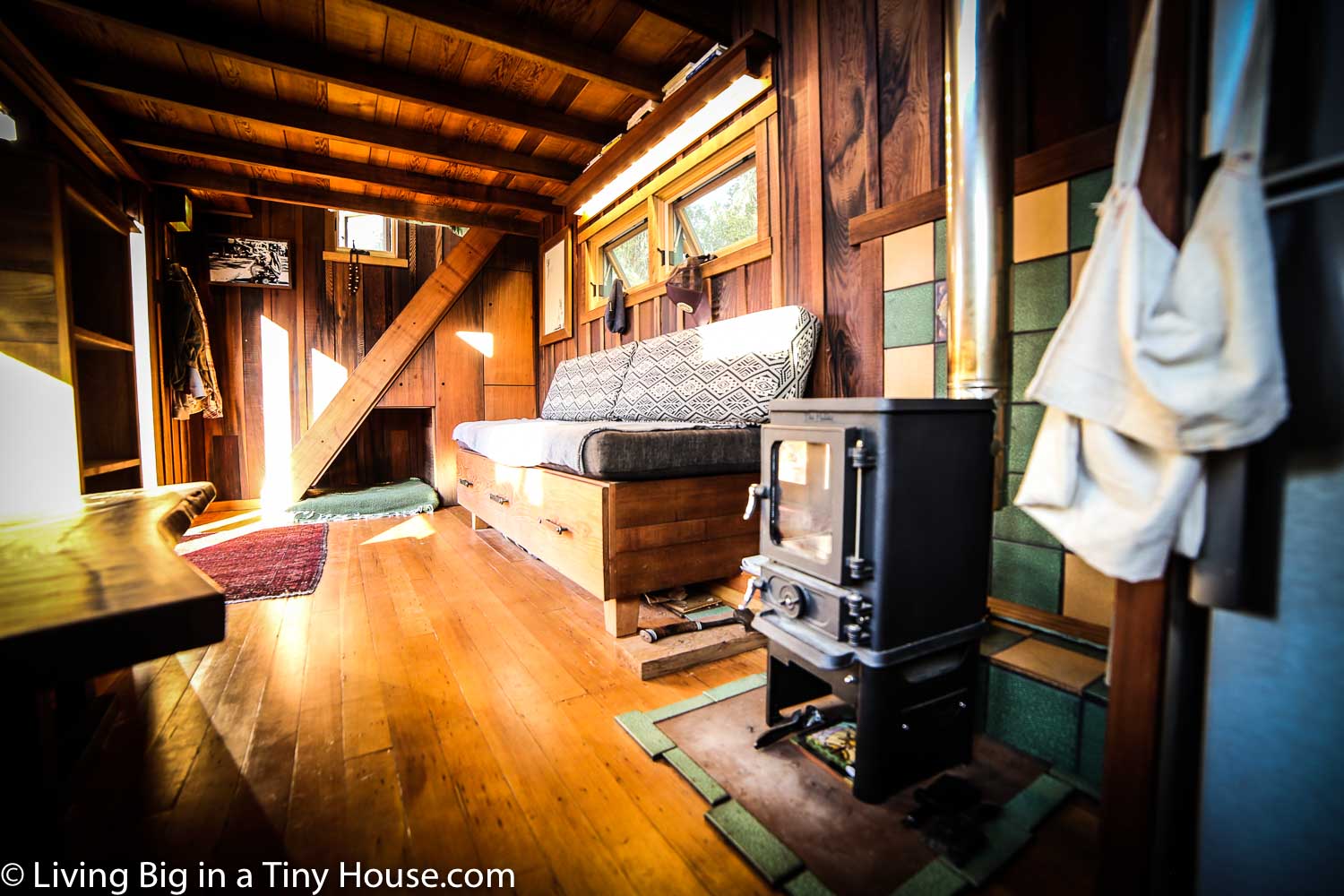 It's hard not to notice the impressive use of timber in this tiny house. The vast majority of this home has been crafted from timbers that have been reclaimed, wonderfully reconditioned and then given brand new life in this build. By no means is this home a throw-together though. All of the fittings, joinery and components have been sourced from sustainable, artesian and local sources. The quality of this home is impossible to ignore.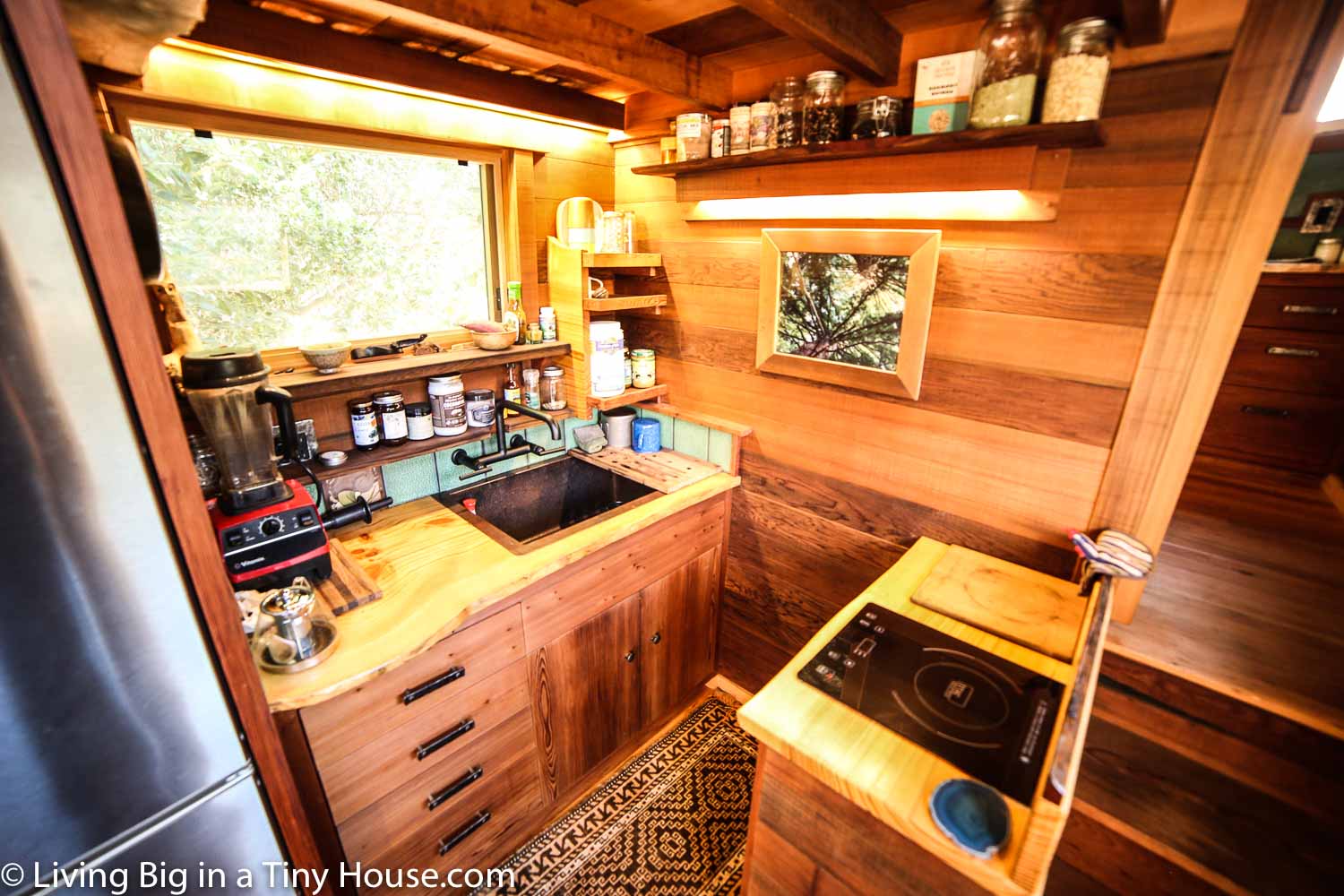 The kitchen opens up to the main living space. The majority of the timber used to build the cabinetry and shelving was salvaged from a local demolition project. A single counter-top induction element is powered by the homes 1000w solar system which easily manages to provide enough power to meet all the homes needs. An artesian-made copper sink fits perfectly yet unassumingly into the semi-rustic style of the tiny home while the various super-foods and bulk bought items which sit on the shelves highlight the home-owners defined taste of quality and organics.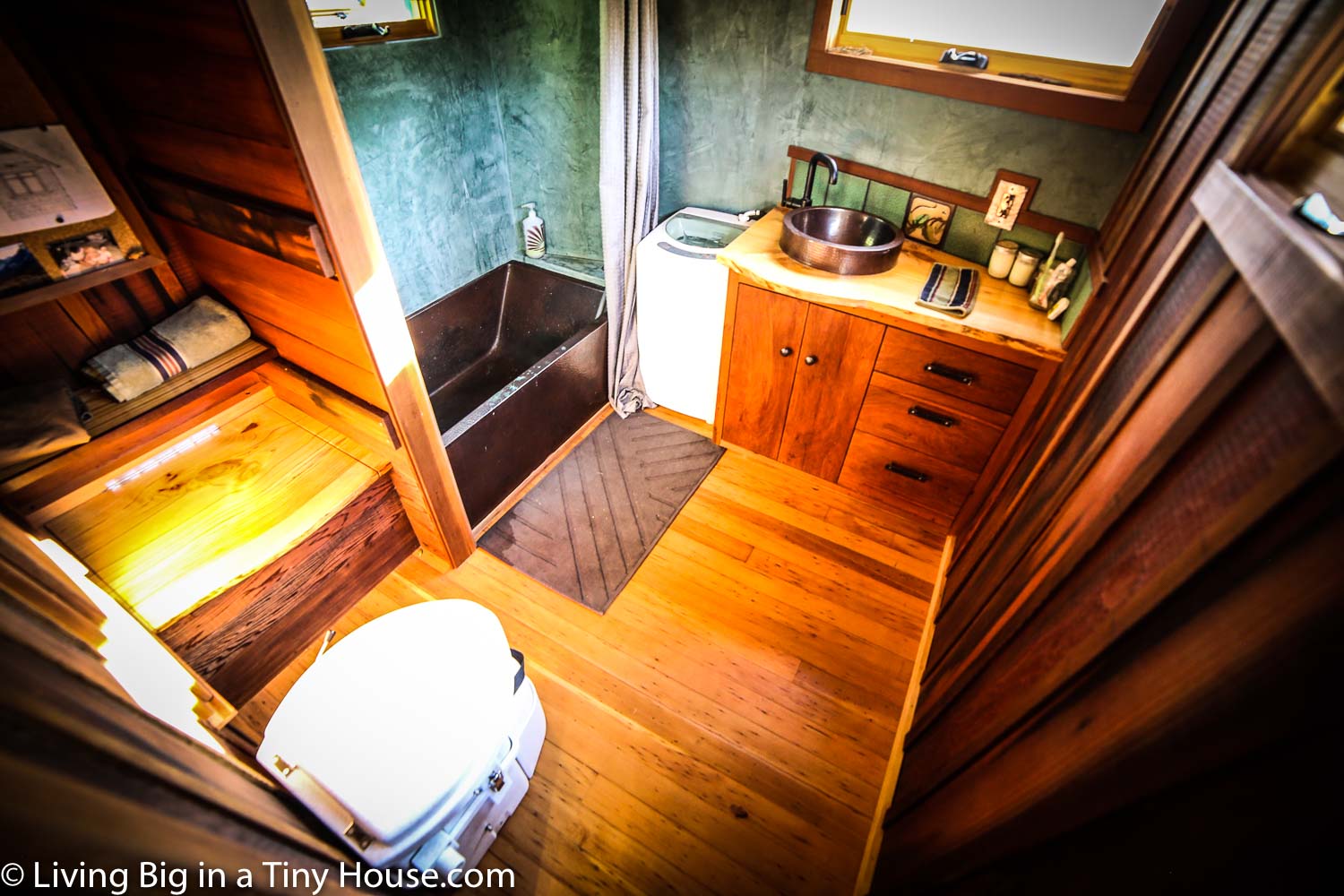 Similarly, the bathroom leaves nothing to be desired. For a tiny house, it's exceptionally large and provides enough space for a feature hand-crafted copper bath tub and basin. A washing machine and composting toilet complete the functionality with the added luxury of a laundry hamper which also acts as a step to another storage level which sits above the kitchen.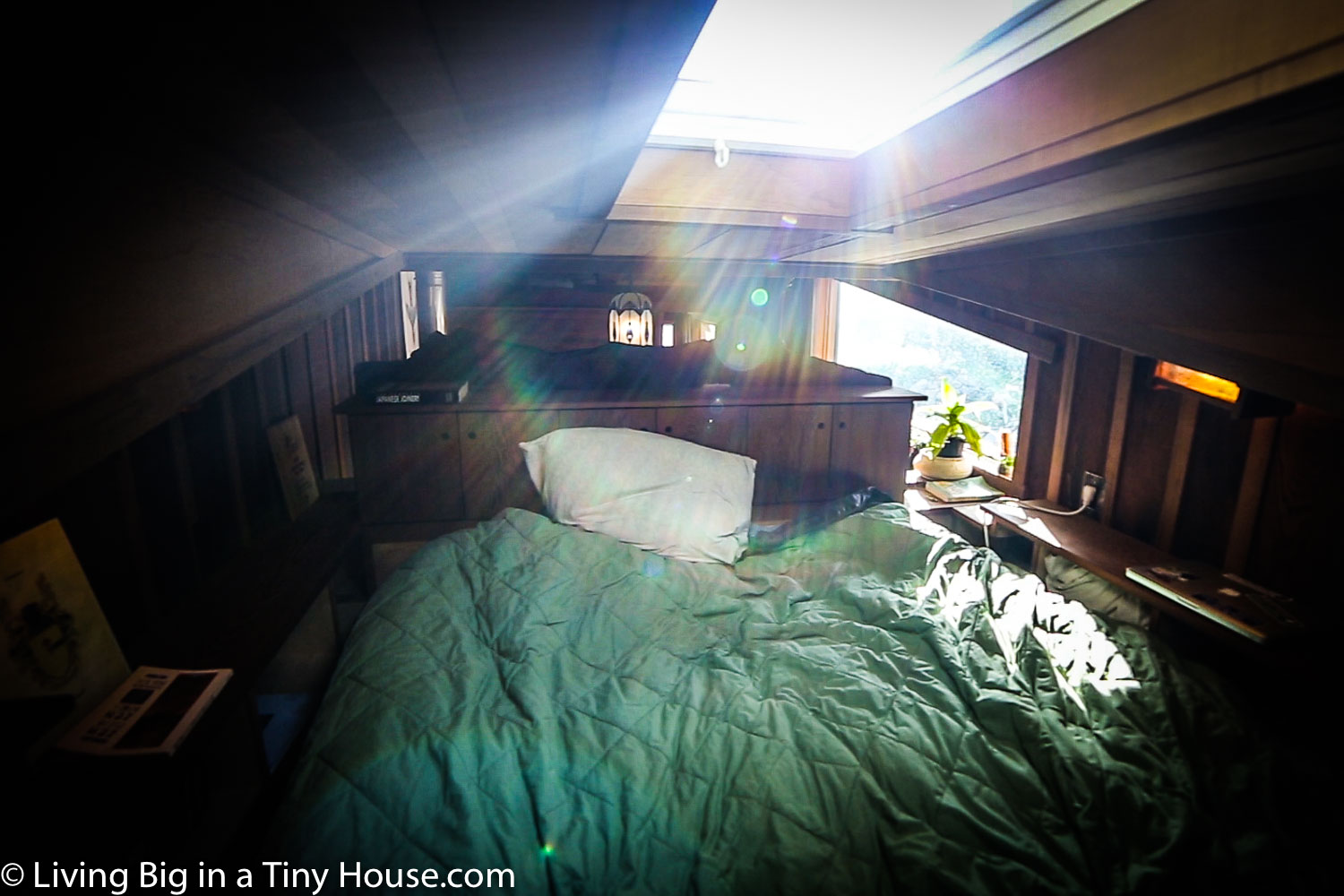 When it's time to rest your head at night, the sleeping loft is perfectly cosy and comfortable. A single roof window allows a spectacular view of the night sky and extra head height is provided by a clever 'fin' shaped roof which also helps the home to remain more stable when on the road. The sleeping loft has ample storage built into the head-board and is surrounded by book shelfs to ensure you're always spoilt for choice when it comes to bedtime reading.
In total, the home measures 28.5′ in length, 8.5′ in width and 13.5′ in height. Despite the size, this tiny house on wheels is truly designed to move and has many features which allow the home to be more suitable for travel including the gooseneck design of the trailer which helps to transfer the weight into the bed of the truck and keep the home more stable when towing. The unique shape of the home has also been capitalised on with a clever interior layout as seen in the 360° interactive photo above.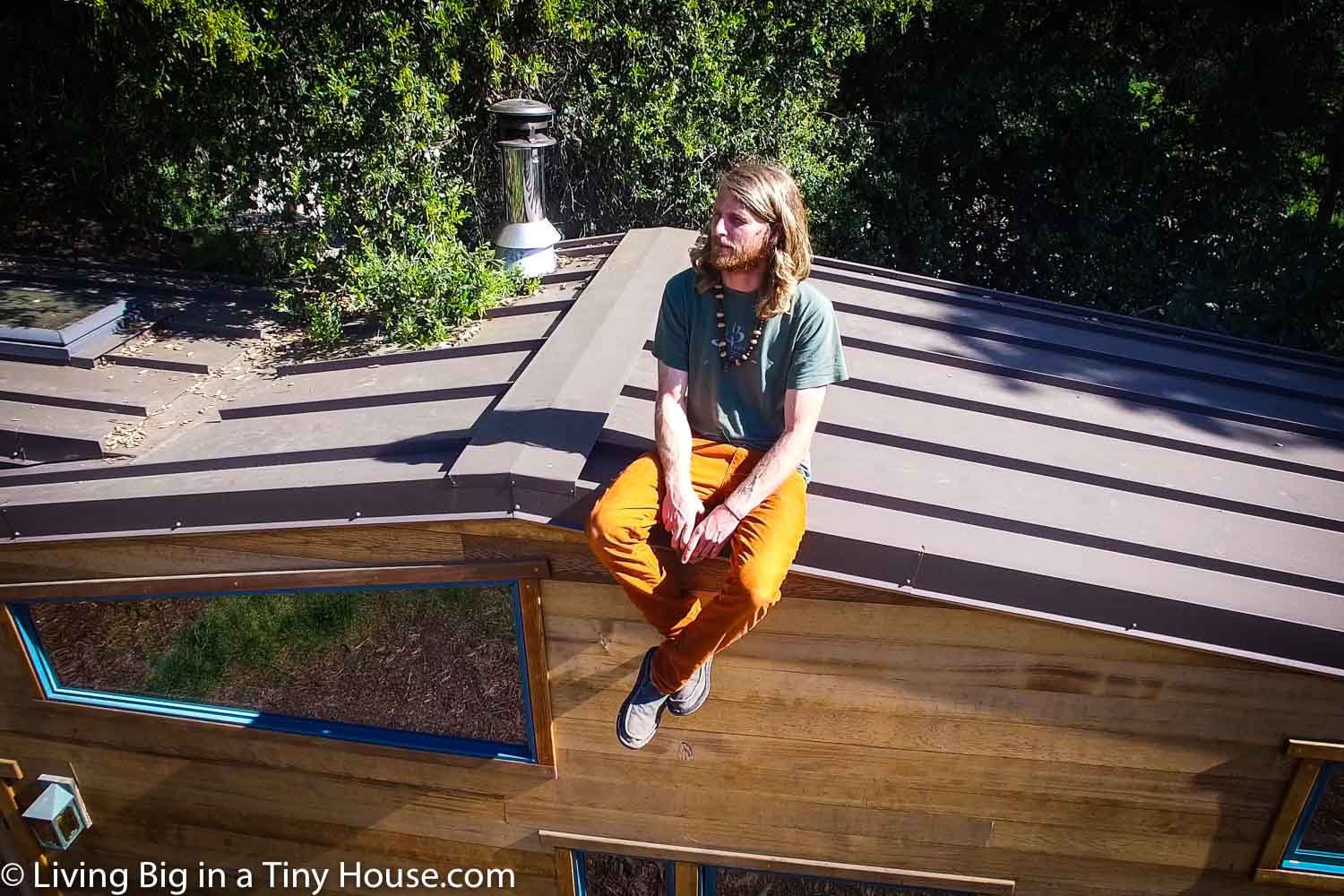 The builder and owner of this home is Ryan O'Donnell from Humble Handcraft in California and his spirit and life philosophy are deeply embedded in it's construction. Ryan believes that every dollar that we spend in life is a vote for the kind of world that we want to live in and indeed every dollar that was spent in making this home was a vote for sustainability, local sourcing, artesian craftsmanship and beauty. His tiny house building company will undoubtably be one to watch out for in the future as he continues to take on more tiny (yet truly grand) design challenges.