• Tiny House
Musician's Incredible Modern Tiny House & Mobile Music Studio
Asha Mevlana is an incredibly talented musician who is used to a life on the road, traveling the world as an electric violinist with the Trans Siberian Orchestra. Wanting to put down some roots and have a solid home which would also suit her unique lifestyle, she chose to build a tiny house.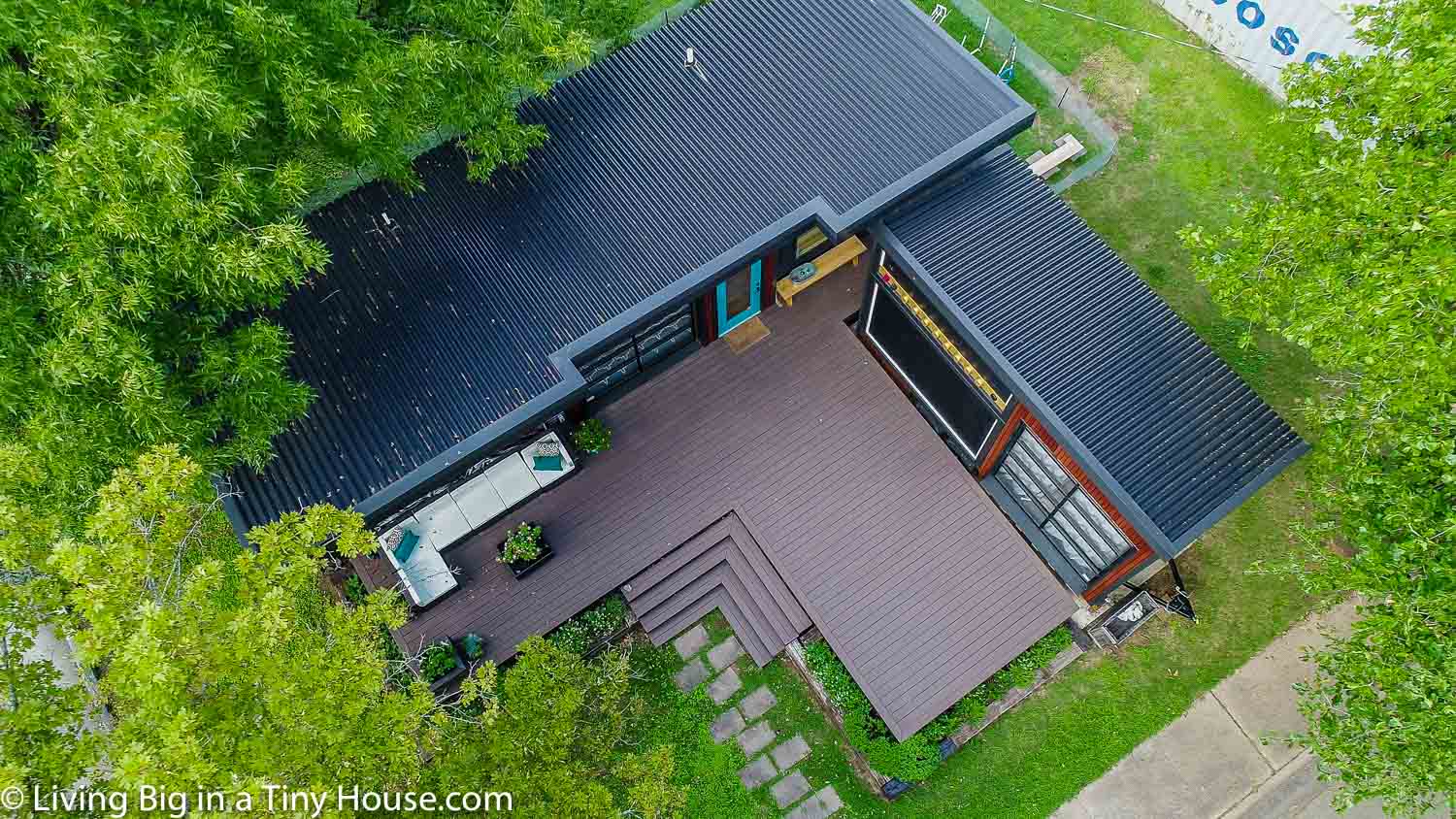 The home's layout is incredibly unique. Next to the 40ft tiny house on foundations is a smaller, completely mobile music studio on wheels. The two spaces are joined by a large deck, which purposely opens up towards the street to encourage community interaction and even some musical concerts for the neighbourhood.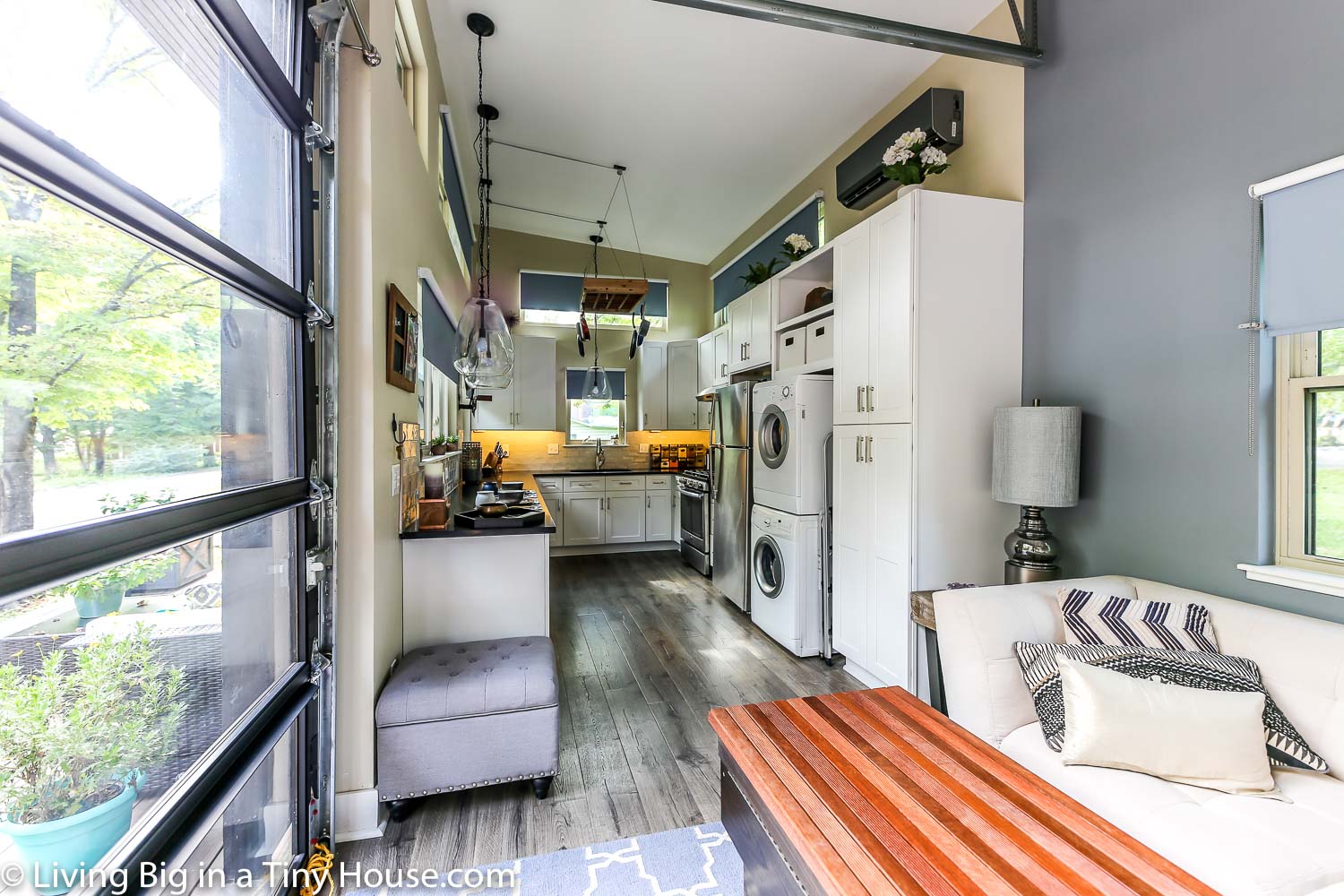 Inside, the home is modern and spacious. At 10ft, it's a bit wider than the average tiny house on wheels, which gives some more options for the interior layout, such as stairs into the loft and truly helps to make the home feel light and open.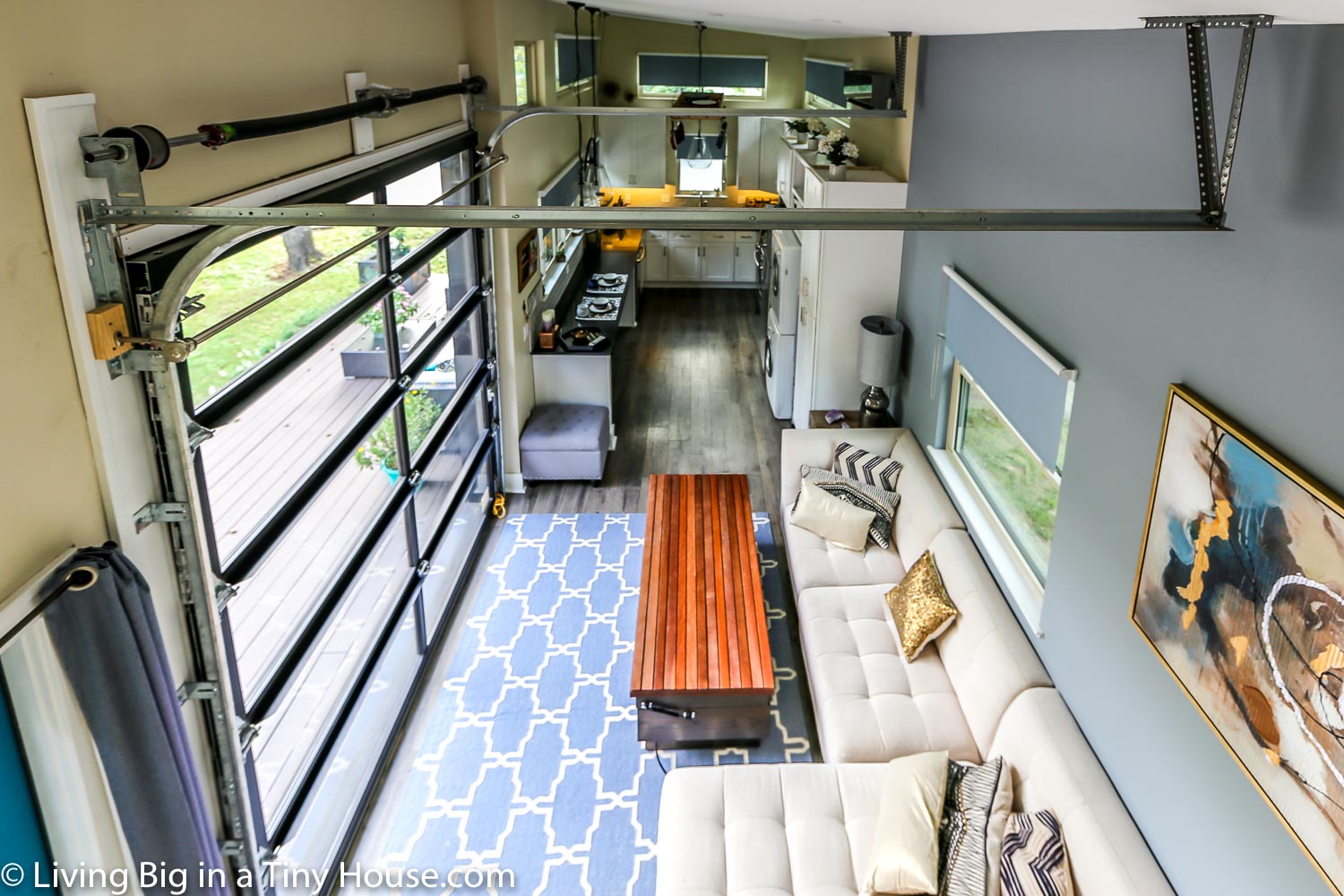 Adding to the sense of space is the large garage door, which enables light to flood into the home and also allows the home to completely open up onto the deck, removing the barrier between indoor and outdoor living.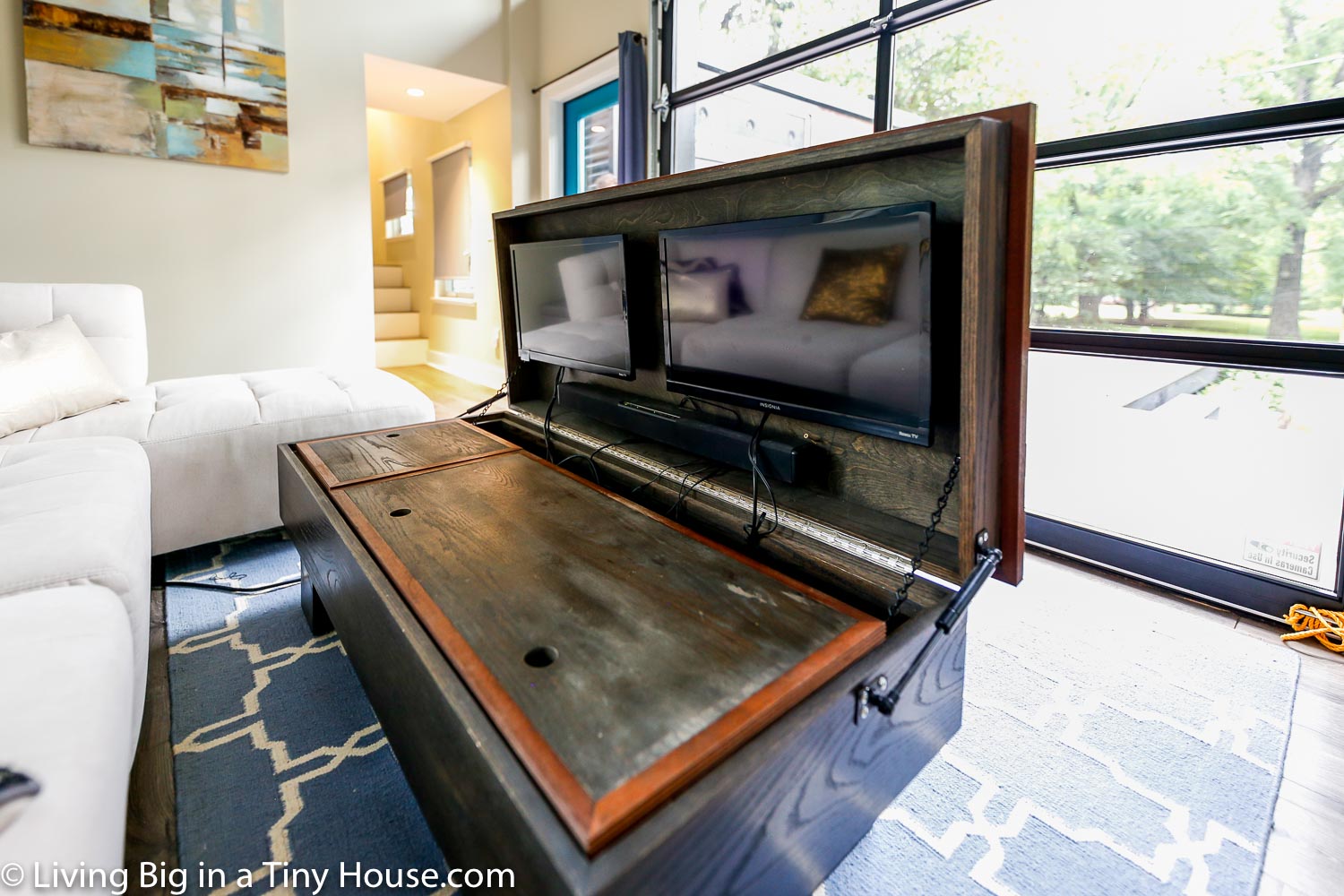 All throughout this home are clever design ideas. such as the coffee table which opens up into a desk workspace and media / entertainment station, which cleverly hides all the screens and electronics when not in use. Storage is of course added in abundance in the house and everything in this home has it's place.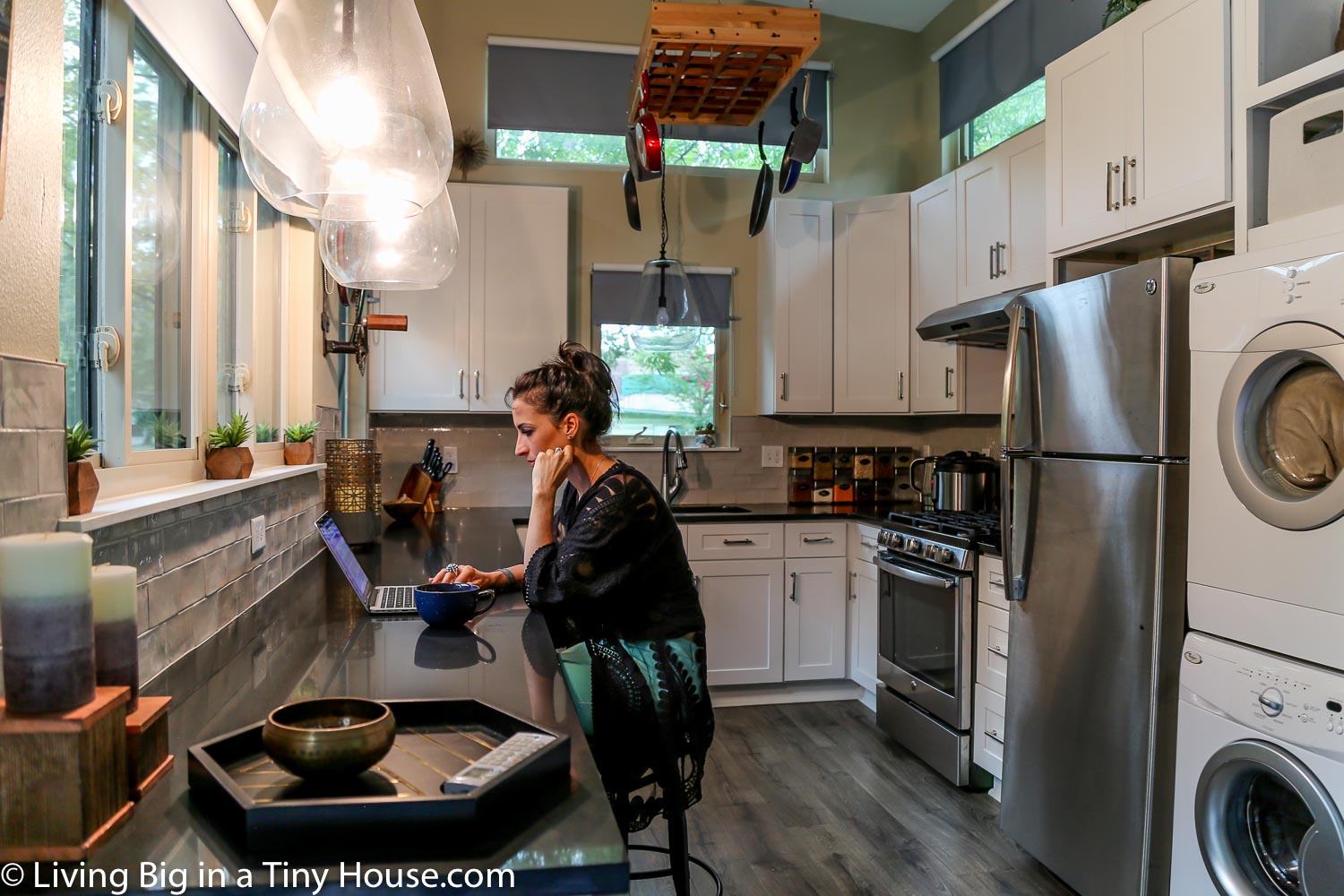 By tiny house standards, Asha's kitchen is palatial. There's an abundance of counter space, which also doubles as a breakfast bar and occasional home office. All the appliances in the kitchen are full sized, which even includes a washer and dryer. There's plenty of cupboard space in the kitchen. Asha's style is modern and minimalist, ensuring the home feels trendy yet wonderfully uncluttered.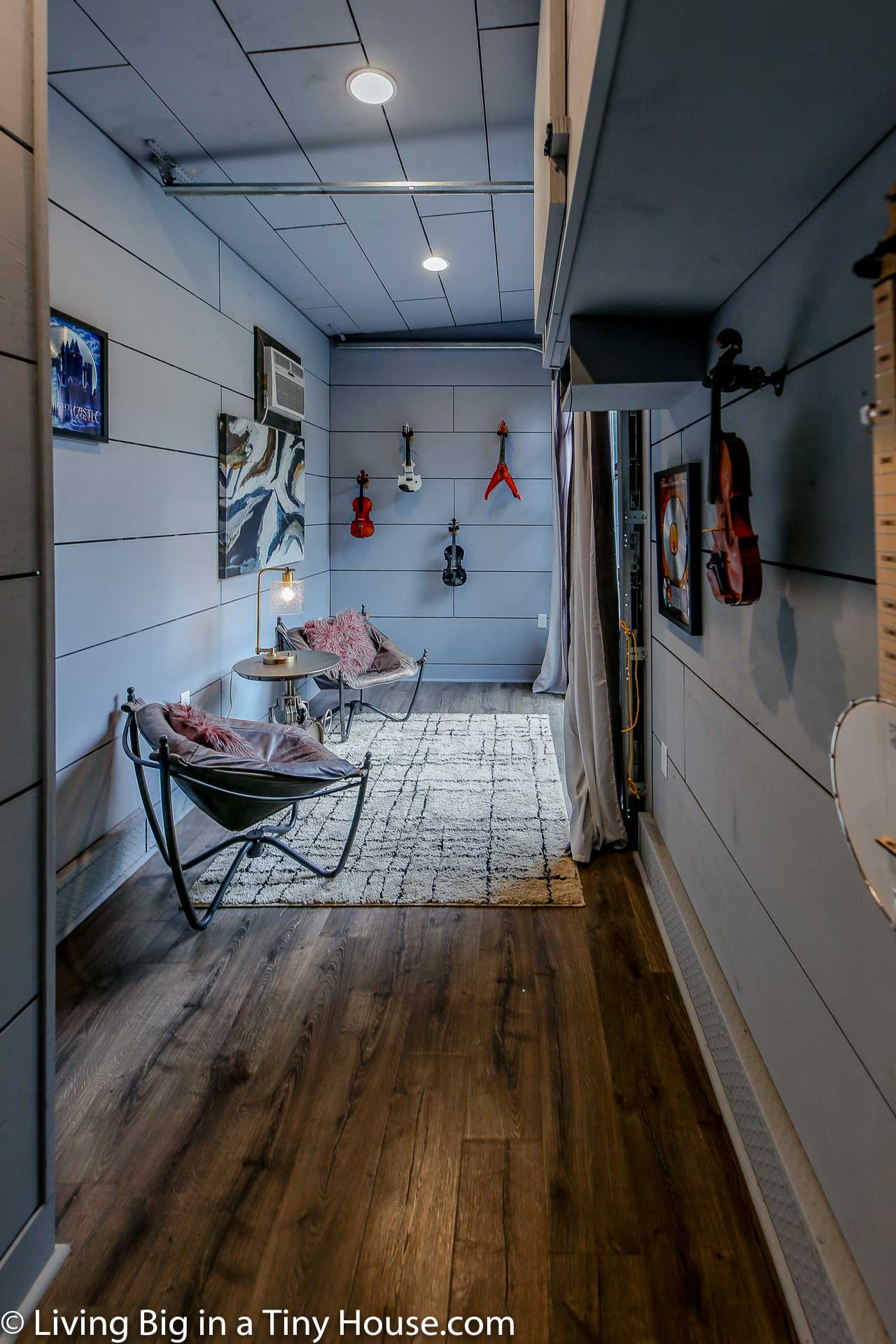 The music studio next door adds a completely different element. It's well insulated and sound proofed and provides the perfect place for Asha to store her instruments, practice her music and create her art. Constructed on wheels, this mobile music studio can be even taken on the road and is capable of being used as a performance space.
Asha is an inspired and creative soul with an abundance of talent. This small home is perfectly suited to her unique life as a successful musician and travel television presenter, giving her a comfortable place to call home, space to create and practice music, while keeping it all simple and compact making it easy for her to hit the road and go on tour with the orchestra. Be sure to watch the full video tour above for a complete insight into her beautiful home and lifestyle, and make sure you visit Asha's website to find out more about her and her music.