• Tiny House
This 40ft Tiny House Is A Mansion On Wheels
At roughly 40 x 8ft (12 x 2.5m) it's hard to call this home on wheels tiny! This is a great example of what happens when a tiny house designer has a bit more space to play with. Despite the attraction to tiny homes there are many people who feel they are just too small to be practical for every day living. Also, many of the smaller homes have more limited options for accessibility. This tiny mansion was especially designed with the baby boomer generation in mind who are now approaching retirement and are interested in downsizing to a tiny house on wheels without wanting to climb ladders into sleeping lofts!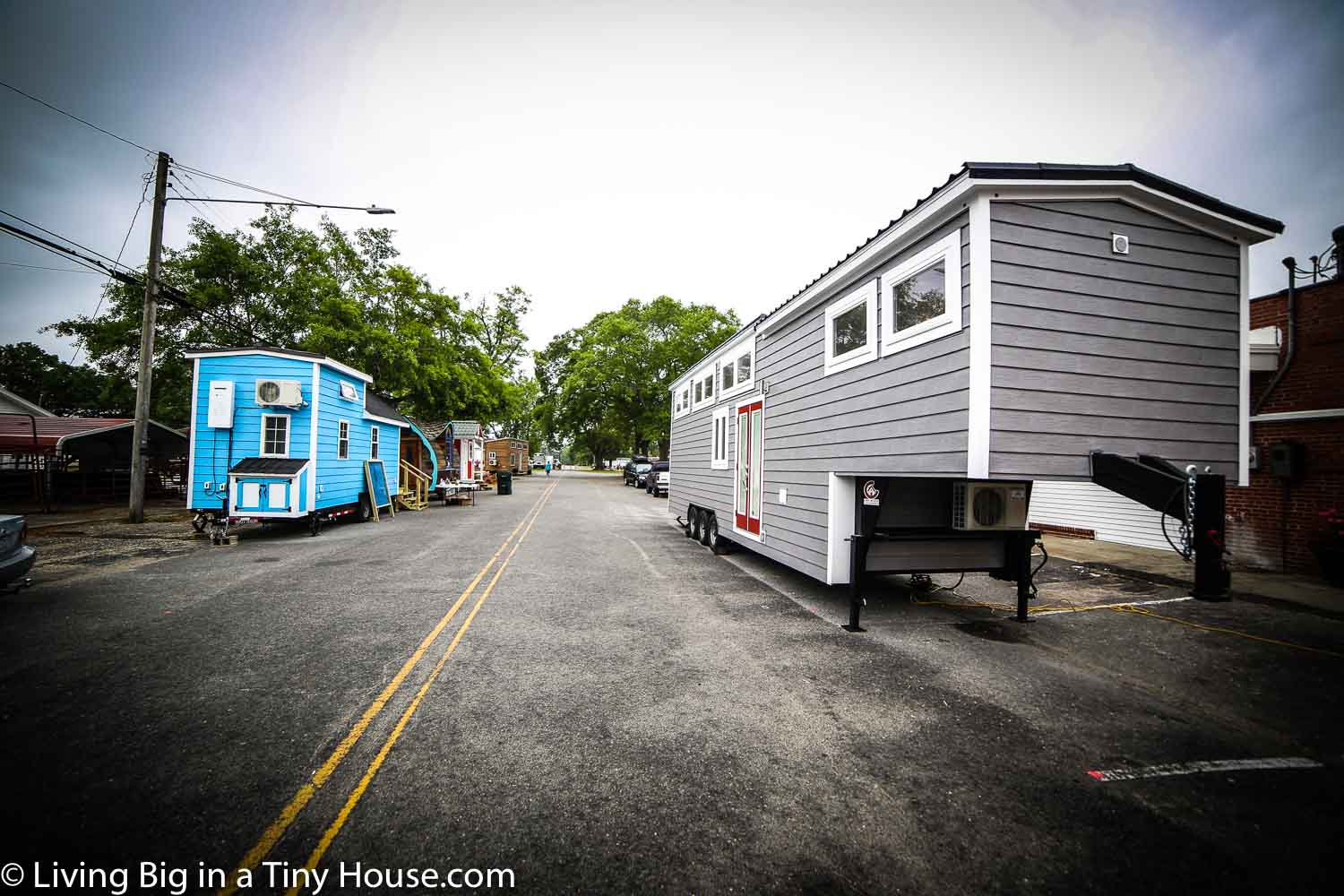 We were lucky enough to encounter this home on wheels at the Tiny House Street Festival in North Carolina. It certainly stood out amongst the other tiny houses at the event and we were excited when it's designer Mike Bedsole of Tiny House Chattanooga gave us a tour.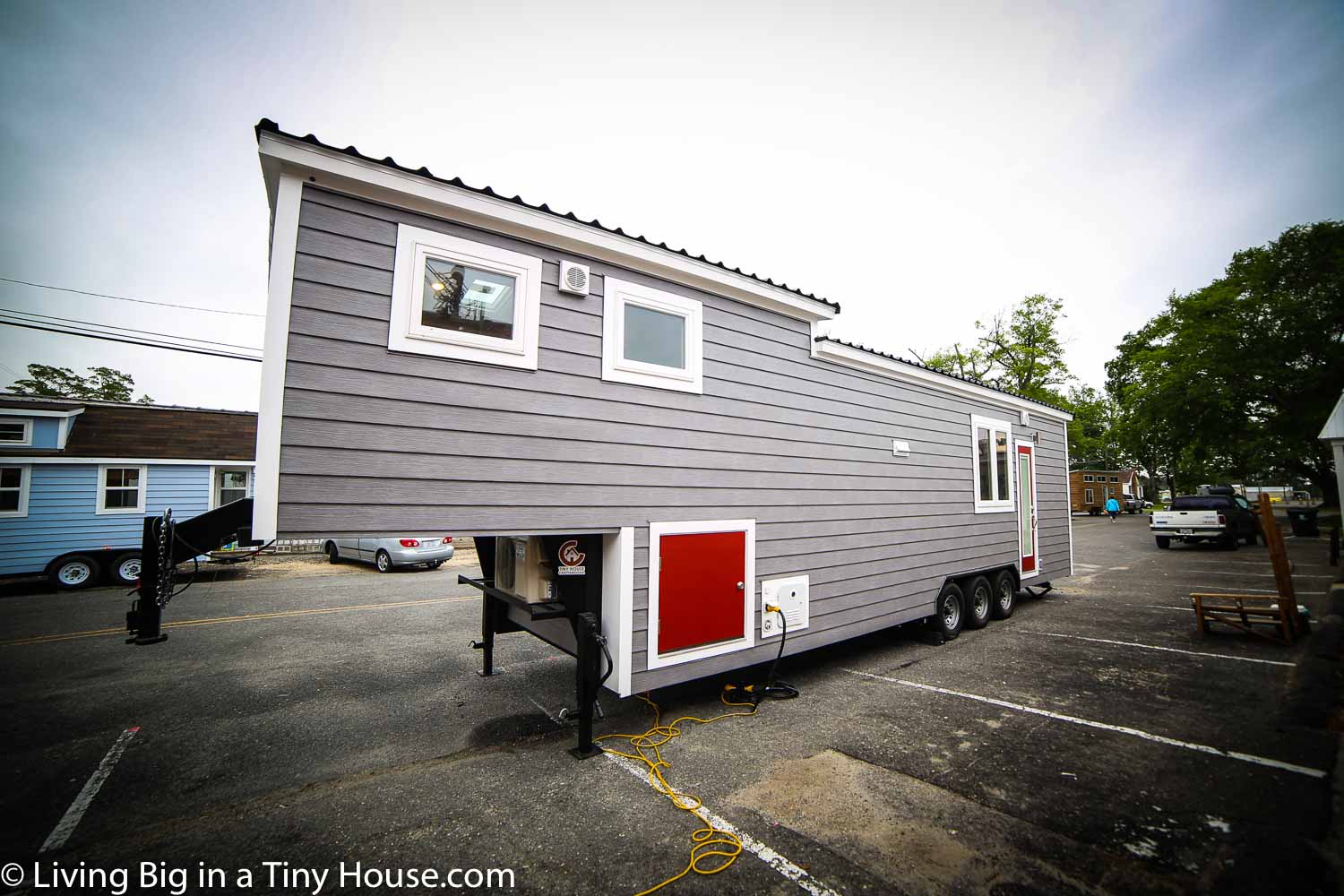 One of the first things to notice about this house on wheels is the unusual shape which is created by the gooseneck trailer it sits on. It could easily be argued that the shape detracts somewhat from the homely look of the tiny house but it does serve a very practical purpose (especially for such a large towing object) as it transfers more of the weight of the trailer into the bed of the towing truck which helps to stabilize the load during transport.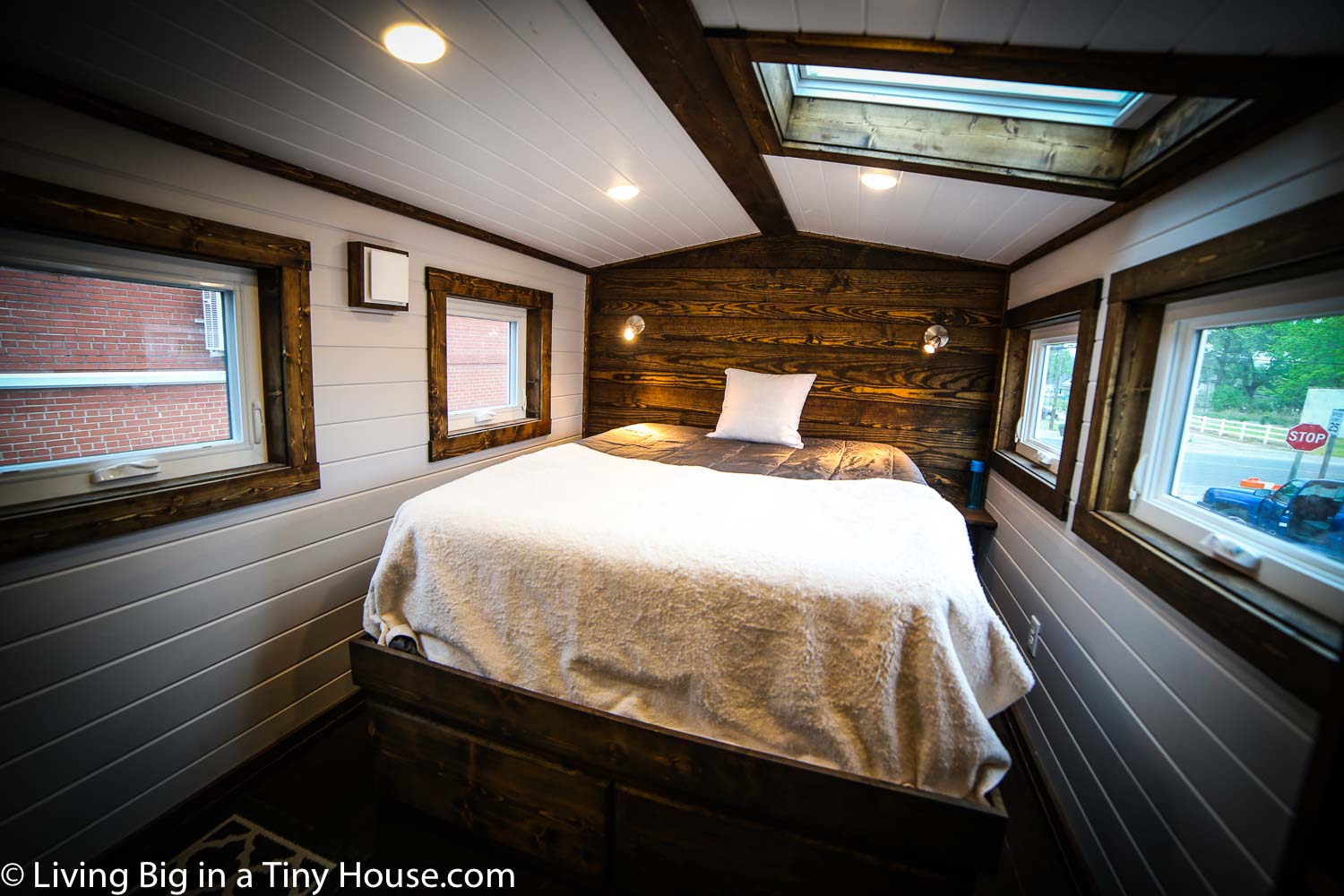 One of the other main advantages to the gooseneck design is that it creates potential for a bedroom space over the trailer hitch which has full standing room. This tiny house bedroom actually has a height of 6'7″ (205cm) giving the ability, even for a tall person, to comfortably stand.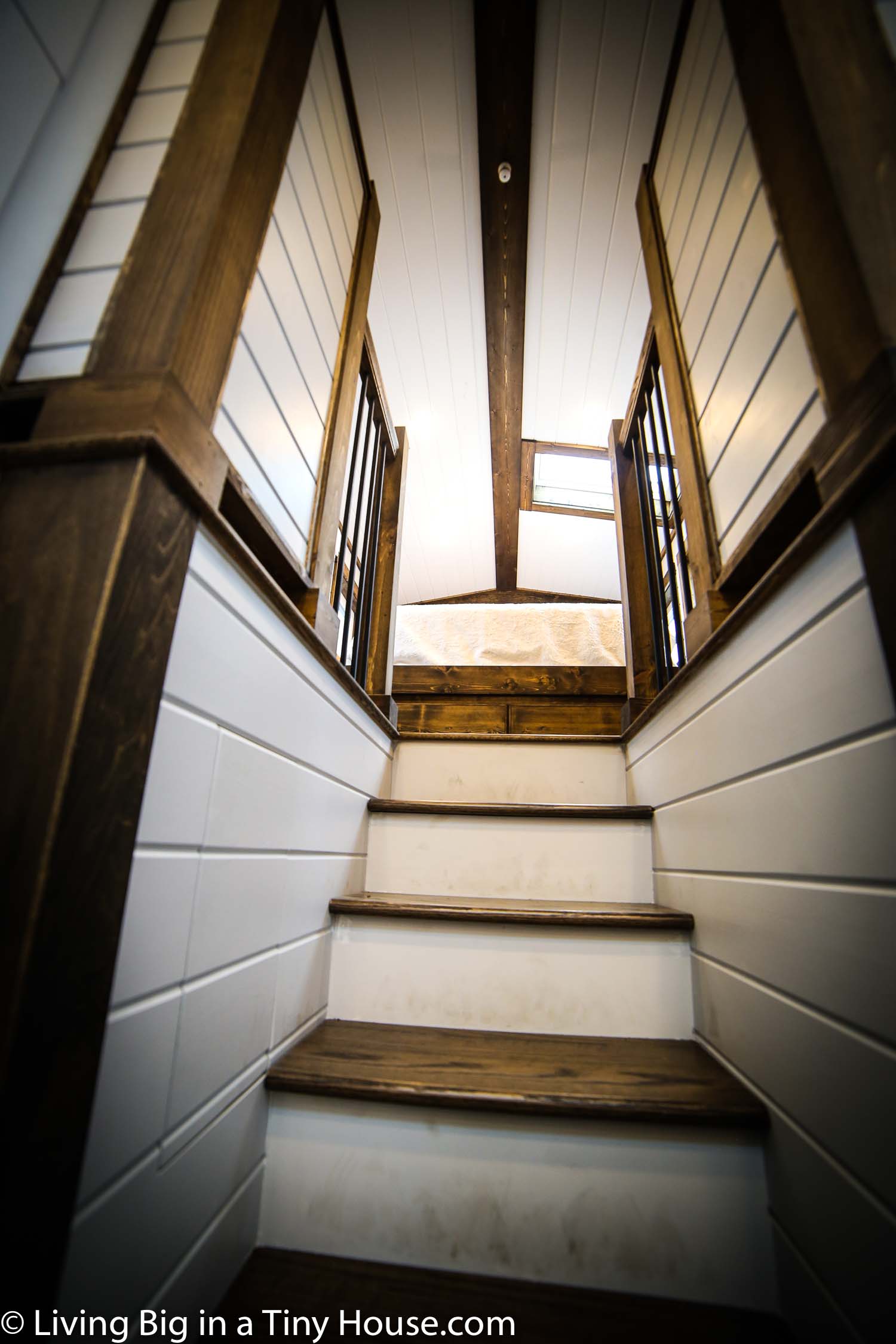 One of the other things which is obviously missing from this design is any kind of ladder. The larger design has enabled a rather normal style of staircase to be utilized. In true tiny house fashion though, it does still have a lot of built-in storage.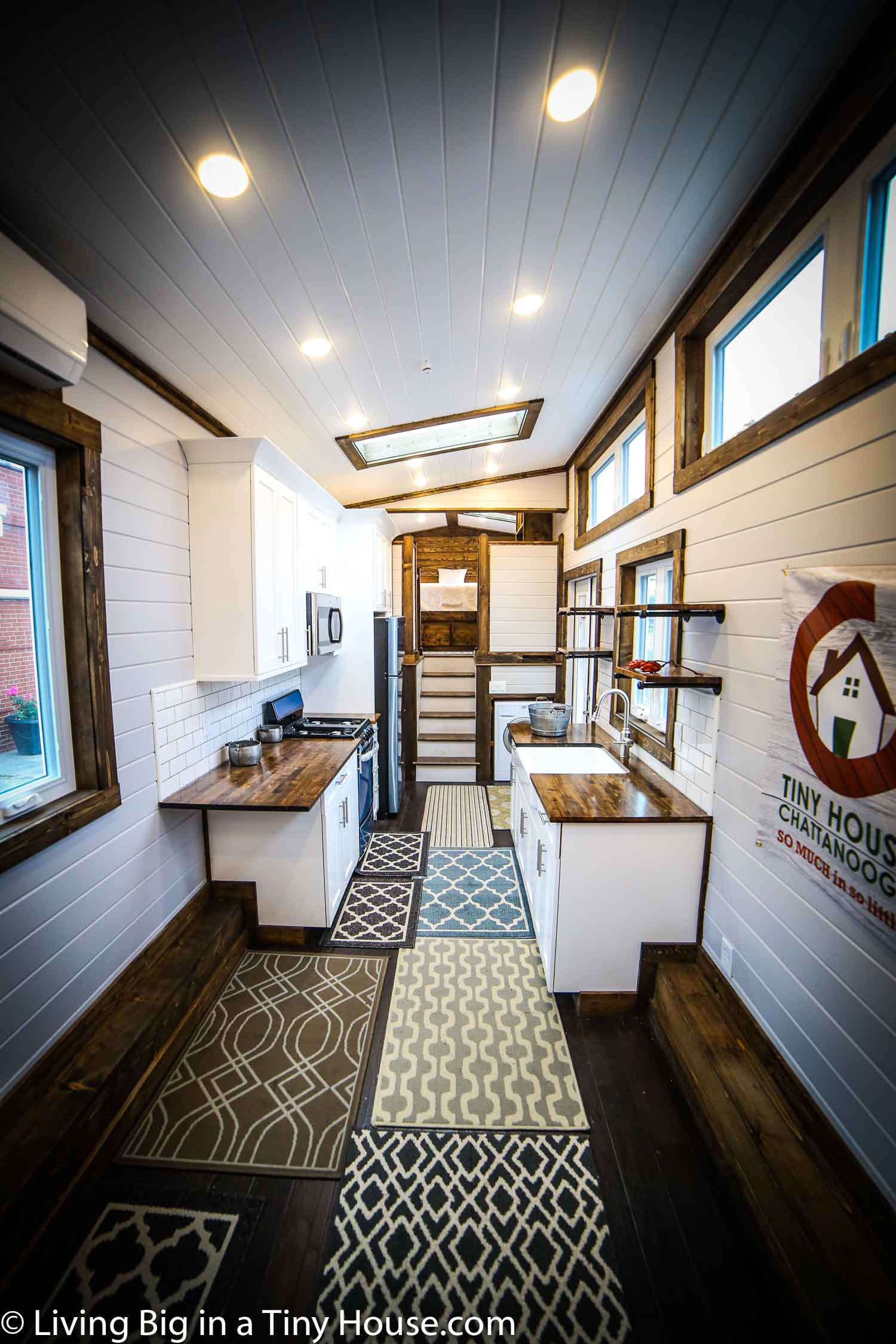 The lengthy design of the home allows for a fully featured and ultra functional galley-style kitchen design. All of the homes appliances are full sized and the design can easily enable multiple people to comfortably fit in the kitchen at the same time. The homes lovely wooden floors were covered with matts during the festival to protect them from the thousands of people who walked through during the three day event.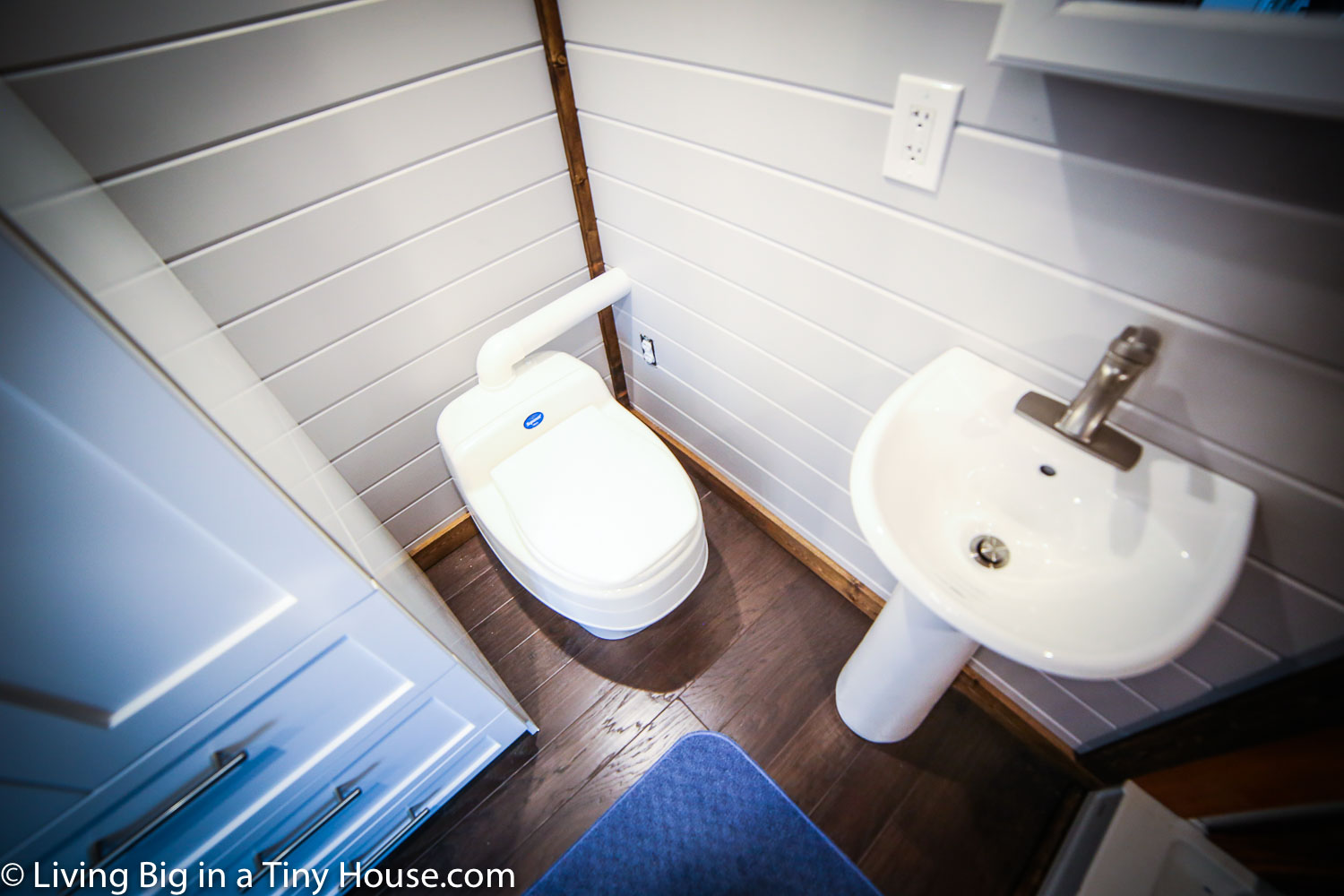 Towards the other end of the home, is a full sized bathroom which has space for a large shower, a basin, composting toilet and plenty of additional storage space for clothes or other items.
For those who have been interested in the idea of a small home on wheels but feel they couldn't quite find comfort in a true tiny design, these larger homes may be a great option.