• Bus / Van Life
Life On The Road In An Ex-Ambulance Camper
Our ambulance camper (or campulance) makes for an incredible home on the road! We never set out to purchase an ambulance but when we found this one, it was love at first sight. Ambulances are well maintained, have plenty of space in the back and often come kitted out with all kinds of cabinetry and storage so they can be some of the very best vehicles to convert into campers after their service.
After completing our tiny house build in the USA, we were looking for a towing vehicle and came across this one. Immediately, we knew that this was the perfect vehicle for us. The vehicle is a 2008 C4500 Chevy Kodiak with a powerful 6.6L Duramax engine, making it a fantastic towing vehicle for the home. Not only that, when we first toured the ambulance, we saw the abundance of space giving us lots of storage for when we are traveling with the tiny house, but also it's potential to be converted into a camper in the future.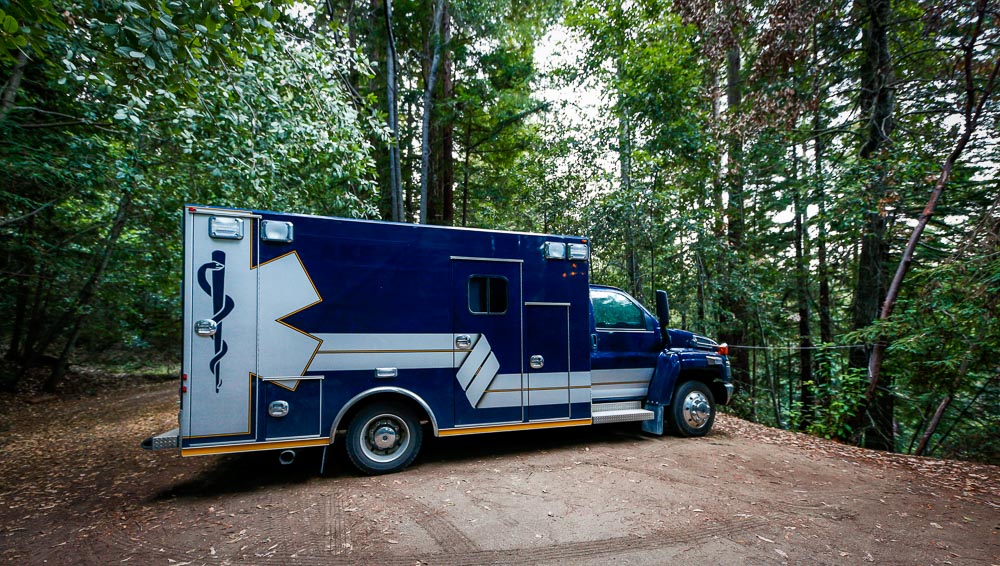 So far, the only changes that we have made to the vehicle is adding a tow package, including a reversing camera and upgrading the sound system – because safely towing the tiny house and having the ability to listen to some good music and podcasts on our very long drives was essential! Other than that, the vehicle shown here is exactly as we purchased it, showing just how much potential there is to use these ex ambulances as campers.
There is an abundance of storage space, giving us plenty of room on the vehicle to store all our clothing, equipment and everything that we need to take on the road. Our set-up on the interior right now is quite basic though. There's no running water, no shower, no toilet and no built in bed. On this last trip, when we traveled without the tiny house we used an inflatable mattress, which was actually surprisingly comfortable!
In the future, our plan is to do a full conversion of this ambulance and turn it into the ultimate camper. There's so much potential in this vehicle and we can't wait to get stuck into that project when we are back in the states next year. Be sure to watch this space to see what we do, and if you have any ideas for the camper, please let us know! Until then, I hope you enjoy the full video tour (above) of the campulance in it's pre-conversion state.