• Small House
Incredible Small Off-Grid Earthship Home
This week we travel to Adelaide, Australia to visit a truly remarkable off-the-grid marvel in the form of an Earthship home. If you're wondering what an Earthship is, you're probably not alone, although in recent years they are becoming more popular and are popping up all over the globe! An Earthship is a radically sustainable form of architecture, which uses a combination of off-the-grid technology, passive solar home design techniques and a unique combination of car tires, trash and earth building all to create a spectacular, high functioning and ultra efficient home.
So, where did this seemingly crazy concept come from? An Earthship is the brainchild of architect Michael Reynolds who was inspired to try and solve 'the problem of trash and the lack of affordable housing'. Driven by this desire, he incorporated thermal mass, passive solar and natural ventilation, natural building and use of recycled and reclaimed materials to come up with the modern Earthship concept. He has since gone on to found his organisation Earthship Biotecture which educates builders from it's home base in Taos, New Mexico and has constructed examples of these remarkable homes all over the world.
Earthship Biotecture describes an Earthship as 'a type of house built with natural and recycled materials with energy conservation in mind. It's designed to produce water, electricity and food for its own use.' Martin and Zoe are one couple who were inspired by Michaels work and decided to undertake the massive building project that is an Earthship, on their home property in Australia.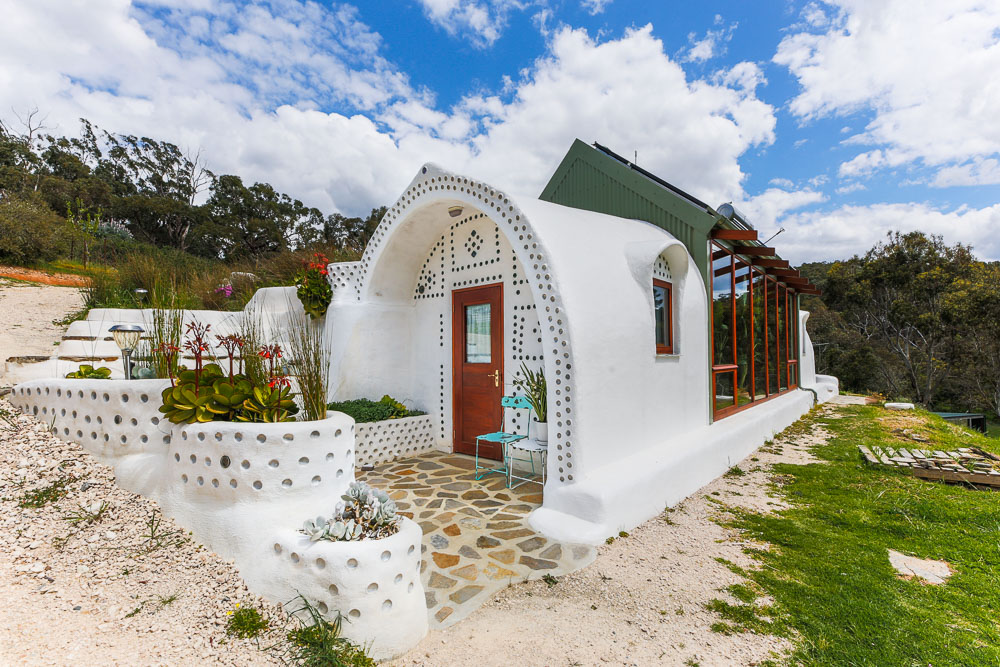 After discovering Earthship Biotecture, Martin travelled to Taos to study with Michael and learn the craft of Earthship design and construction. Returning to Australia, he got to work on designing a small Earthship home.
At just 70m2 (750ft2) this small home is beyond remarkable. It's designed to be ultra efficient, generating it's own power, collecting it's own water, maintaining stable temperature, treating and recycling it's grey-water and even growing food all within the small footprint. Beyond that, it's construction is absolutely beautiful, with stunning symmetry and curves reminiscent of elven architecture from Lord Of The Rings, this home stands out as a true building marvel.
Construction of an Earthship however is no easy task! There is an incredible amount of labour involved. Fortunately Martin and Zoe had the help of a small army of volounteers who came to the rescue and helped to build this dream home. To make the build process even more extreme, Martin and Zoe wanted this home to be Australia's very first Earthship to go through the council approval process, meaning that each aspect of the unusual  building needed to comply with regulations. The result though is nothing short of spectacular.
Be sure to watch the full video tour (above) to see all the details of this incredible building and find out more about it's construction. It was a lot of fun for us to film this episode, and we even had the privilege of spending a couple of nights there to experience the magic for ourselves. With the build now complete, this spectacular home is now a showpiece for sustainable home design in Australia. Martin works as a consultant on Earthship designs and natural building projects around the world. His work and lots of information on this Earthship can be found on his website.
As there was already another dwelling on the property (a straw-bale home owned by Martin and Zoe), council regulations didn't allow for full time occupancy of this Earthship and so it's now available on weekends as a BnB rental, where people can come, experience the home and learn about the sustainable architecture for themselves.