• Container House
DIY Cottage Style Tiny House – Revisited!
It's been a year since we last caught up with Shaye and Tom in their tiny house and since that time a lot has changed! Their tiny abode has transformed into a wonderful home for their growing family, which now includes newborn daughter Hazel.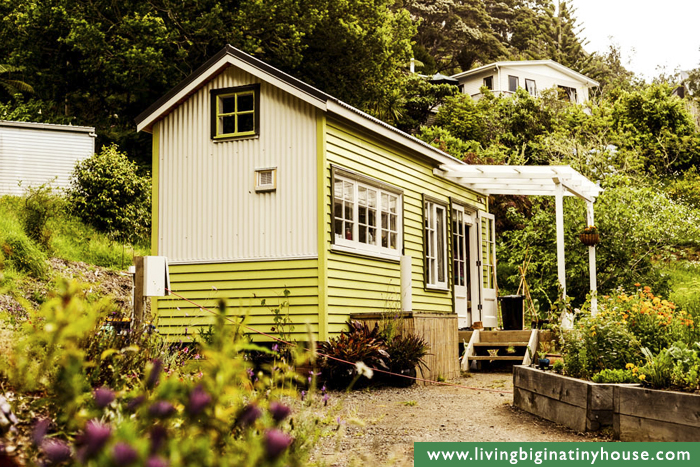 The new porch area makes a wonderful addition to their home, helping to create more indoor-outdoor flow and providing a bit of added protection from the elements.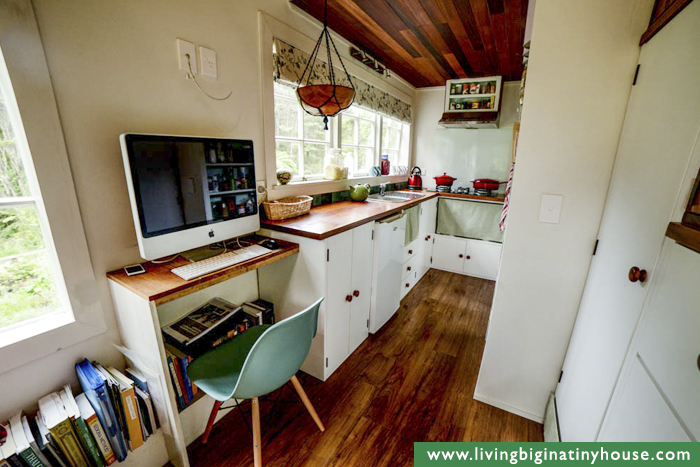 Inside, the Tiny House is looking wonderful. After a year, the house has been well lived in. Little improvements and finishing touches have been added everywhere.  The addition of an office area gives Shaye and Tom a functional space at home to manage their business.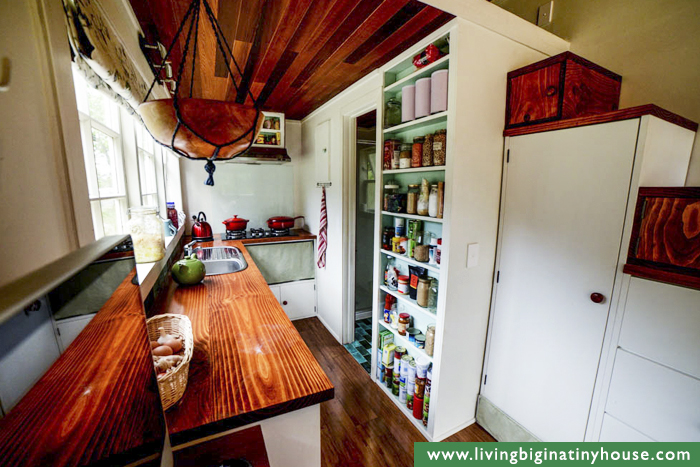 The kitchen has become a wonderfully functional space where the couple love to cook. Shaye and Tom regularly prepare meals for large groups of people and the clever lay-out of the kitchen makes cooking a pleasure.
Since our last visit, the kitchen has been finished with the addition of a designer gas stovetop. A beautiful back-splash has also been created using left over tiles from their bathroom floor.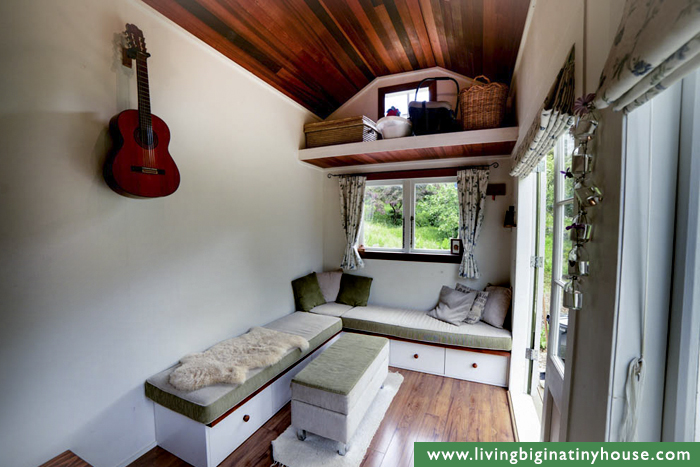 The living room has now been decorated and has become a fantastic space for relaxing and also entertaining friends and family. The very open plan of this house helps to make this a brilliant space for conversation and entertaining.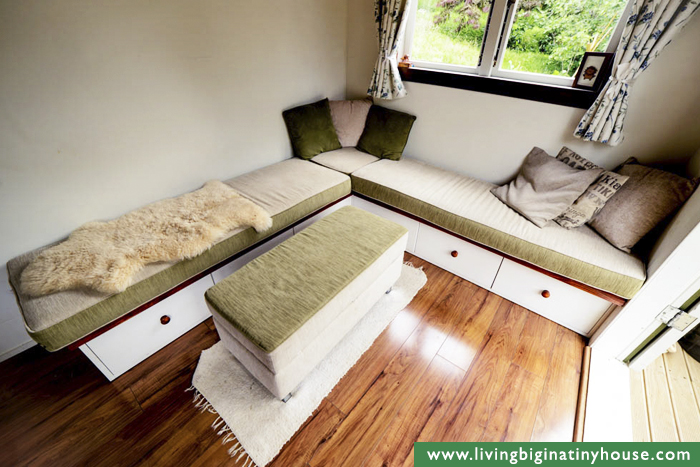 The now finished couch area is beautiful, comfortable, functional and also packs a huge amount of storage space into the house thanks to the opening draws.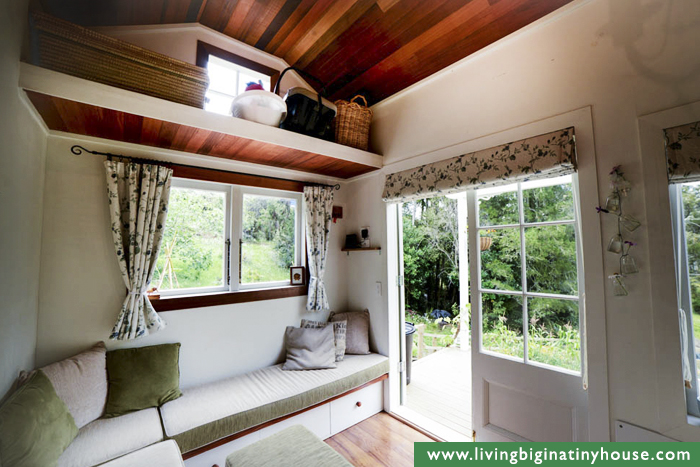 The french doors of the Tiny House help to open the house to the magical surrounding gardens. Above, the storage loft is providing valuable space for objects that may otherwise be awkward to find a home for.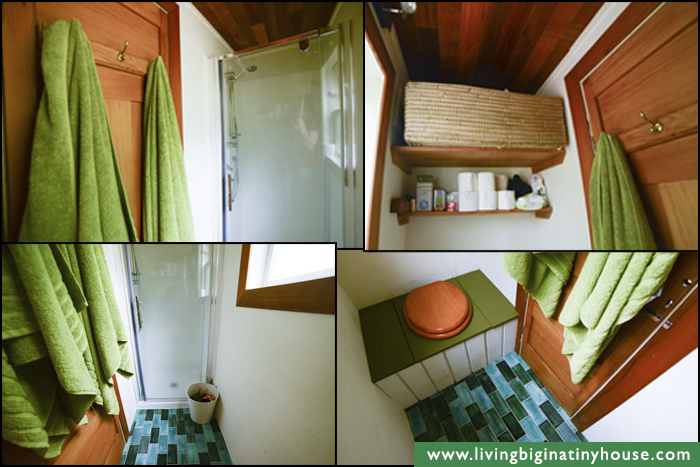 The charming tiny bathroom boasts a full size shower, and simple humanure composting toilet. One year on, the couple have gone through the learning curve of finding the best cover materials for their toilet and it is completely free of any bad odour.
Outside the area surrounding the Tiny House has been transformed into spectacular gardens boasting all kinds of edibles. The garden is watered via a swale (a low tract of land that has been designed to manage the flow of water) which is fed by the grey-water from the house. Shaye and Tom are very careful to only use non-toxic, eco-friendly products in their home, as anything that goes down the sink ends up in their food!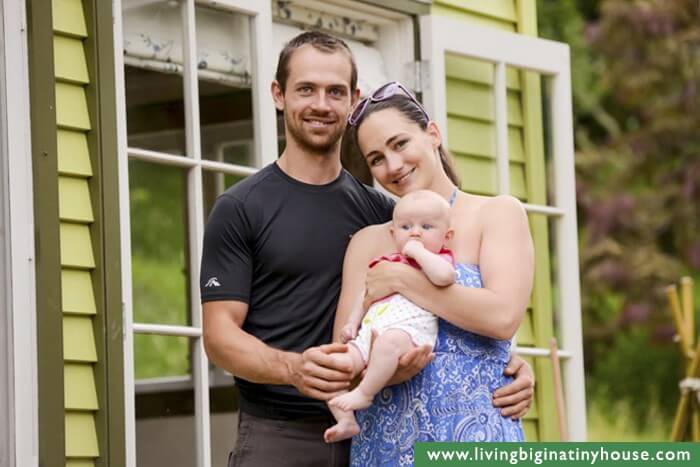 Now with a new-born daughter, the couple are enjoying Tiny House life as a family more than ever. Many people would be frightened at the idea of living in such close quarters with a new-born baby, but Shaye and Tom have completely the opposite reaction. For them, the Tiny House brings them closer together and allows them all to share each special moment as a family.
If you would like to find out more about Shaye and Tom's Tiny House design, or if you would like to purchase plans to their house, you can do so on their website.