• Tiny House
Amazing Builder's Bicycle-Powered Tiny House
Greatly inspired by the builders of the Pacific Northwest, Phil Reimers wanted to create his own tiny house paradise in Tofino. As an artist with considerable skill in working with wood, Phil was able to capitalise on the incredible resources around him including an abundance of driftwood to build himself an incredible home.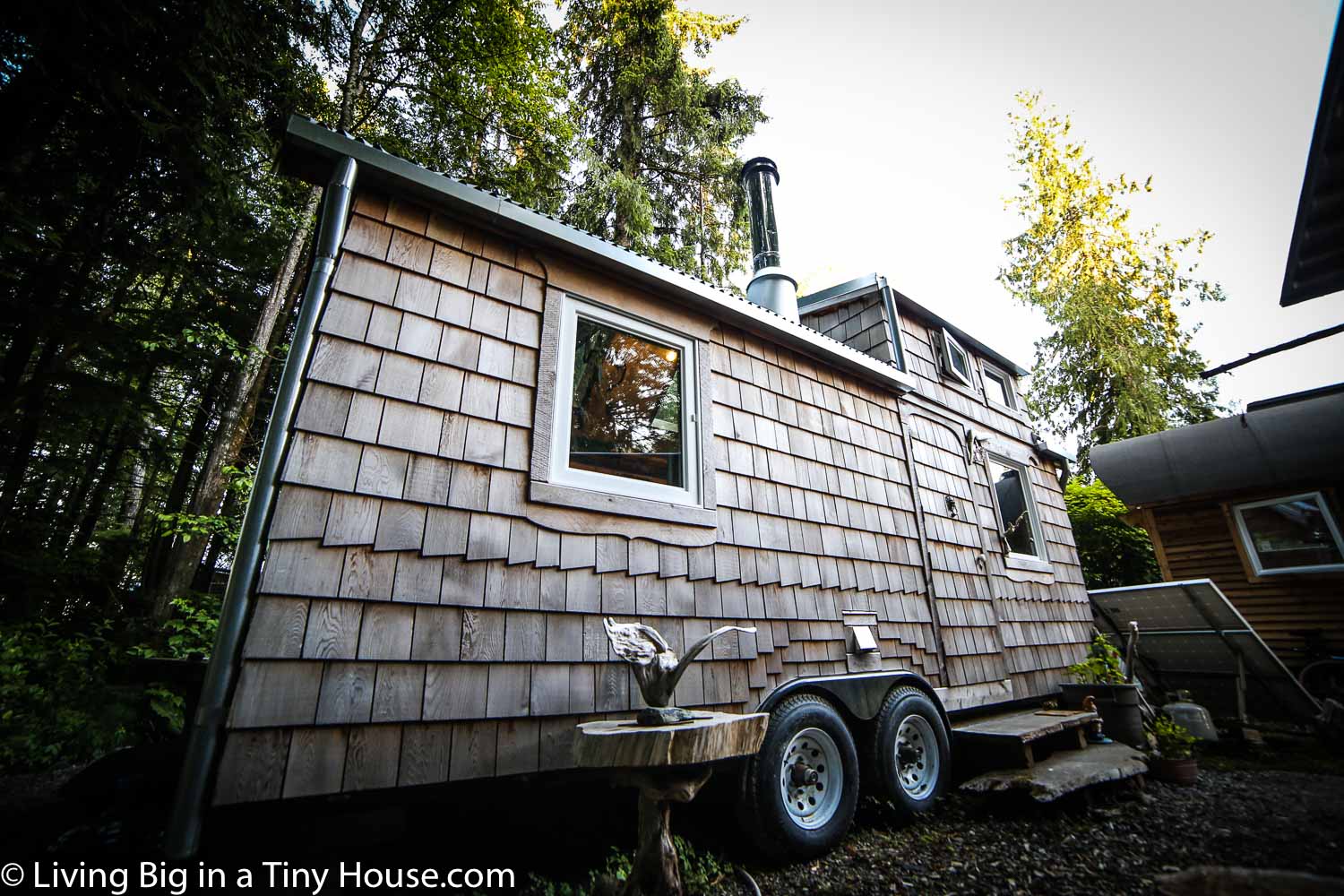 The tiny house has been constructed in a whimsical fairytale style and is entirely clad with cedar shingles. The homes design allows it to flawlessly fit in amongst the beautiful surrounding forest.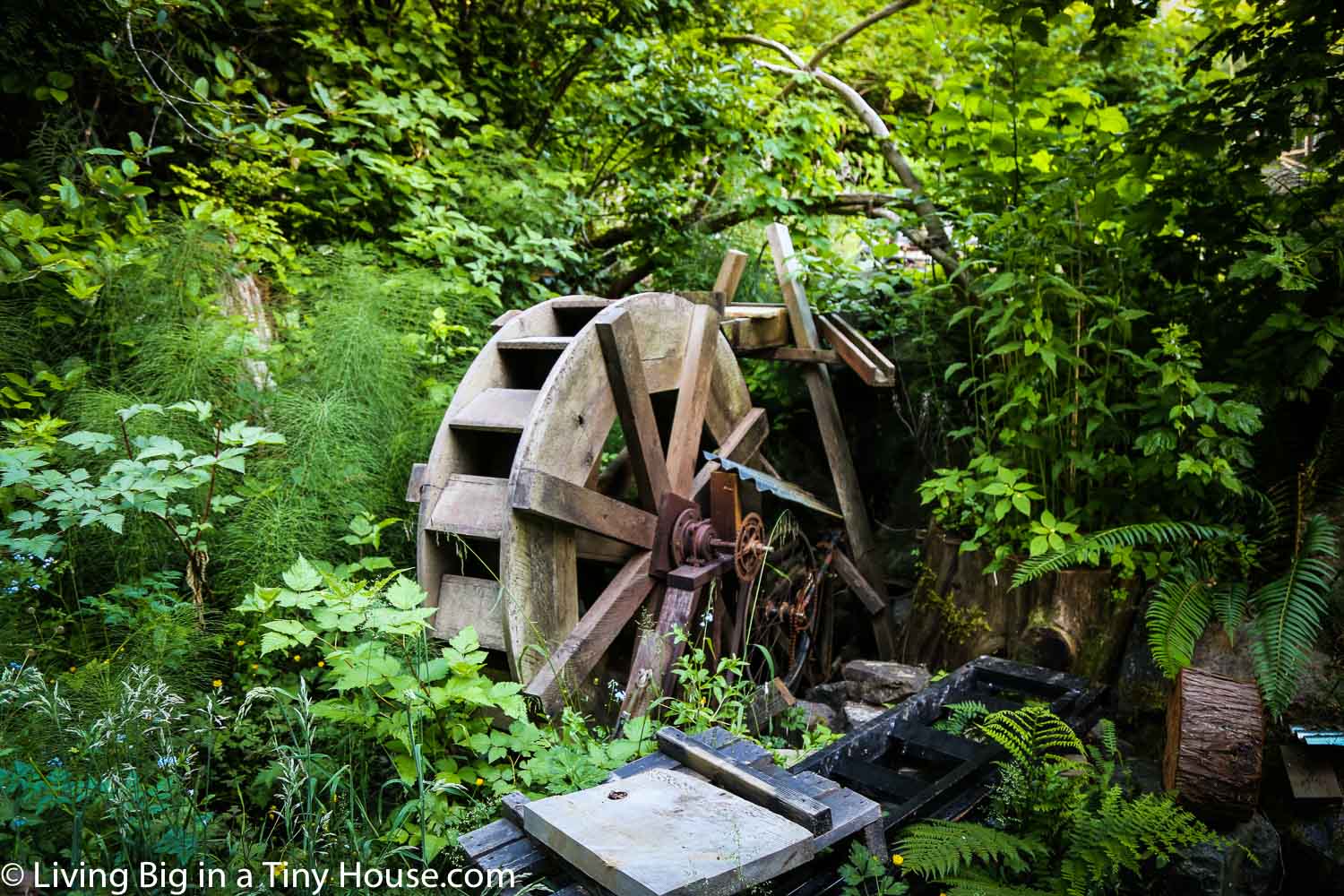 Phil wasn't afraid to experiment with alternative ways of powering the house. In this instance, he has not only traditional solar panels, but also has a water wheel and a human powered bicycle generator all helping him to keep his batteries charged and the lights on.
Approaching the main dutch door with an impressive lion door knocker, you get the distinct feeling that you're about to enter a place which is very special.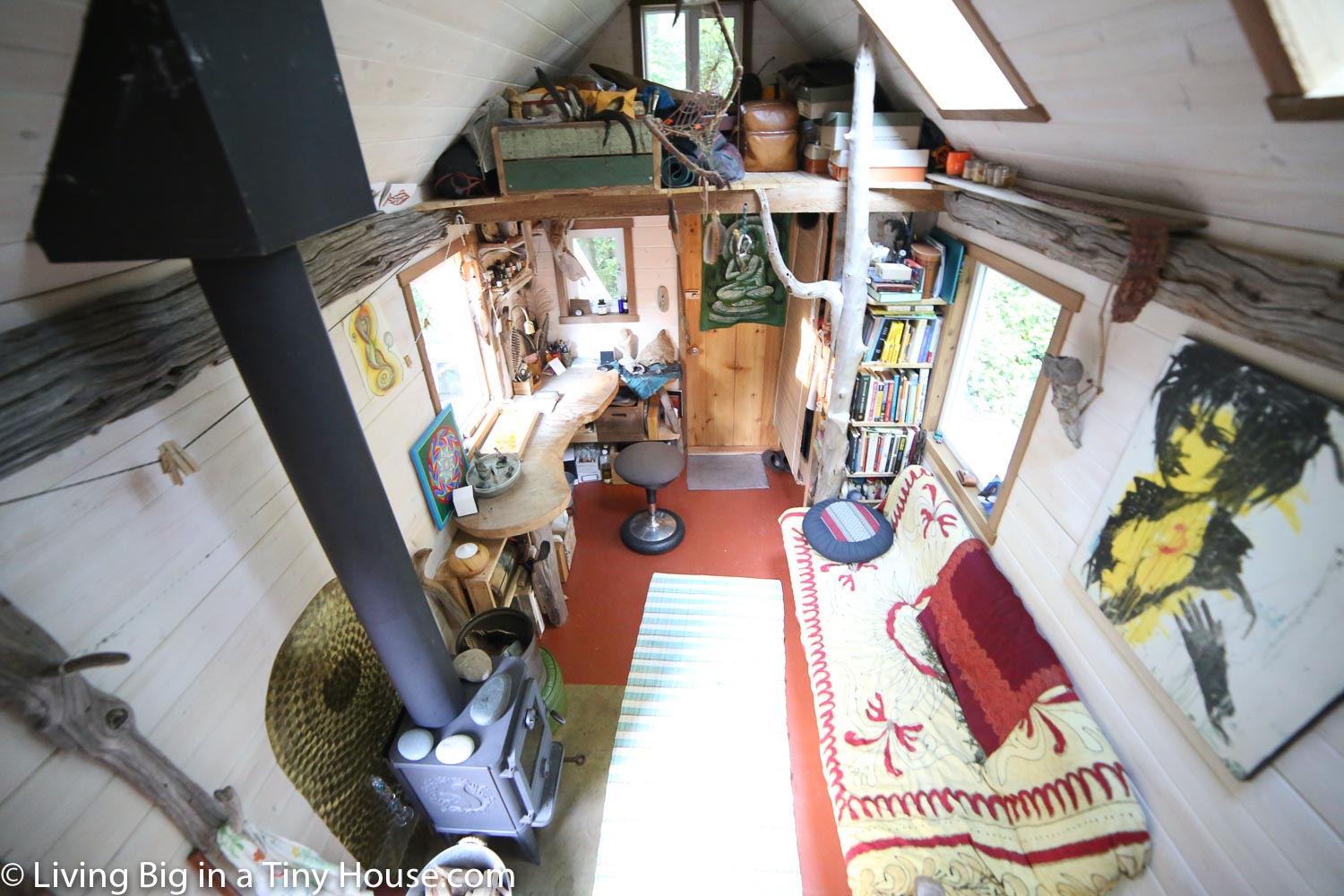 Inside the home you get a full appreciation for both Phil's artistic eye and his skill as a word-worker. In true Pacific Northwest style, driftwood has been used all over the home bringing warmth and character to all corners.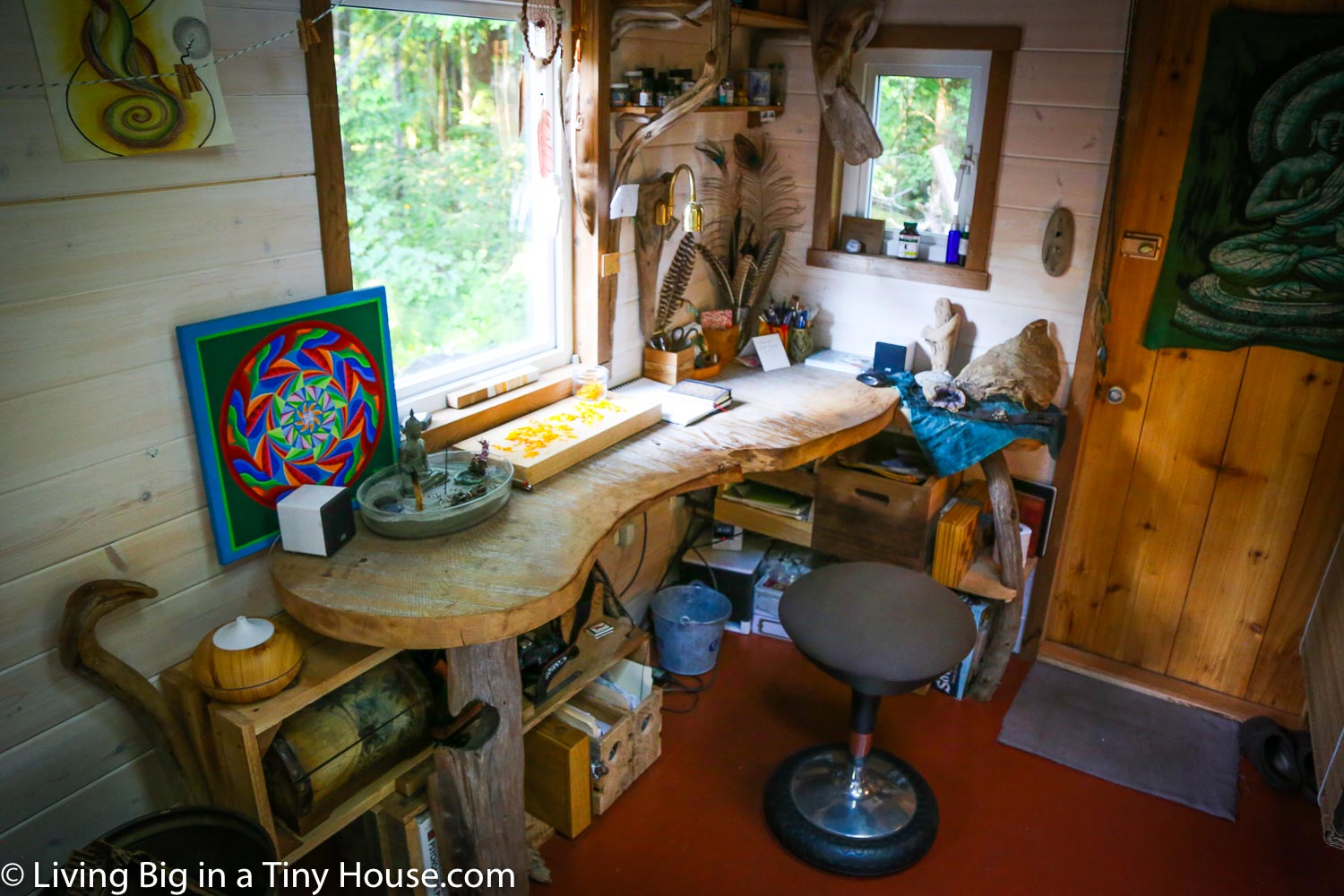 In one corner of the home, Phil has created a workspace where he is able to sit for hours working on his projects, from carving wood, to drying herbs to create teas and tinctures.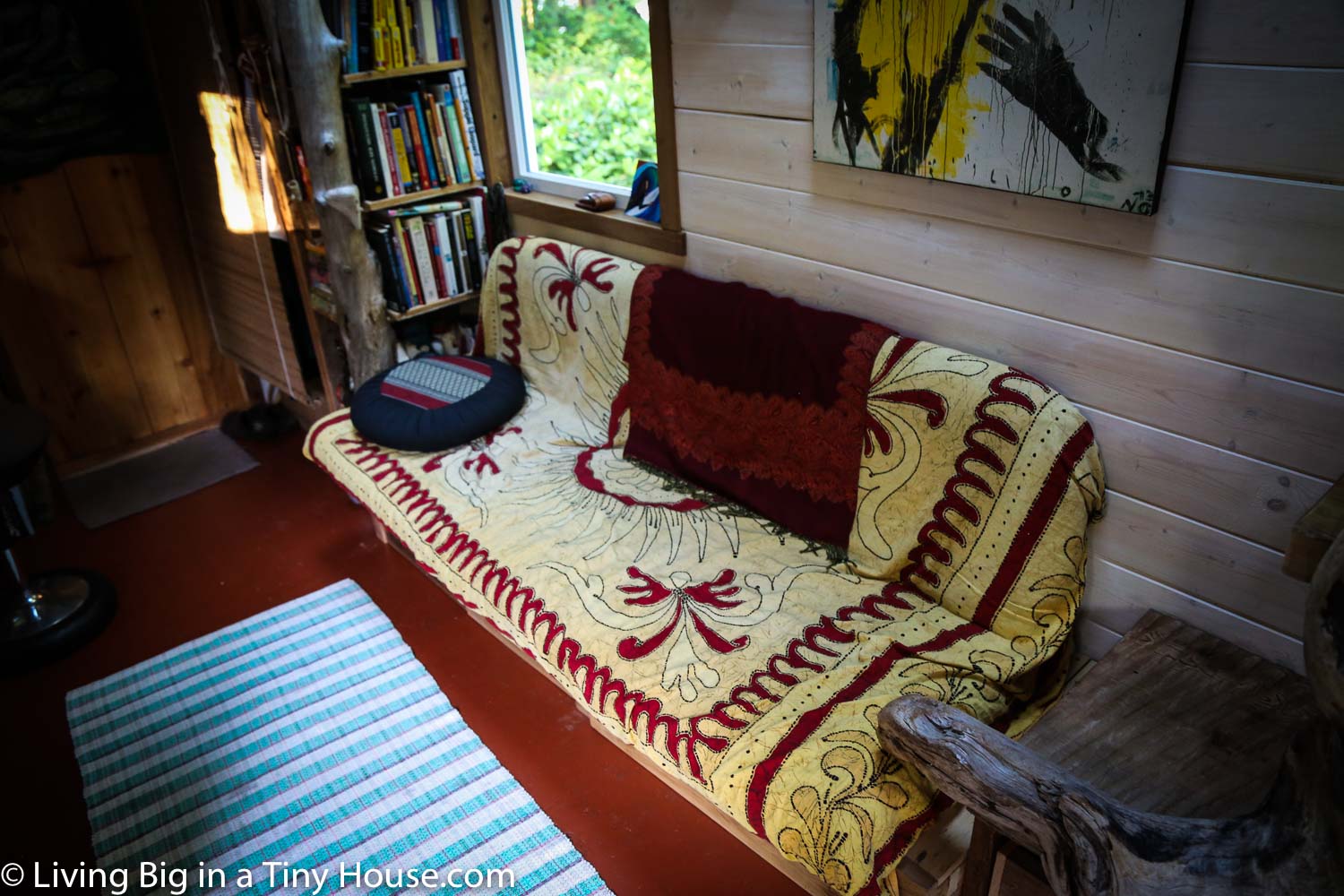 A comfortable couch allows him to sit and relax and also transforms into a spare bed for guests.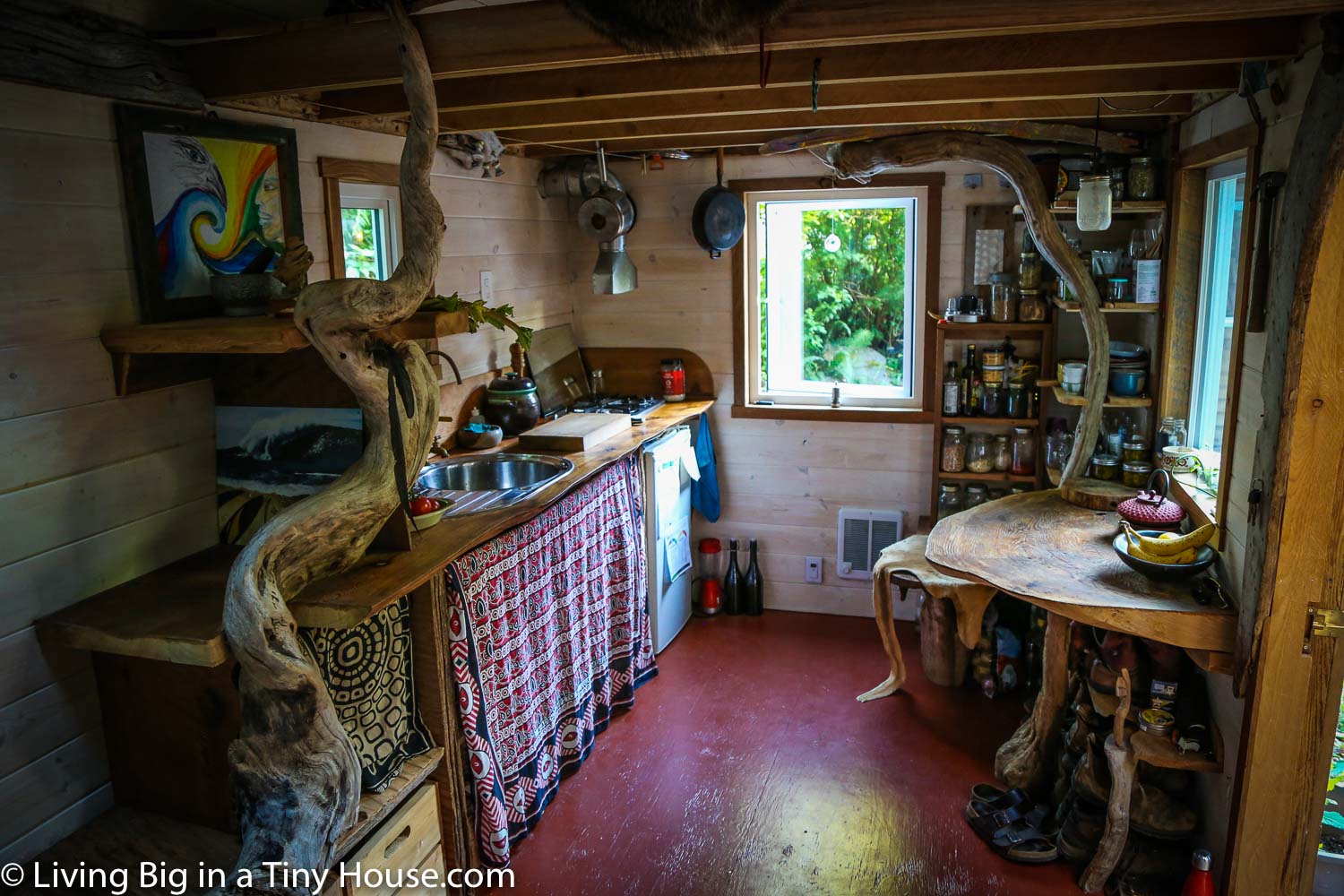 The kitchen is again filled with unique wooden features that are both decorative and functional. There is plenty of space to cook as well as a lovely small dining table to enjoy meals.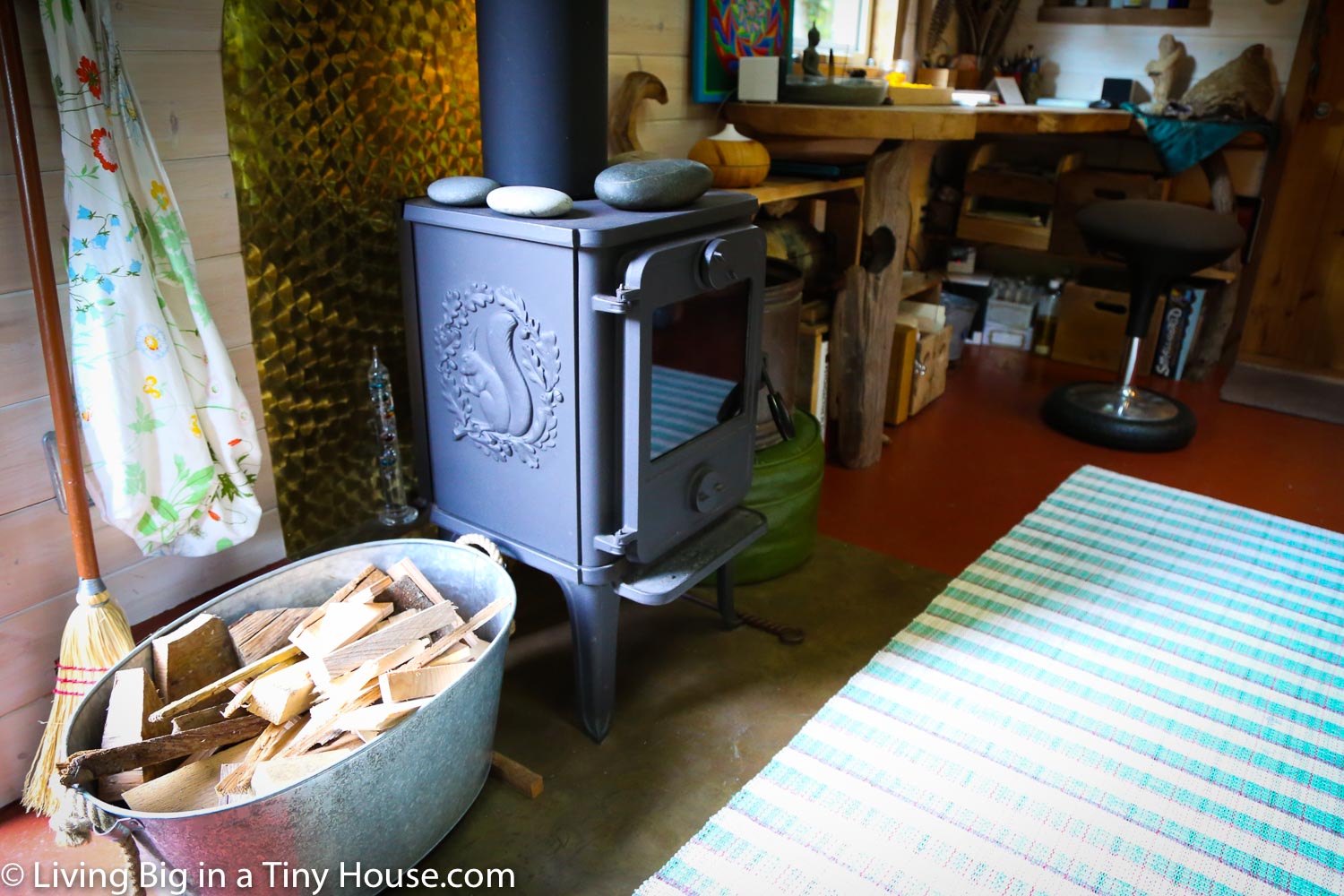 A small wooden stove keeps the house warm and dry. This item is essential for those cold and rainy Pacific Northwest winters.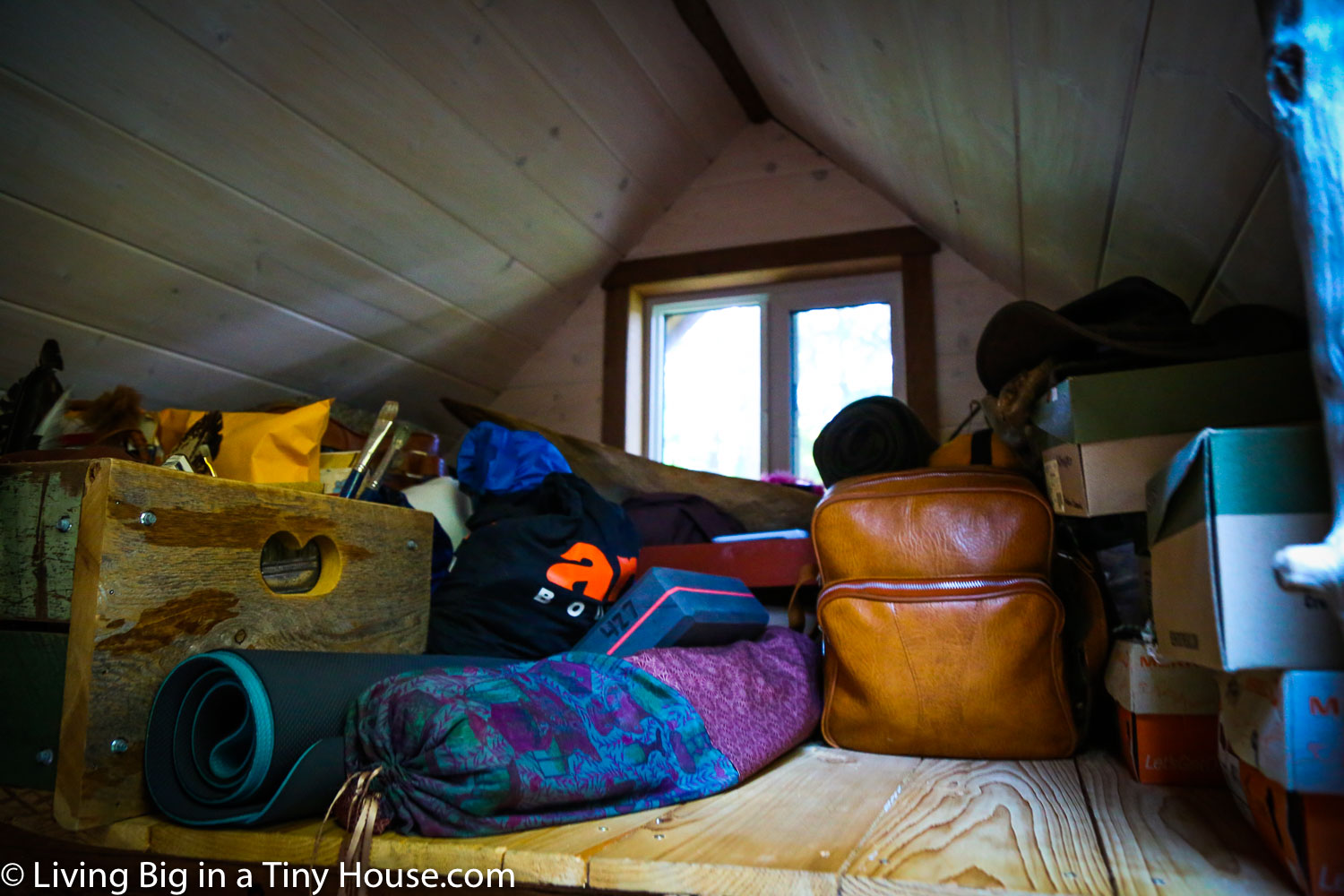 Above the living space is a storage loft, where Phil and his wife are able to keep all their camping gear, art supplies and other treasures.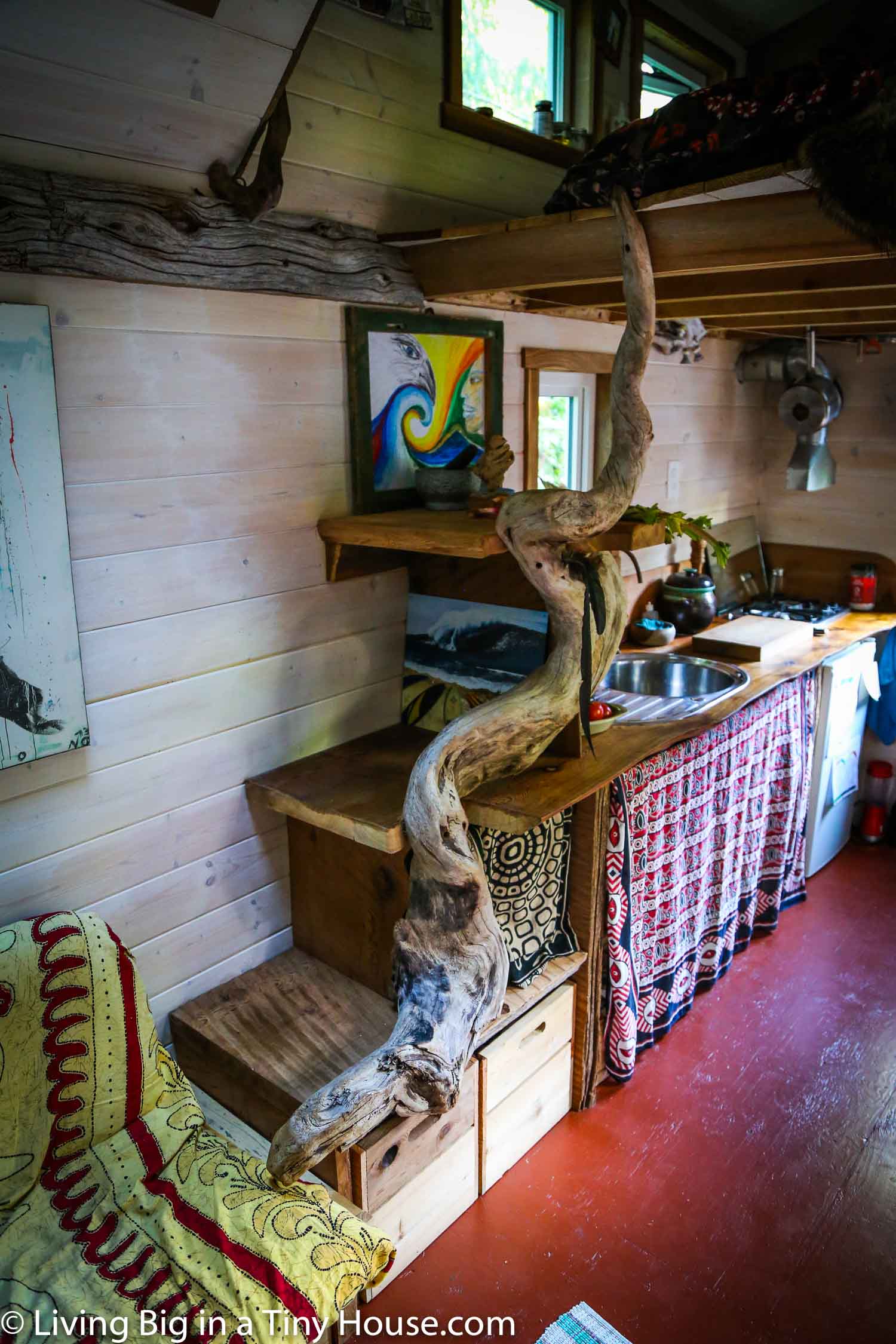 The sleeping loft is located above the kitchen, and access is give to this area via a beautiful staircase which has been made from a single feature piece of driftwood found by Phil on the beach.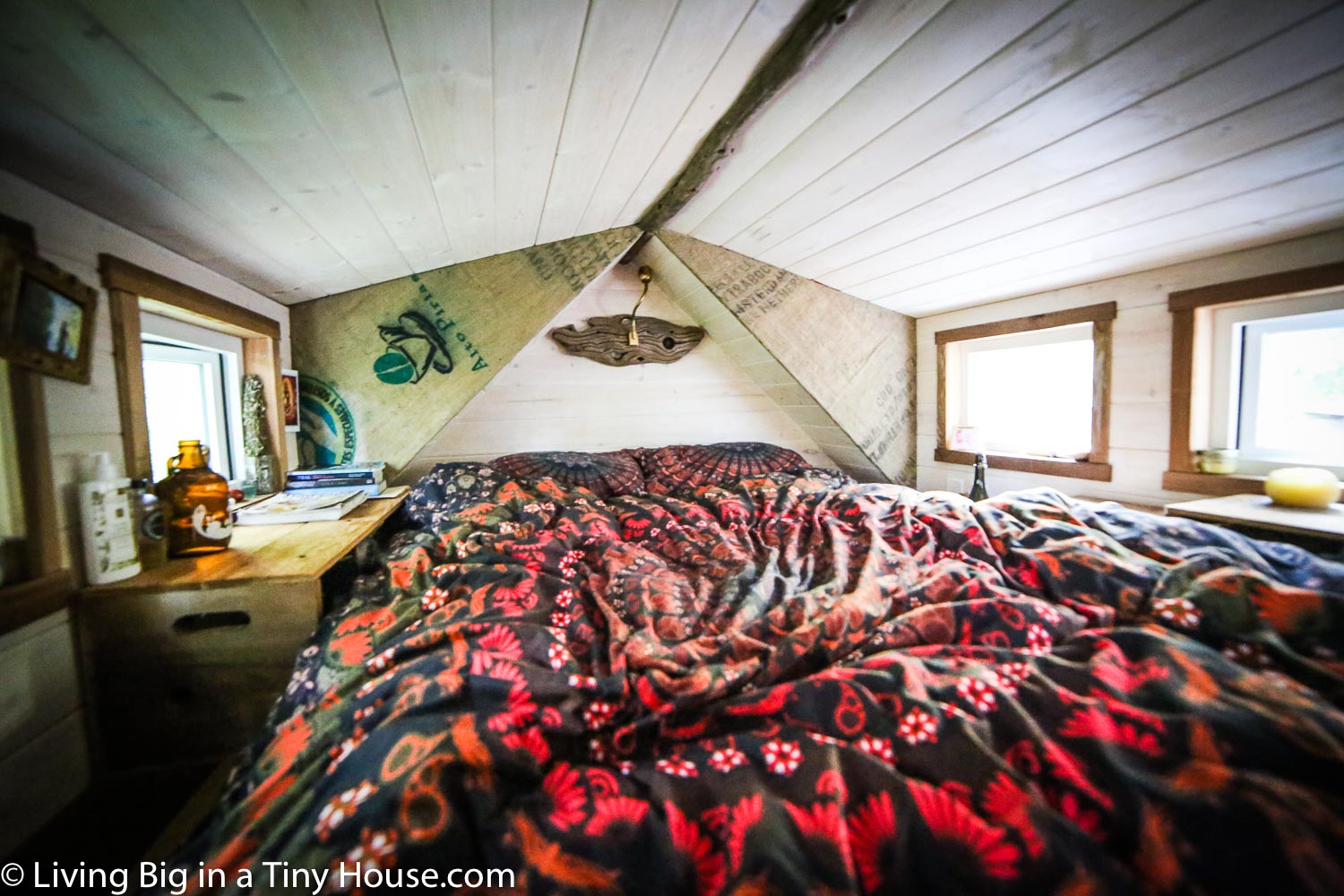 Climbing into the loft space above is warm and inviting. The walls have been covered in old coffee bean sacks and the driftwood theme is continued with the light fittings.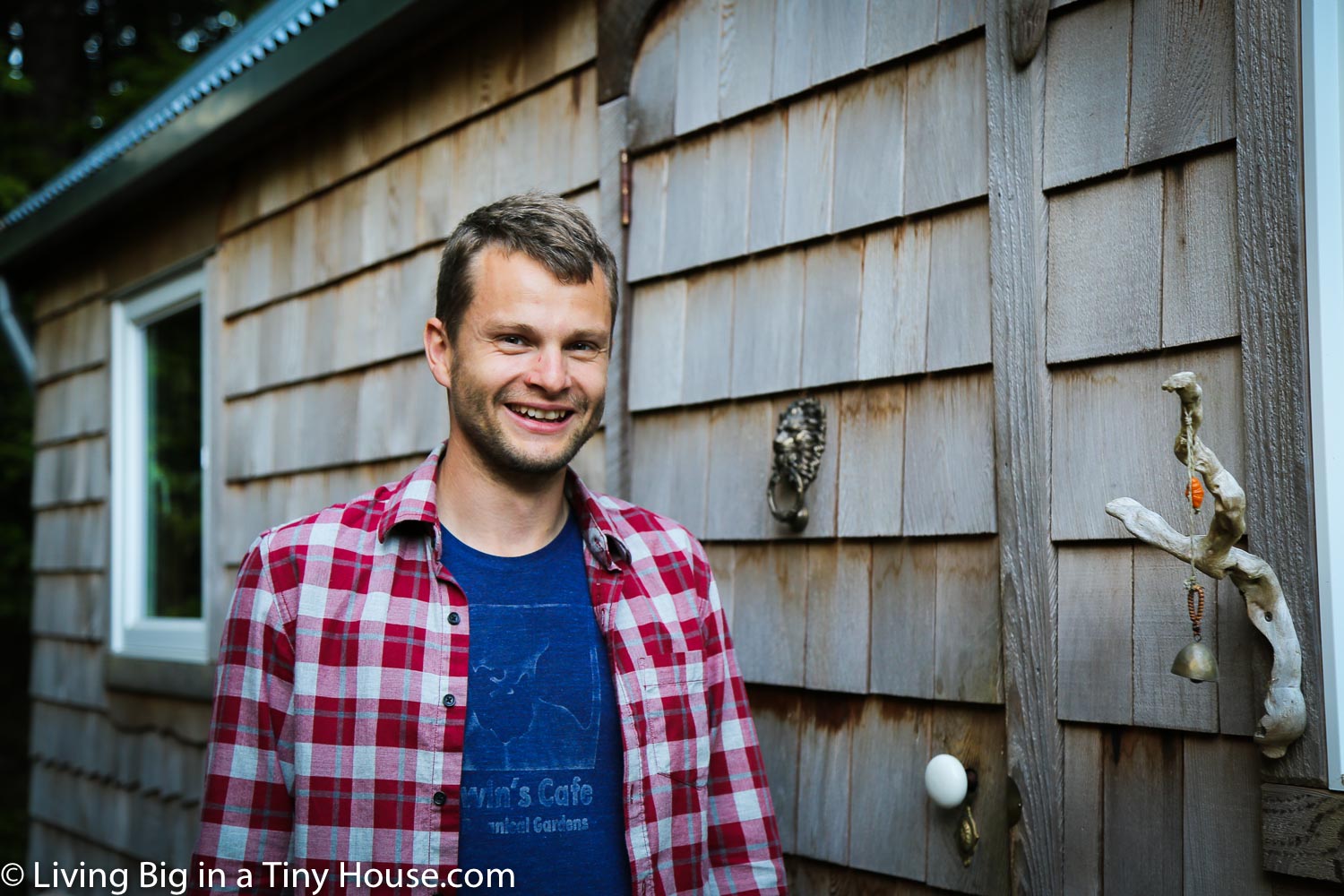 Phil is not only a talented artist and builder, he is also an inspiring individual. His decision to move into a tiny house was largely motivated by a realisation of the earths limited resources. He wanted to live in a smaller space, reducing his consumption and living more coherently with his values. You can find out more about his amazing work by visiting his website.