• Tiny House
This Super Compact Tiny House is Australia's First Tiny Home On Wheels
The super compact tiny house, located a short drive out of Sydney, Australia is a real charmer. Built by school friends Beck and Reece, the project was an experiment into creating a truly downsized dwelling that still had absolutely everything you need to live and be happy.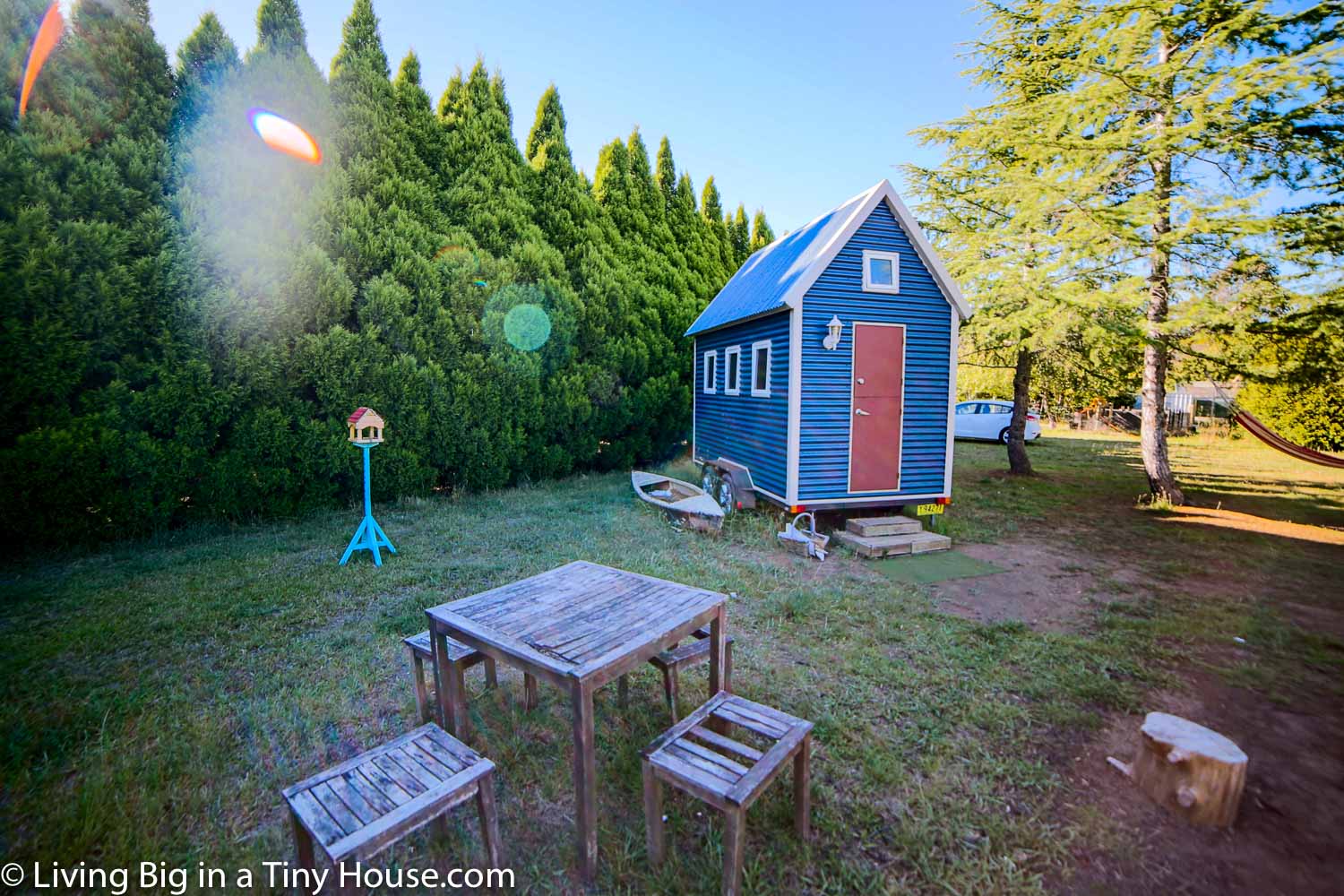 The home's design is based on the Tumbleweed XS model tiny home from America, but was given a unique Australian edge, utilising some different materials and design lay-out to help make the home suitable for traveling the Australian roads. In Australia, tiny homes can be constructed to 4.5 metric tonnes (9920 lb), however if you want to be able to easily move your home around by yourself, without special licences you need to be building under 3.5 tonnes (7716 lb). For this reason, many of the homes that we visit in Australia, similar to New Zealand and Europe, are built with special weight-saving features to help keep the weight down. This small size and lightweight framing and cladding have helped this Australian tiny house to come in at only 2 tonnes.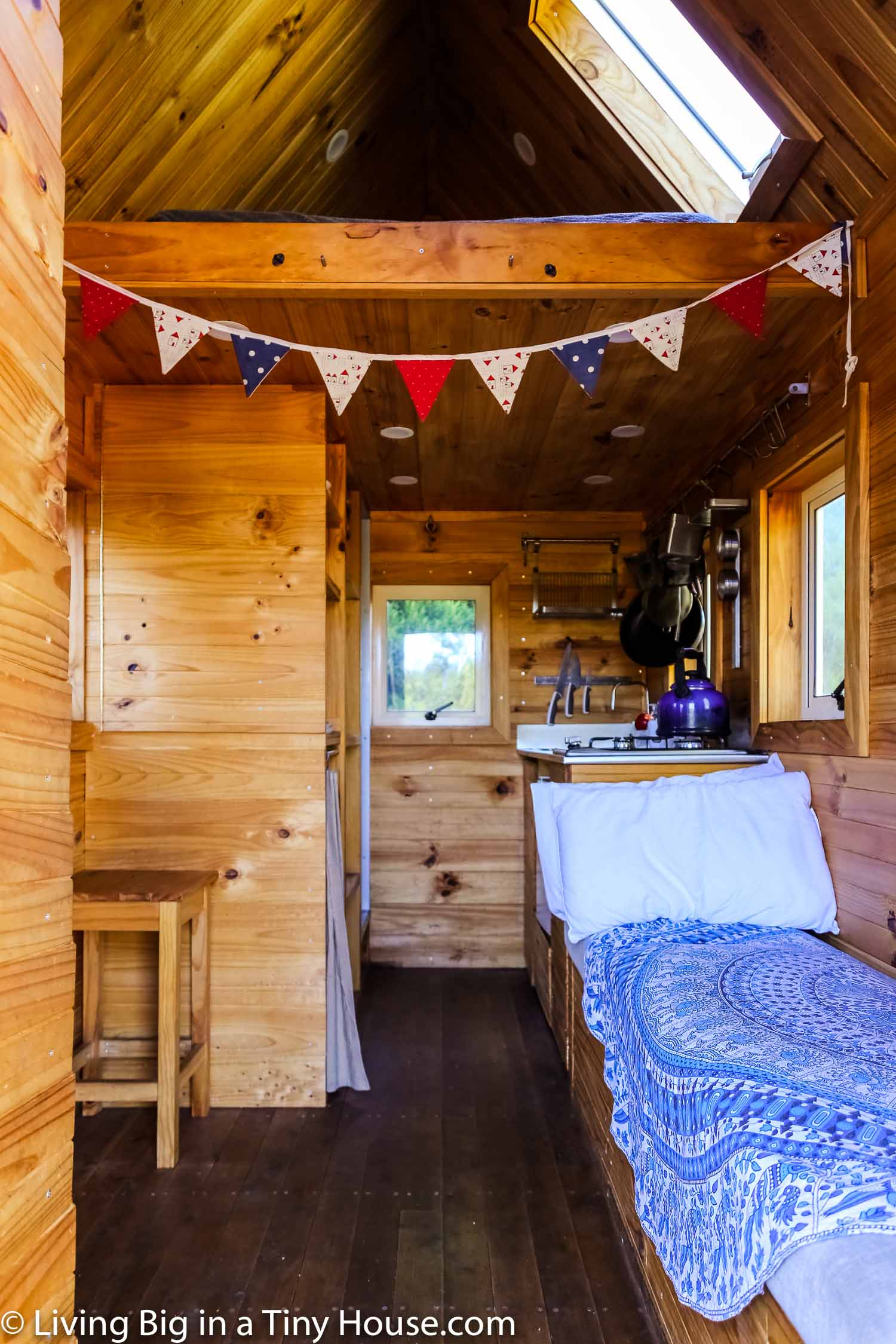 Inside, the home follows a rather traditional tiny house lay-out, only everything has been compacted to fit into this small yet functional space. Entering the home, you're greeted by a small couch with storage on one side, and a folding table with stools over the other.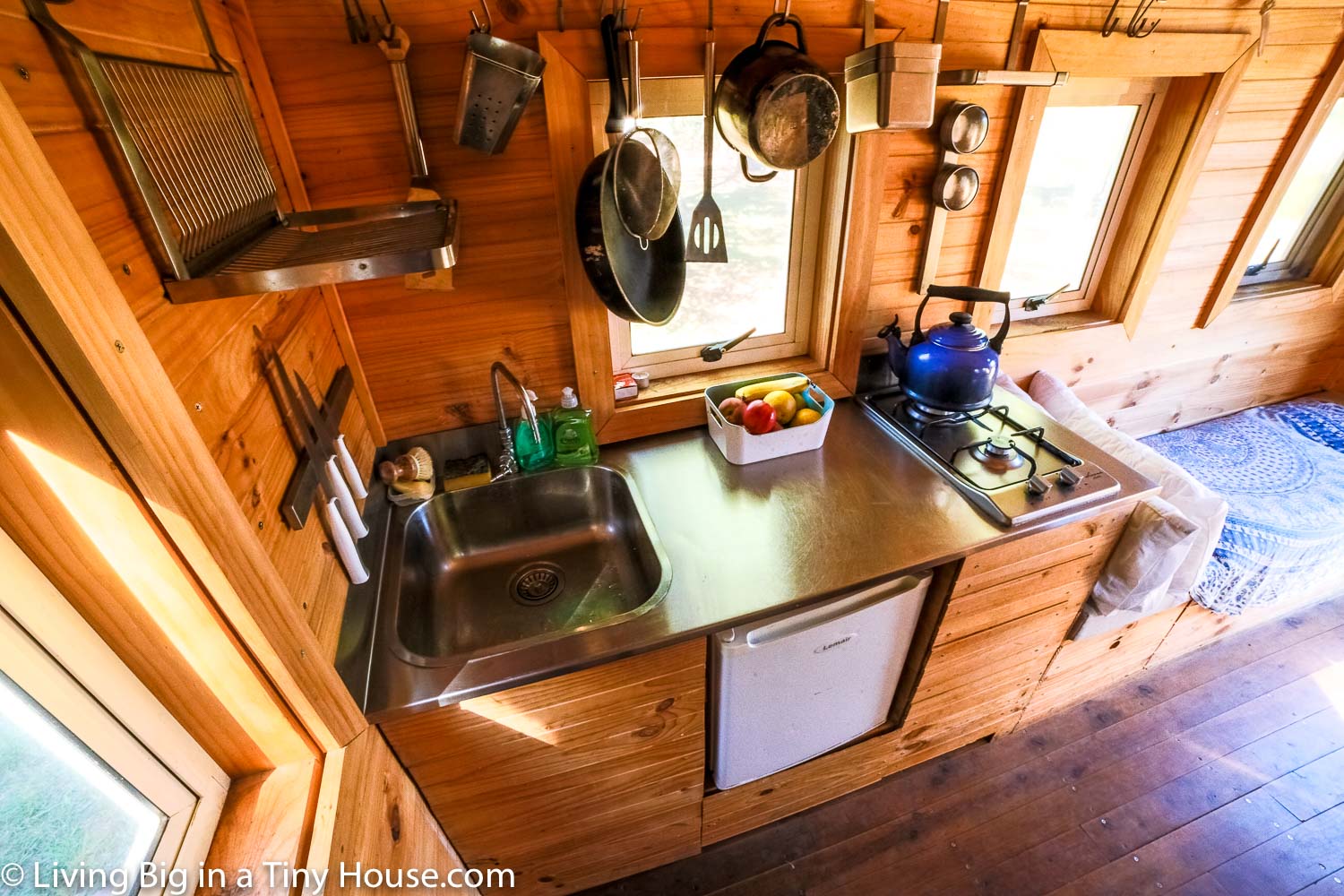 The kitchen is functional yet again somewhat compact. Still, there is enough space to work and this kitchen has prepared meals for up to 10 people in the past. There is a sink, a small bar fridge, 2 burner gas stove and enough storage space for all the essentials.
At 3.6 meters (12ft) in length, this home is the ideal length to hang a hammock and so attachment points were installed. This hammock is a great place to relax and get out of the Australian summer heat and it also can provide another sleeping option for guests in the home.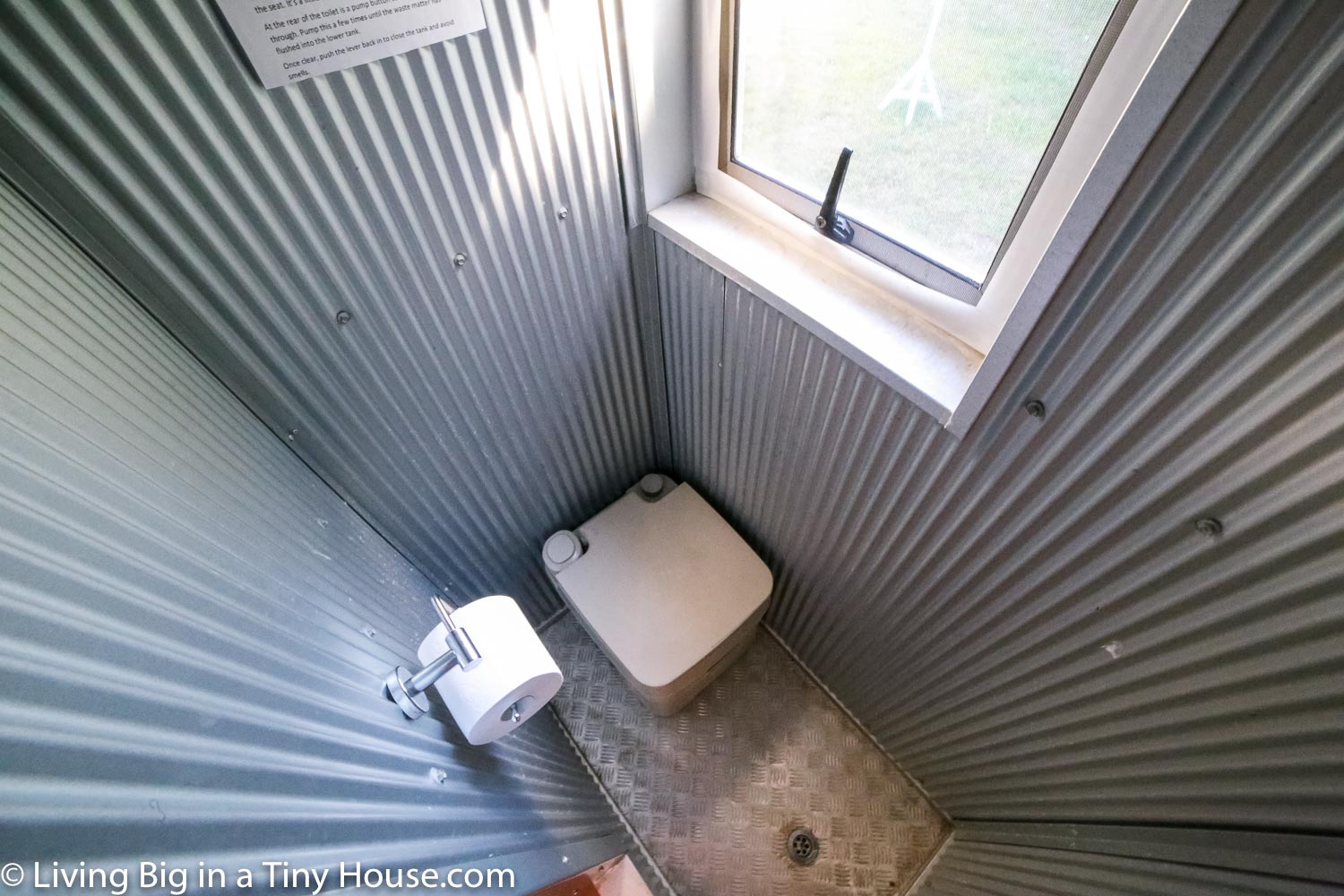 The toilet and shower have been fitted into a very tight space, yet it's just large enough to have a shower without feeling like you're cramped. The window in the room helps to provide some nice light and a view of the great outdoors which contributes to a sense of space around you. With only cold showers in this tiny house though, chances are you're not going to be spending too long in the shower anyway!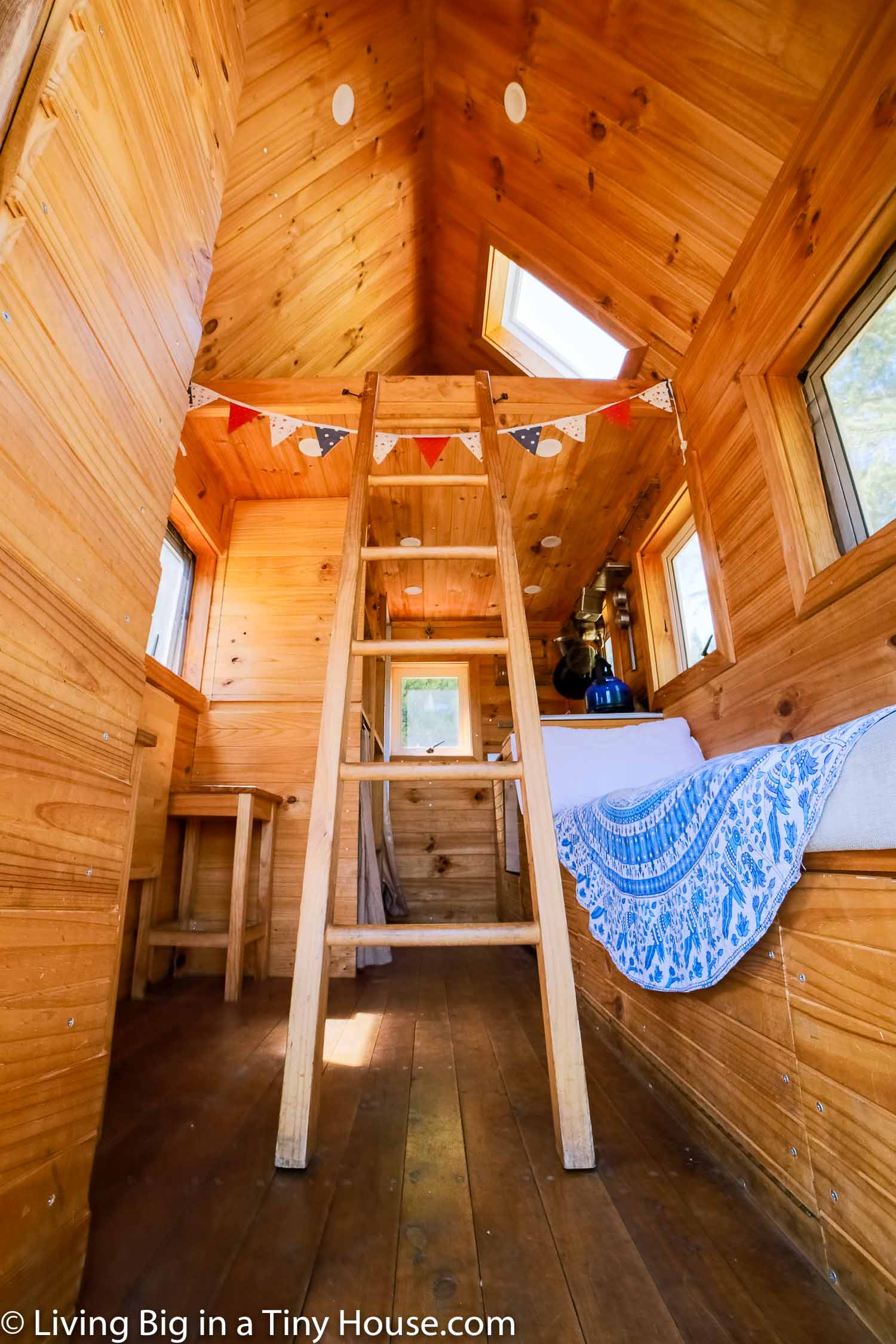 For sleeping, there is a loft space which is accessed via ladder. Despite the homes small foot-print, the vertical space in this design is well used and allows the home to feel larger inside than it really is.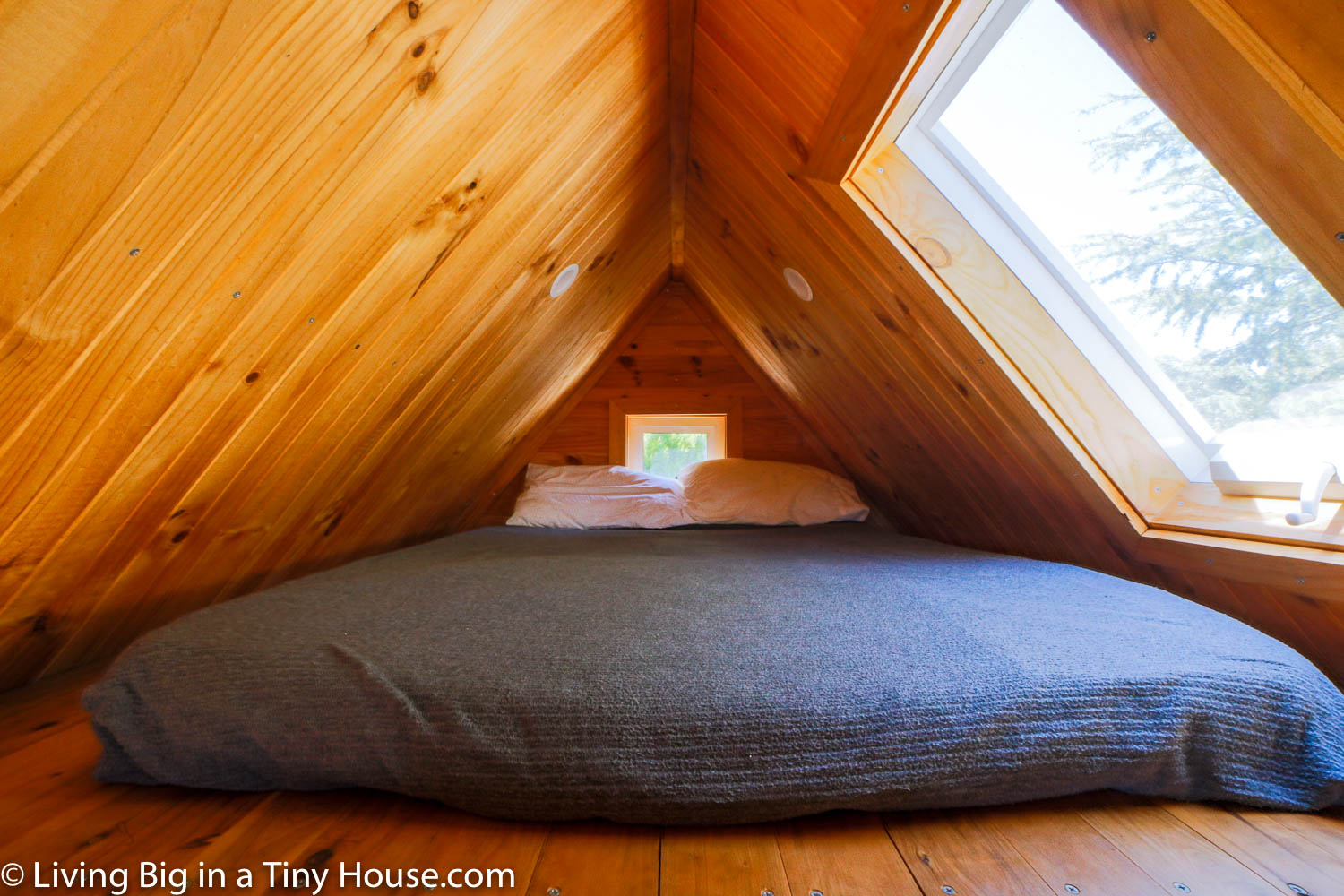 This home's loft is again tight offering only 1.5 meters (5ft) at it's highest point. Still, when you're lying down in this space it does feel very cosy and it's a comfortable place to sleep. The skylight gives a beautiful glimpse of the Australian night and provides lots of light to help brighten up the space during the day.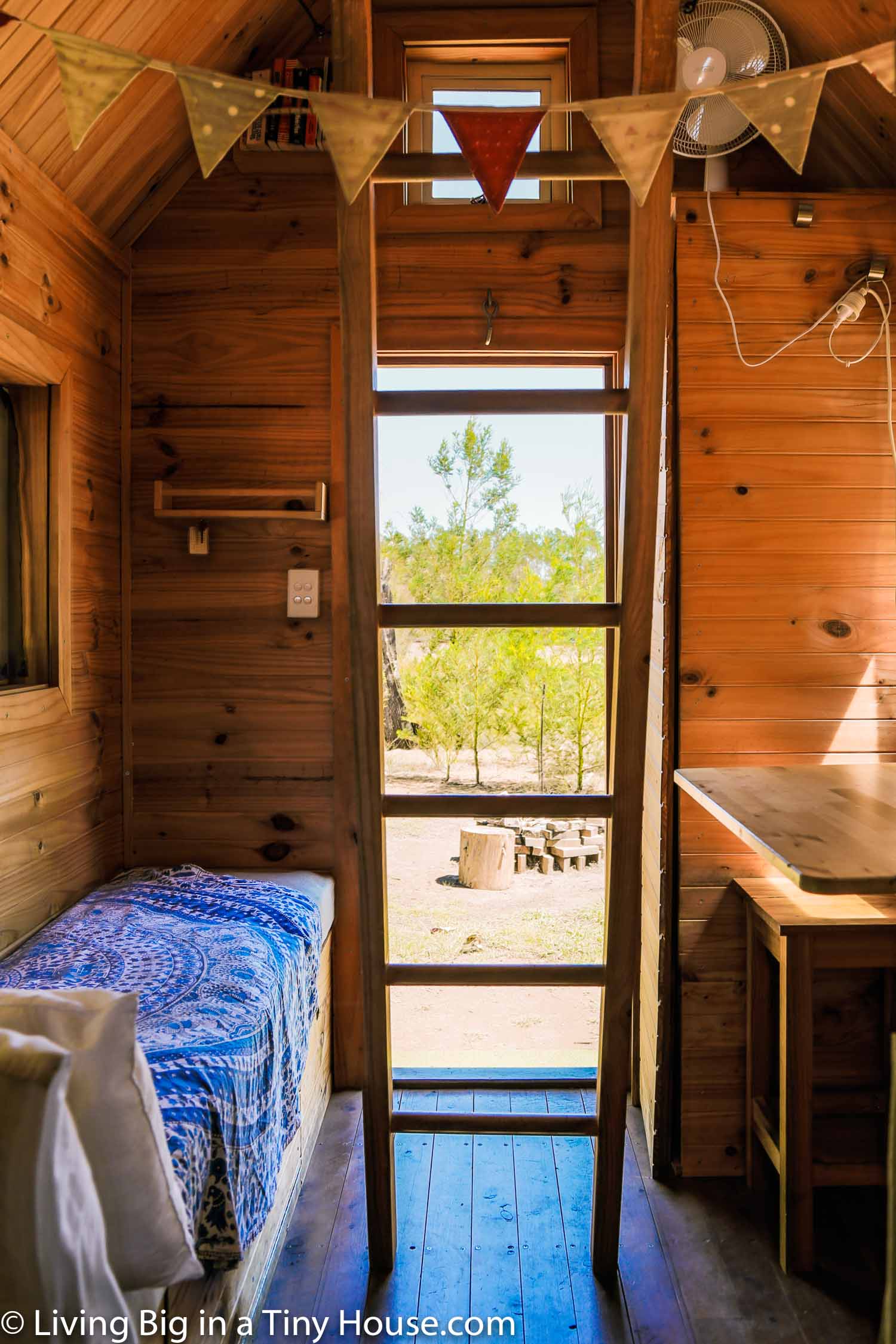 Many will view this tiny home to simply be too small to consider full time living. Still, it's a fun experiment in pushing the comfort zones to see what can be possible in a small space and with the fantastic Australian weather, the outdoors is still your playground!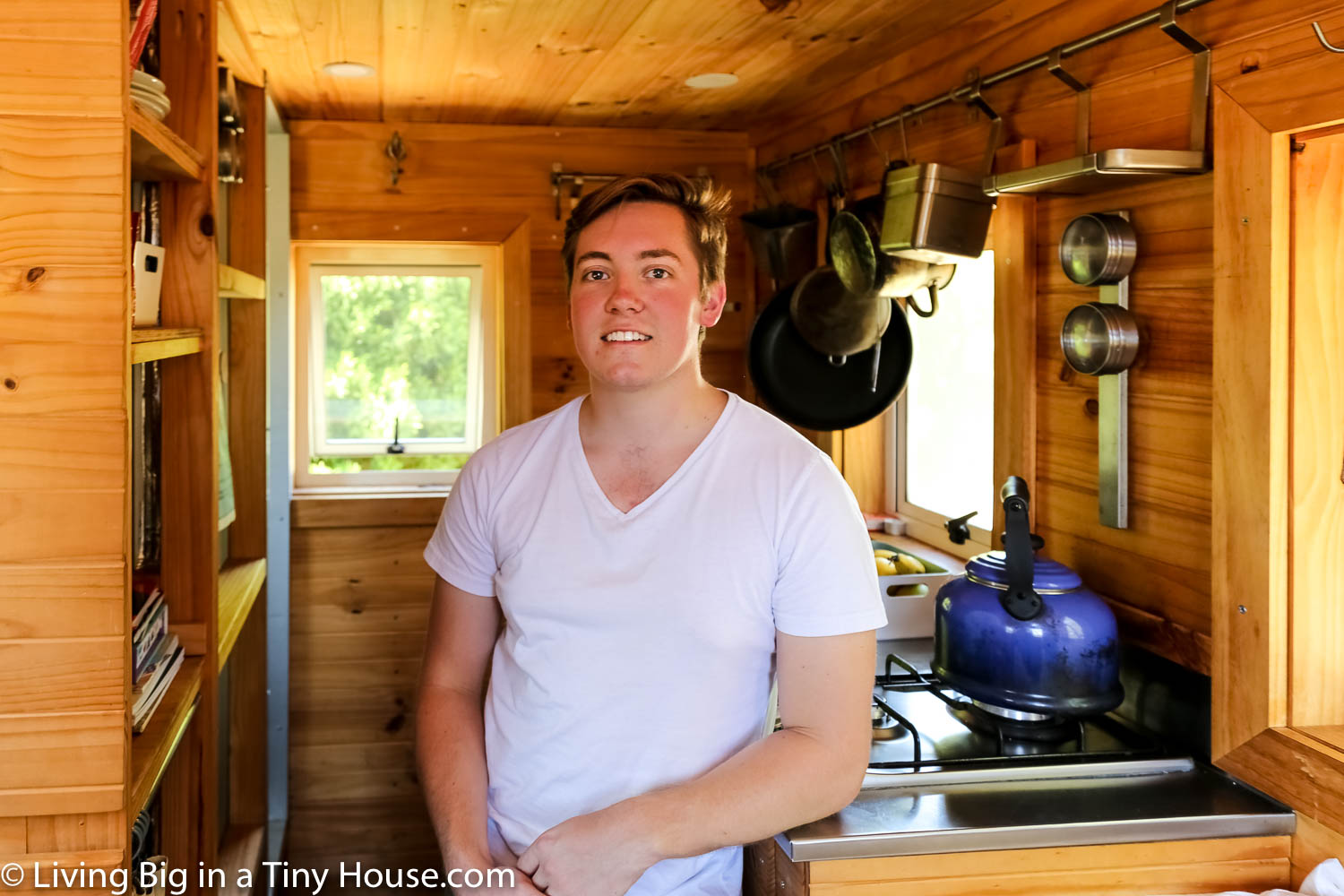 With Beck now traveling overseas, and Reece concentrating on family life, this home has been parked up on a beautiful farm in Yerrinbool, New South Wales where it's now operating as a tiny B&B.  Be sure to watch the full video tour (above) to lean more about this unique design.