• The Seed Of life Tiny House (NZ)
THE SEED OF LIFE TINY HOUSE (NZ)
This tiny house is called the seed of life for several reasons. First, is a homage to my love of sacred geometry in spatial design, which dictates so many of the proportions and design decisions that I make in my homes. It's also relating more literally to the fact that for me, this home has sparked a completely new life for me. It was this project which freed me from the rent trap, allowed me to live with more freedom, less debt and which lead to the creation of a job that I love in the form of my web series Living Big in a Tiny House. Now, this is a wonderful home base for my partner Rasa and I, whenever we are fortunate enough to be spending time back in our homeland of New Zealand. You can find out more behind the inspiration for this home and its name in the above video. 
Our home is designed to be completely self contained and meet all of the legal requirements for travel on New Zealand's roads making it very simple to transport and relocate when need be. Already in its short life, it has been parked up on a few different properties as we don't yet own land ourselves.
At 15 square meters (160 square feet) the home measures roughly 6 meters in length by 2.5 meters in width and 4.2 meters in height from the ground including the trailer. (20 ft l x 8.5 ft w x 13.5 ft h). Within this footprint are all of the aspects of a regular home, albeit in a downsized version including a kitchen, lounge, office, bathroom, bedroom and plenty of storage space.
For this original design, I worked together with architect Johann Bernhardt of Bernhardt Architecture, who introduced me to many wonderful building ideas, including a wealth of knowledge on ecological building through his relationship with the Institute of Building Biology and Ecology.
While I took pride in working on the home and assisting where possible, the vast majority of the home's construction was completed by Alan Drayton from BioBuild who tackled the vast majority of the exterior construction, and Brenton Stockman from Gaia Construction who managed the interior fit-out. It was a pleasure to work together with, and learn from both of these talented individuals.
In the future I intend to make full plans for this home available for download, but right now I will break down several of the key features of this tiny home, it's construction and materials.
The Trailer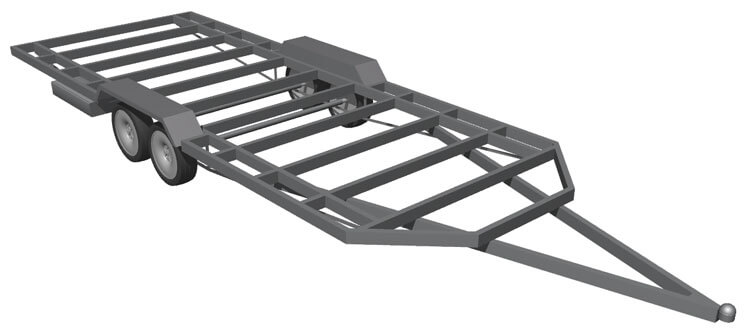 The tiny house trailer was constructed years ago and was one of the very first trailers ever to have been constructed in New Zealand. I worked closely with the engineering firm to create a trailer which was lightweight, yet strong and sturdy to ensure that it was capable of taking the extreme forces of a tiny house on wheels. Made from welded steel, the trailer is rated to 3.5 metric tonnes, is a double axel and is fitted with electric breaks which can be radio controlled from within the cab of the towing vehicle. To ensure longevity in a marine environment (New Zealand is a relatively small island and we are never too far from the ocean) this tiny house was hot-dip galvanised to help prevent rust, and was later painted to add an additional layer of protection.
The Steel Frame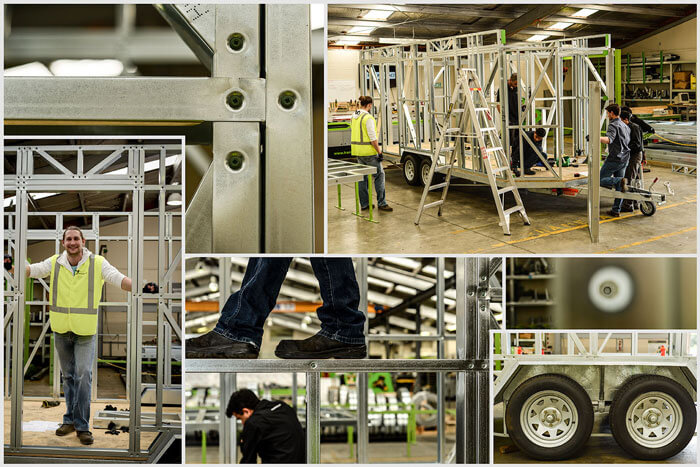 Making up the other significant structural element of this tiny house is it's frame. For the frame, we worked closely together with New Zealand company FrameCad who handled both the design and the manufacturing of our steel frame. For me, steel was a logical choice for the construction of a tiny house on wheels, as although it has a higher embodied energy than other materials such as timber, it's relatively lightweight and has a very high structural strength which makes it a good choice.
Doors and Windows

Our doors and windows were provided by Window Makers in Auckland. They are made from anodised aluminium, are double glazed and have a thermal heart, meaning they are thermally broken so that the aluminium is non-conductive to the exterior temperatures of the home. These windows and our door contribute greatly to both the aesthetics of the home, the way that our home frames the outside world, and perhaps just as importantly, the home's high thermal performance which helps to keep us warm in the winter, and cool in the summer. We have filmed a video showing how these are constructed which you can view here.

We have also included two Velux roof windows in our design which are situated in the head space on each side of the sleeping loft. There are few things more wonderful than being able to view the sky at night, and this is an element that I'm so thrilled I included in the tiny house.
Insulation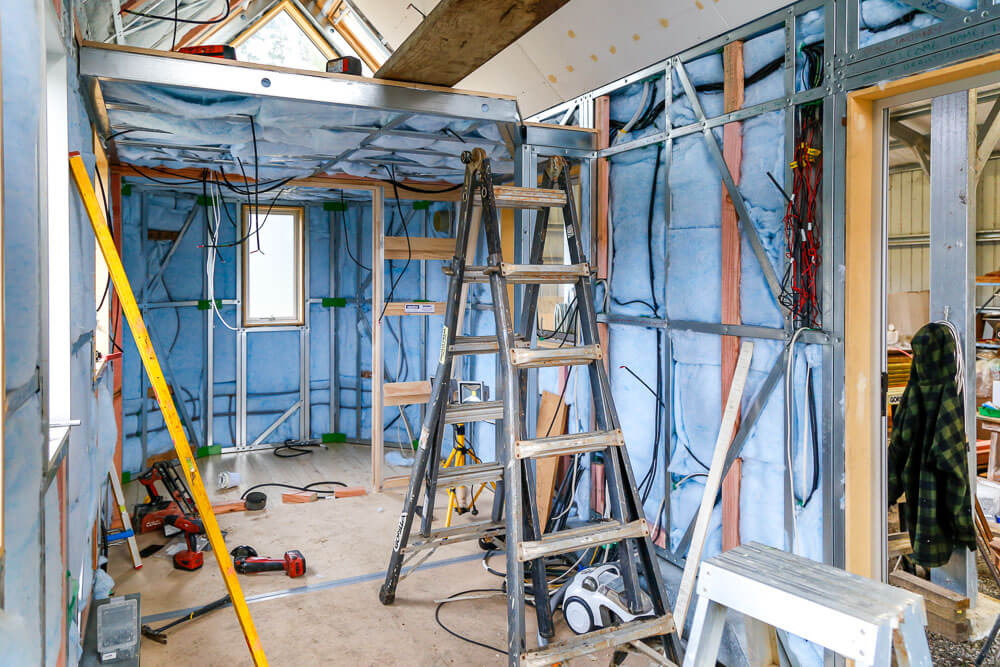 Insulation is another incredibly important consideration when it comes to a tiny house. It may be a small home, but the better you're able to insulate it, the more comfortable you will be in your home. For my tiny house, I chose to use a polyester insulation called Green Stuff, which is manufactured in New Zealand by Autex Industries. This insulation is made from recycled plastics, is completely non allergenic and at the end of its life can be completely recycled, so nothing ends up in landfill, which is very important to me.
Heat Recovery Ventilation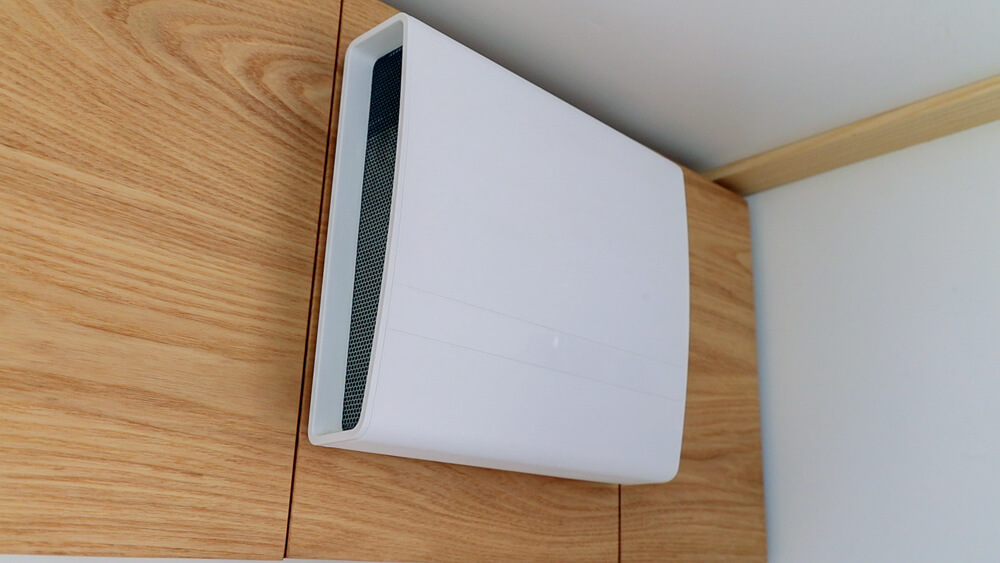 To ensure the air quality in the home is always at it's best, we have installed a Lunos EGO heat recovery ventilation system which was supplied to us by The Heating Company who is the NZ distributor for Lunos products. The Lunos EGO is a wonderful unit for tiny houses, and essentially acts as a pair of lungs for the house, breathing in fresh air, and breathing out stail air. It's all driven via a simple 12v fan system, but also has a heat recovery system, which means the air coming into the home is warmed by the air leaving it, so you don't loose heat in the process and your home remains nice and warm. In my opinion, these units, or the larger e2 systems should be standard in each and every home.
Exterior Cladding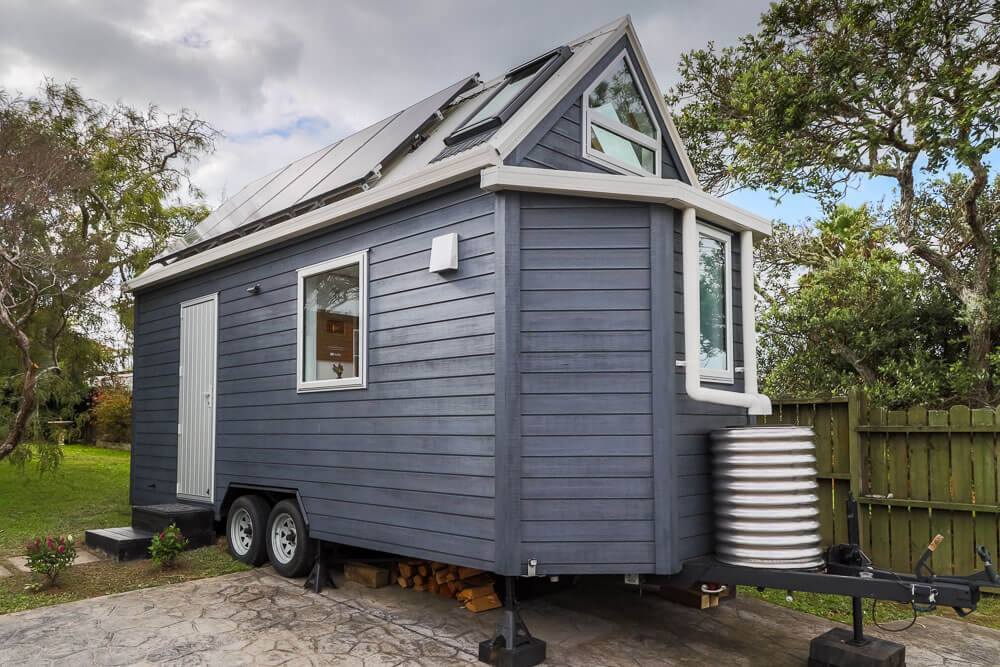 Our exterior cladding is a product called Elements Vulcan from New Zealand company Abodo. It's an engineered timber project made from waste pine wood, which is thermally modified to create an attractive and high performance cladding product. This is paired together with a natural oil with stain to help protect it from the elements and give the timber it's wonderful graphite colour. Underneath the cladding, we have used a rain screen system using polypropylene cavity buttons and a Thermakraft breathable building membrane.
Interior Lining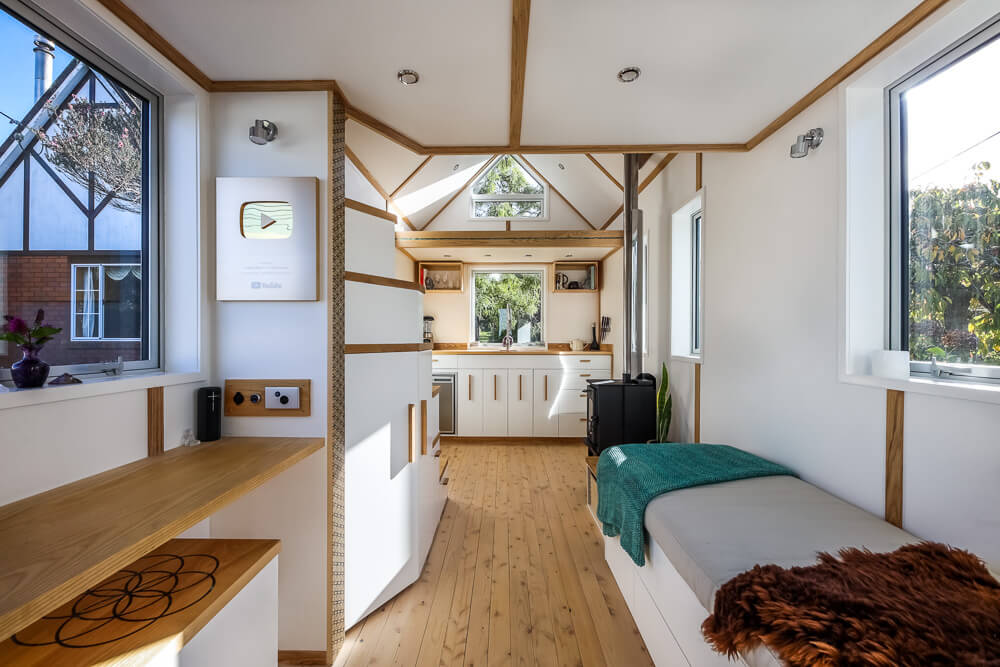 Our interior cladding and the vast majority of the cabinetry was constructed using Eurolite Ecoply from Plytech. This product, most importantly is very low in volatile organic compounds, making it a good choice for a healthy interior environment, and is also comparatively lightweight, helping us to keep the overall weight of the home to a minimum. To finish, we have used a zero VOC paint.
Cabinetry / Joinery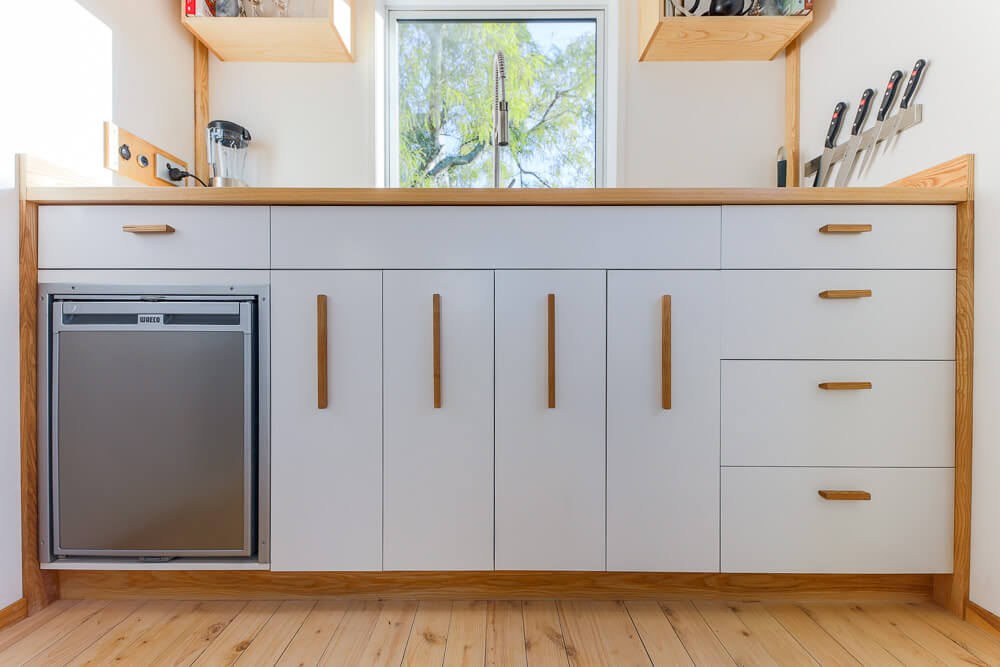 Perhaps nothing adds character in a tiny house on wheels like the cabinetry. In our home, we had small space joinery experts (and our good friends) Jake and Kasia from Varient Spaces Ltd tackle the cabinetry and joinery of the build. They are responsible for all of the wonderful interior cabinetry, including the kitchen, the storage cough and the incredible storage stairs in the home. Their work is just as functional as it is beautiful and they come highly recommended if you are considering a small space design project of your own.
Off-The-Grid
In our tiny home, it was important to be off-the-grid for a number of reasons. Firstly, I wanted the home to be as sustainable as possible and powering the home through renewable energy technologies was an obvious choice for me. A tiny house on wheels consumes only a fraction of the power required by a larger home and therefore is relatively cheap to equip with solar panels and batteries. Other reasons for going off-the-grid include the ability to park anywhere, as power and water hook-ups are not required, and a reduced future living cost, as going off-the-grid may have an up-front cost involved, but in the long term there are few running costs involved unless elements require upgrades or replacement. Ultimately, for me this made fantastic sense.
Our Solar System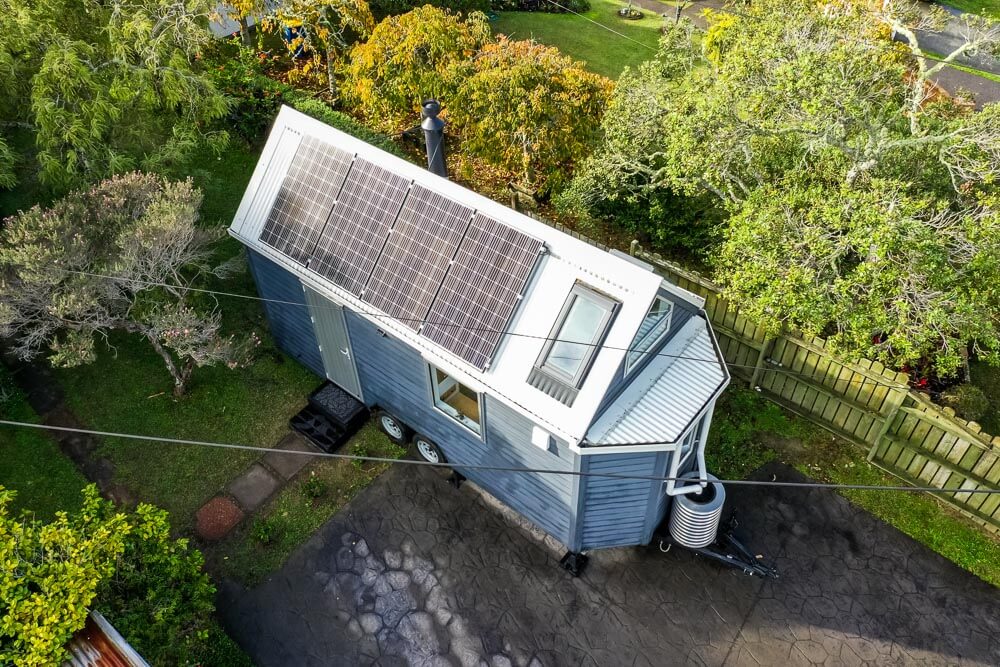 Our solar panels were supplied and installed by Solar Group Ltd. This company was wonderful to deal with and are very passionate about their work. Our home is fitted with 4 solar panels, each capable of generating 300 watts of solar power, giving us a total power generation capacity of 1200 watts per hours and providing an abundance of energy to our home.
To compliment our solar array, we have 240 amp hours of lead acid battery storage at 24v, an inverter and midnight solar controller which were supplied in NZ by Element 82. We chose, in this house, to use lead acid batteries for several reasons. Firstly, although they are a slightly older technology, they are reliable and very safe to use, and secondly, because they are currently 100% recyclable, which means they are not a landfill product at the end of their lifespan.
Our home runs natively on 24v electricity, but also has a circuit for 12v and 240v AC when we turn the inverter on. We intend to do another post in the future which will dive deeper into our off-the-grid power system.
Tiny House Electrics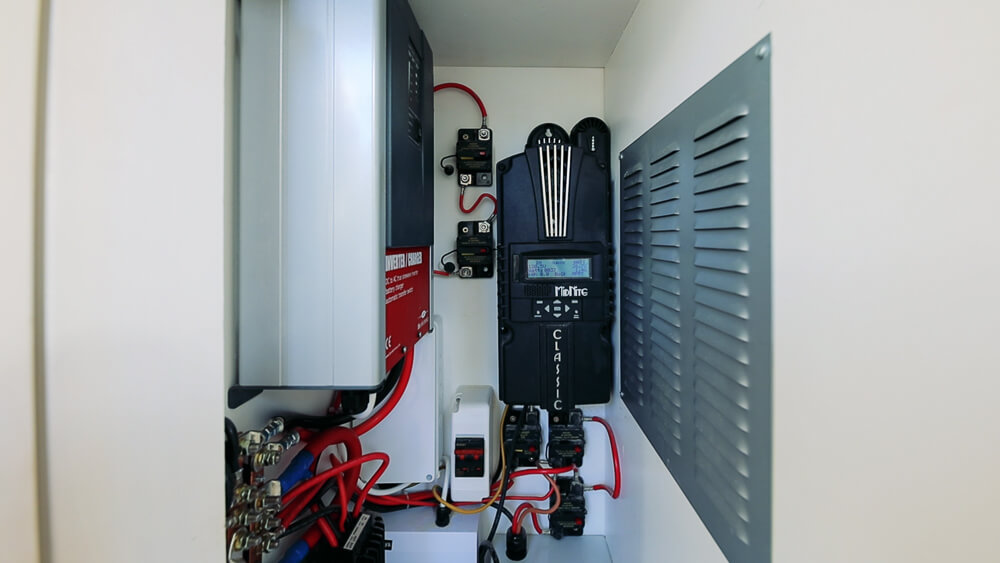 To help maximise the efficiency of our solar system, we have been careful to spec the house in a way that it can be as efficient as possible. Firstly, we have wired the house to predominantly run on a 24v DC circuit, meaning that the vast majority of the electronics, including our lighting, water pump and fridge can all run natively on 24v and no energy is lost in inversion. We do however also have a 12v DC circuit which can help to charge devices, and a 240v AC circuit which is designed to power regular household devices becomes active when the inverter is turned on, meaning the energy from the inversion is only lost for the duration that the inverter is turned on.
Our fridge is a CR-80 which is supplied by Dometic and is designed to run natively on either a 12, 24 or a 110 / 240v connection. Everything in the home is designed to use as little electricity as possible. There are very few devices which run on AC power and the home is designed to predominantly run on DC power for maximum efficiency.
All of the lighting and switches in the home were supplied by Hella Marine, who specialise in high quality lighting solutions for boats, caravans and off the grid applications. We will be sure to talk more about the home's lighting design in a future post.
Rain Water Collection & Water Saving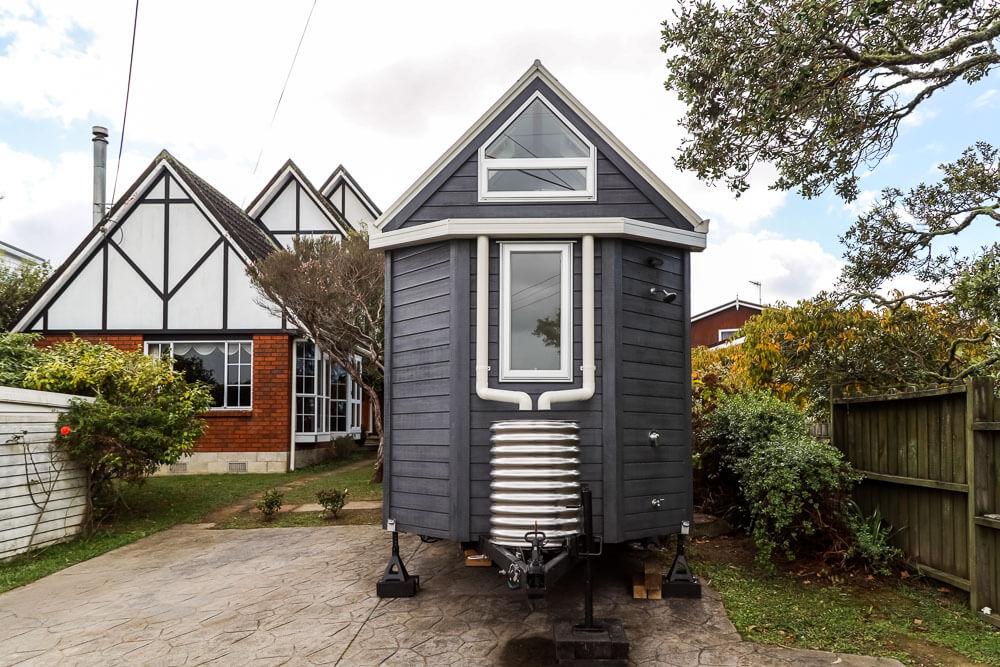 In my lifetime, I can envision a world where as a result of climate change and human action, drinking water becomes a scarce resource. Sadly, I believe that we will witness wars fought over water scarcity. Water is life and there is nothing on this beautiful earth which is more precious. For this reason, it was essential to me that my home was not only capable of collecting water, but also capable of using it wisely.
All rainwater is collected from the roof, and collected by gutters. The spouting leads to a single 200 litre (52 gallon) stainless steel water tank which was manufactured by Tanksalot, who are wonderful and highly recommend company dedicated to rainwater collection solutions. Water from this tank is pumped and pressurised in the home via a 24v water pump.
Now, as I'm sure you've noticed, 200 litres is not a tremendous amount of water storage in the house and so water conservation will certainly be a significant theme in living here. To help conserve water, we have used low-flow shower heads from Methven, which use a fraction of the water consumed by a regular shower head and which will allow us to conserve water while still having a nice shower.
Solar Water Heating
We plan in the future to heat water in our home using a solar thermal pre-heater and a small electric booster unit which will be located inside the home. These are not yet set up and we will be sure to be posting updates on this in the future.
Composting Toilet and Grey Water Treatment
Now that the home is situated, we will soon reinstalling a waterless composting toilet, and a custom grey water treatment solution. Be sure to look out for details of this in future posts, but if you're looking now for information regarding effective and simple grey water treatment, be sure to check out this post for more information.
Home Heating / Wood Burning Store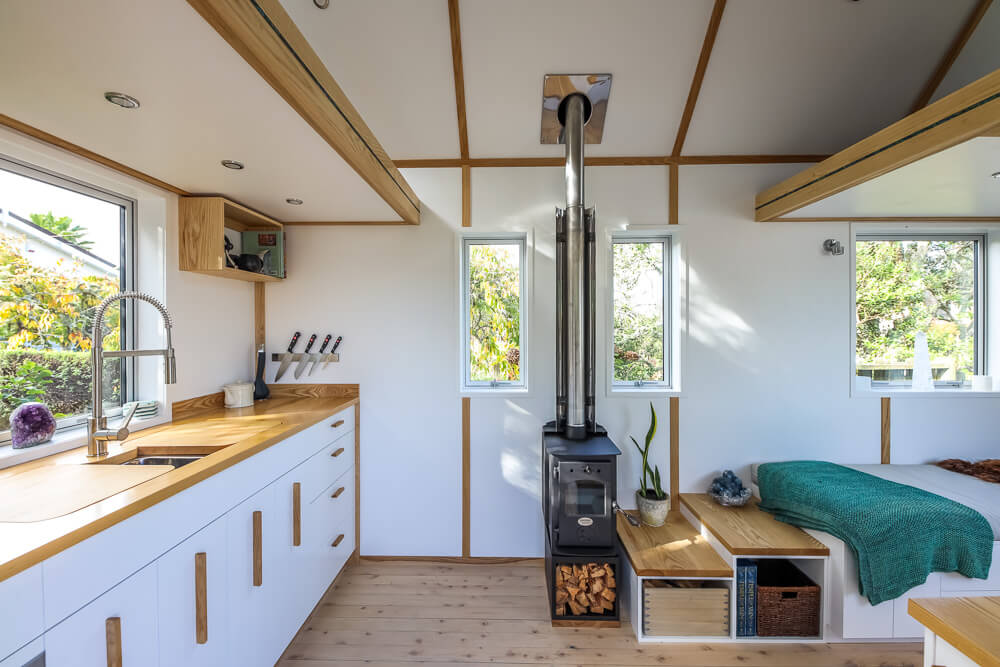 Obviously, the first thing that you need to look into when heating your home is good insulation. If you don't have that covered, then there is very little that you can do to ensure your home is kept warm. Once that's dealt with though, there are few heating options for a tiny home as pleasant as a wood stove.
In our home, we chose to install the Sparky Wood Stove from New Zealand company Waganer. This beautiful wood stove is a 10kw unit, capable of producing a wonderful radiant heat thanks to the inclusion of fire bricks in its design, which is relatively unusual for fires of its size. While this wood stove may be slightly oversized for our tiny home, and it's a likely speculation that we may have to open some windows due to overheating, I think it's still a sensible option for a tiny home, as the radiant heat from the stove will continue to radiate throughout the night after the fire has died down, ensuring that we're able to remain comfortable in the home. It's an added bonus that you can also cook on this stove.
Cost and Thoughts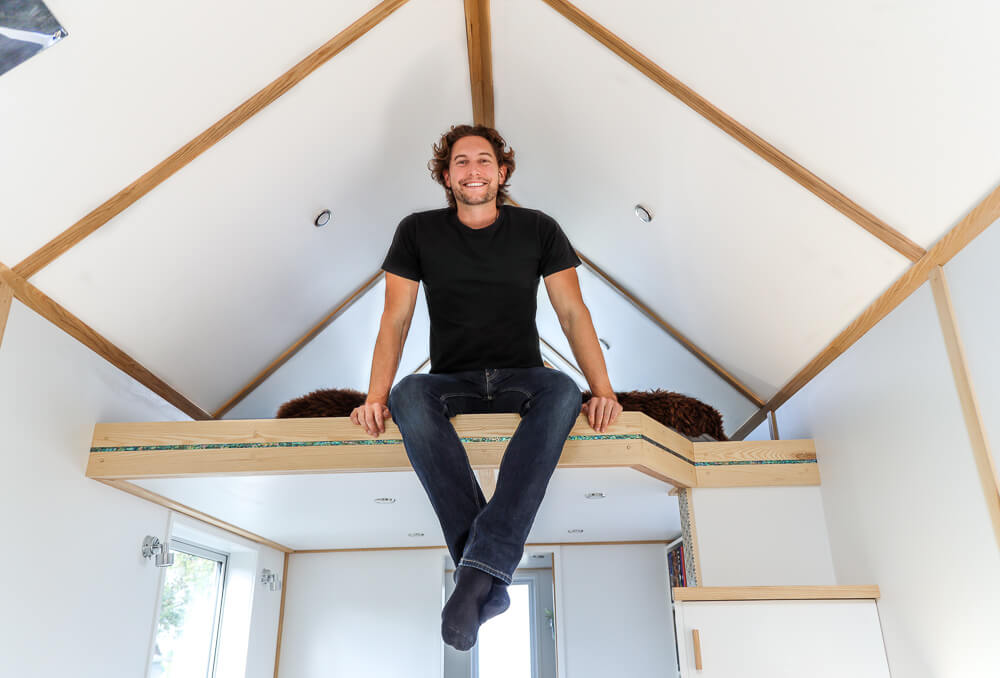 I am absolutely thrilled with our home. It's simple, beautiful and within its walls are everything that we need. It's truly a shelter from the storm. At roughly NZ$100,000 (US$65,000) the home is roughly 1/10th the price of the average home in Auckland City, which makes this a very affordable option. No longer having to pay rent, we are now able to explore options to save up for land. Thanks to this home, our future is bright and something that we can look forward to.
There are many aspects of this home which we have not yet mentioned in this video. Rest assured that we will be diving deeper into aspects of this home in future articles and videos. I hope that you have found the information in this article valuable, and I wish you all the best in your own future downsizing adventures.