• Articles
Inspiring Ideas for Outdoor Living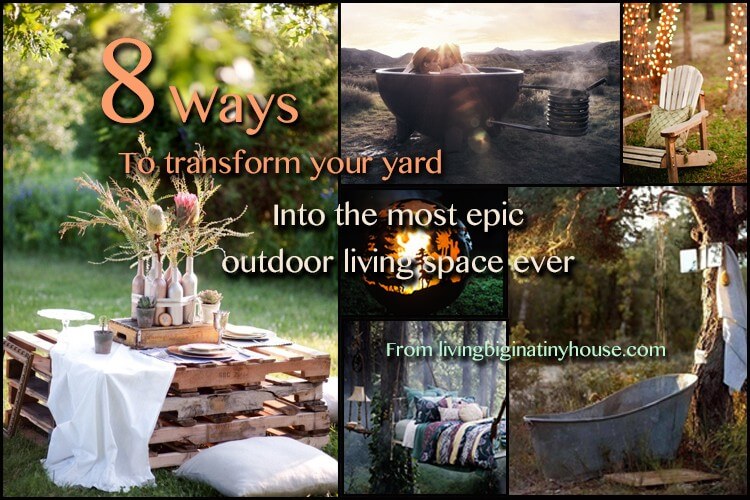 If you are wanting to simplify your life, have a smaller mortgage, less debt, and live with more freedom, one of the best ways to accomplish this is to downsize.   You don't need much in a home. Shelter, a place to rest your head at night, and a bit of storage for food and clothes and your off!  But the idea of living in a smaller space for many people is a frightening idea.
However, why live inside away from the sun and fresh air when you can live, truly live, outside?  Many people who are downsizing to a smaller home don't plan on spending every waking moment stuck inside, but rather are getting enthused about spending more time in the great outdoors.  Not only does this encourage you to get off the computer or out from in front of the TV, but it creates a social environment that harks back to some of your best memories growing up. Camping, outdoor showers, sleeping outside under the stars and singing and drinking with friends and family around a fire.  There is something truly magical about living outside.
So if you're looking for some creative ideas to wet your outdoor-living-space-appetite and start planning how to make your yard part of your home's square footage, then check out below!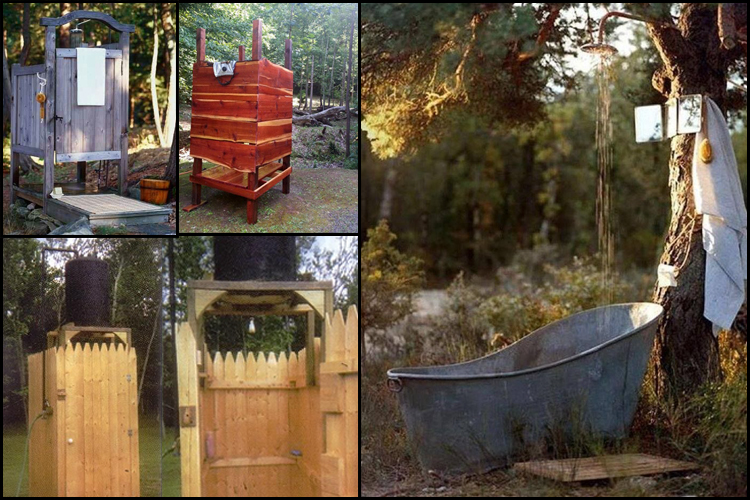 Outdoor Showers
Nothing says freedom like being naked outside.  Perhaps its because its slightly taboo, or because we have memories of running around naked as children laughing and screaming in the sprinkler,  but there is something both exciting, and incredibly relaxing about showering with the sun on your back and the fresh air around you.
The best way to create an outdoor shower is to use solar heating.  The variety is endless, from large black containers or black hoses that passively heat up the water, to solar and PV panels.  There are a huge variety of DIY showers out there to choose from.
Of course if you're in the middle of the city, this may not be for you, but if you live somewhere with a little privacy, an outdoor shower may be perfect for you.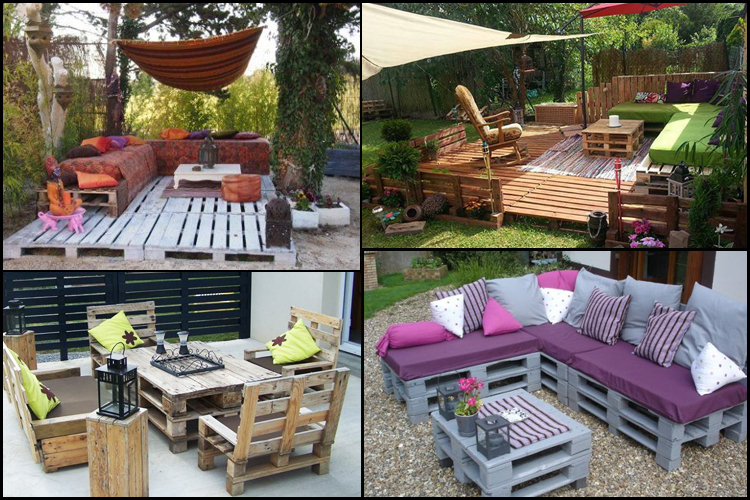 Wood Pallet Decks
People think they need a lot of money, skills, and experience to create a beautiful outdoor deck or seating area. But in reality, you can create beautiful outdoor spaces with just a little bit of creativity!
Wood Pallets are easy to come by, incredibly strong, and make great platforms for either creating your very own porch, a lovely seating, tables, bed, swing, couch…okay, the possibilities are endless.
Wether you have a tiny house, or a big house, the rustic convenience of wood pallets can completely transform your boring yard into a mecca.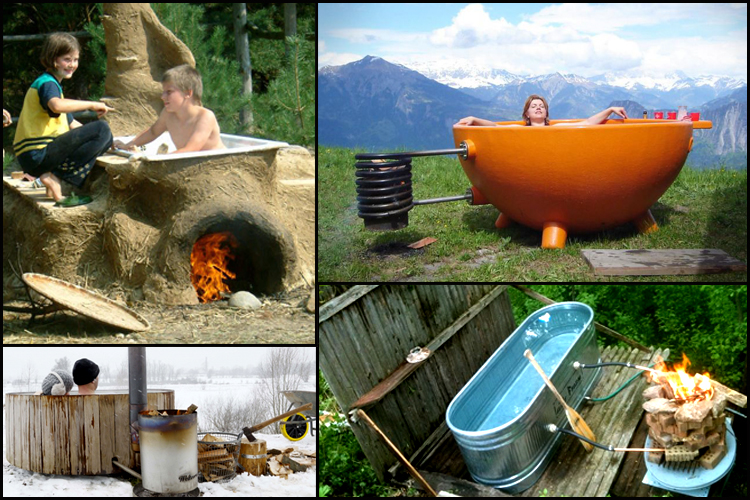 The Outdoor Fire Bathtub
While outdoor showers can be magical, they  have nothing on the hours of relaxing that can come from having an outdoor tub. Spas or hot tubs need a lot of maintenance, and lets not forget the high electricity bill for keeping them on all the time.  An outdoor fire bathtub on the other hand, is the perfect combination of clean water, simplicity, and luxury relaxation.
There are many different ways to make an outdoor tub, and they can be as simple or complex as you would like.  The photos above show a straw and clay constructed cob tub with a fire oven underneath (think you can luxuriate in hot water while cooking your pizza!).
The stunning image of the women on the mountain tops is of the 'Dutchtub'.  This fantastic wood or fiberglass design is simple, elegant, and effective.  Using metal pipes coiling around a fire and connected to the tub, the fire heats the coils and as heat rises, the cool water at the bottom is drawn in, gets heated, and then warm water comes out the top from natural convection. You can buy these pre-made and reviews on them are fantastic! However they do cost a pretty penny.
Of course, you can also DIY your own dutchtub with a few coils and tubes as seen with the steel tub above.
So, now there is no excuse not to create your very own spa to relax in while staring at the stars and sipping wine, reading a book…or doing…whatever else you want to get up to.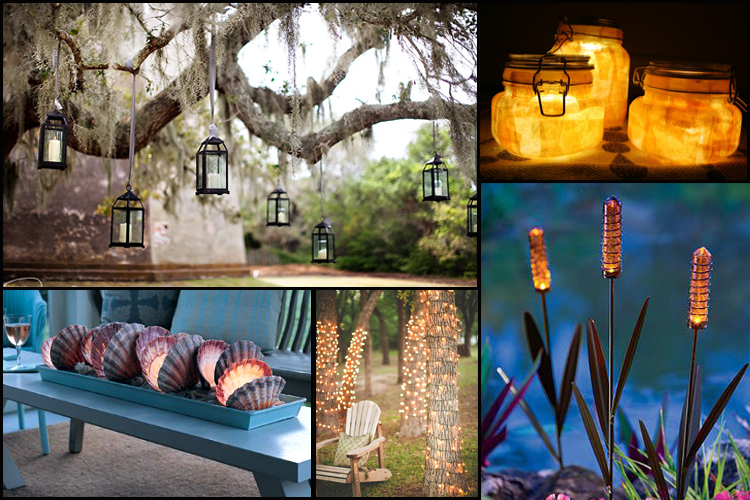 Outdoor Lighting
Nothing sets the mood like lighting does.  And nothing can transform a space as easily either.  From the easy-to-find string fairy lights that can be plugged in and  wrapped, twirled and hung on just about anything, to solar lights and candles.
There are a million and one different DIY ideas out there, just look and get inspired.  Mason jars, wine bottles, shells anything can be transformed with a couple simple touches to make your outdoor living area something to remember.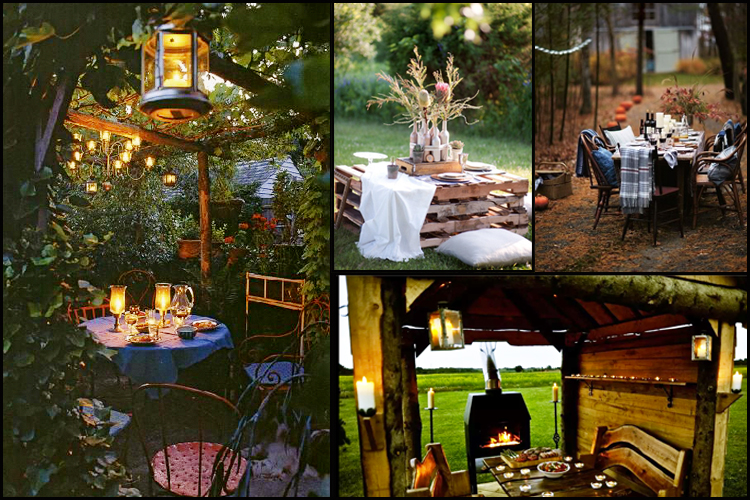 Outdoor Dining
People seem to think that for a stunning or romantic outdoor meal experience, you need to whip out the visa and count on spending some serious money at a fancy restaurant.  But it doesn't take much to turn your own garden area into a place of dreams.
You can get complex with fancy tables, chairs, and lighting, or you can go simple with a few pallets of wood and some flowers.  If you don't want something permanent, then its simple enough for an occasion to simply bring your dining table outside with some candles and voila!
If you want something more permanent, think about some kind of cover, canvas gazebos are very affordable and easy to set up.  If you want something even more permanent, then a simple shelter can make it so you can dine outside all year round, add a fire and away you go, outdoor dining for all seasons.
Outdoor Fire Pits
There is something about fire that speaks to us in an almost cellular level.  It mesmerises us, calms us, excites us, gives us warmth, cooks are food, it is a place of safety, and has been for thousands of years.
When we think of outdoor fires we usually get warm fuzzies as we think about camping as children, or bonfires on the beach with friends. Part of downsized living is making room for more of the things that matter, and spending time with those we care about.  And there is no better way to spend times with friends and family then singing songs in front of a fire with fingers sticky from s'mores.
You can go out and spend a lot of money on fire pits, such as the stunning wildlife braziers form 'The Firepit Company' featured here, or the larger cement or metal bowls you can find in many outdoor stores.
But it is so incredibly easy to make your own! Dig a whole, line it with stones, and for pennies you can have a stunning fire pit!  Or in this article here, easy instructions are given for how to build your own beautiful stone firepit for just $125!.  There are a million and one creative ways out there to create a firepit or brazier.  You can even put two tire rims together!
If your after more of a mystical look without smoke, then check out something called Fire Glass, a tumbled glass that has been tempered to withstand high heat. This is to use with either natural gas or propane.  The glass retains and reflects heat, and is stunningly beautiful! While were not fans of promoting fossil fuel use, you can still use fire glass with natural and renewable ethanal sources for a beautiful and more sustainable fire.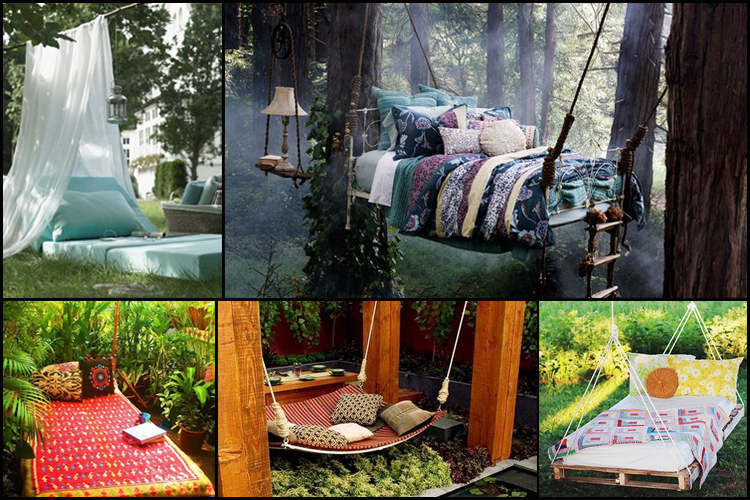 Outdoor Beds
Nothings says outdoor living like sleeping under the stars.  When you look up at the sky at night, you can help but feel how vast space is and be awed at the fact you are even alive.  Imagine feeling that way every night when you go to sleep? Thats what it feels like to have an outdoor bed.
And again with most things, you can get as fancy, or as simple as you like, the most important part is to JUST DO IT! don't wait. Go out today and get a cheap mattress from a store, even a foam pad or blow up mattress! Cover it with a nice blanket, get some pillows, and away you go!
And again, it seems all the best things can be created from…wait for it…wood pallets.  You can make an easy hanging bed as featured above, or put a couple on the ground to give your padding some separation from the ground and you have your outdoor bed.
Of course, if you want to get fancy, you can build a permanent structure to hand a bed form, or a permanent structure to house your bed with overhead protection, but it really doesn't need to be that complicated, even setting up a hammock for noon naps can create that magical feeling of being one with the wind and sun around you.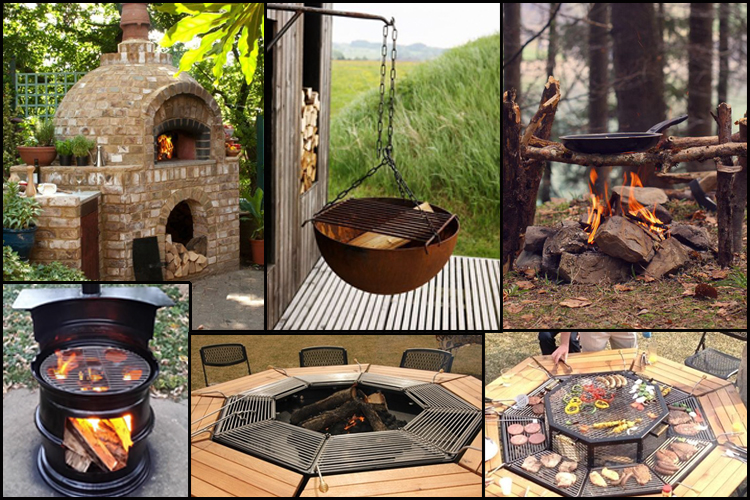 Outdoor Cooking
And last but definitely not least, its time for some outdoor grub!!  Food taste better eaten outside.  And food taste somehow even more better (yes, I'm aware that was in no way proper english) when it is cooked over a fire.  That is why some form of outdoor cooking should definitely be included in your outdoor living fantasy (okay…there may be a few more reasons then that).
For something easy, use a fire pit with a grill over it, or just a cast iron pan right on the coals! you cant go wrong (just don't burn your hands!). Hanging fire pits can be great for cooing as it brings the food higher and makes it easier to navigate.
You can use all kinds of materials to craft your outdoor cooking space. From metal barrels, to cob and stone – the choices are endless.
If you want to get really creative, turn your whole table into the dining and fire experience and go Korean style with a fire in the middle of the table for cooking.
Live Big Outdoors!
Outdoor living ideas are endless.  Many people get intimidated when thinking of over hauling their garden or lawn, but don't be! With a simple few touches that you can do yourself, probably out of things you have laying around your home, you can transform your boring backyard into your fantasy garden.
Downsized living is all about making more time for things that matter.  We don't need giant houses and big mortgages. we don't need dozens of rooms to clean and worry about.  Small homes doesn't mean less living areas, it means more of the right kind of living areas.
So get your but off the computer and go transform your garden today!