• Tiny House
12 Beautiful & Creative Tiny House Lofts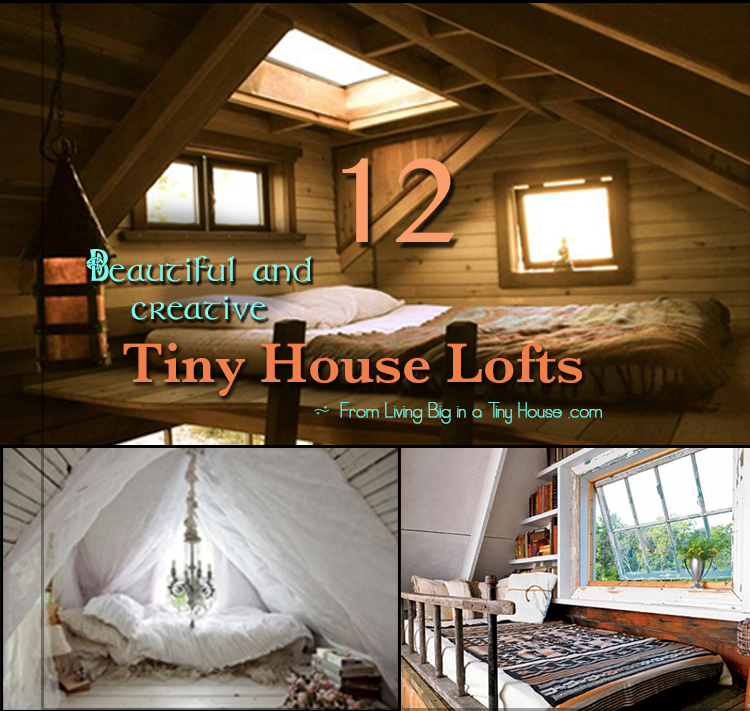 When one thinks of loft spaces, a variety of images may enter your mind. From cluttered and dusty attic spaces, to tree house fantasies. That is part of makes creating your own loft space so much fun.
Tiny Houses are unique in that nearly all have loft spaces, and it is an important and integral part of designing your tiny house.
Loft spaces are directly tied to the type of roofline you want, and vice versa.   If its important for you to have a large sleeping loft, with lots of head room, you should think about a flatter roof line, or dormers over your loft.  If its more important that you maintain that beautiful tiny cabin feel with the traditional gable roof line, then your loft space will be more on the small and cozy side.
No matter your roof line, or considerations you need to make for your loft space, these amazing spaces below will surely get your creative juices flowing.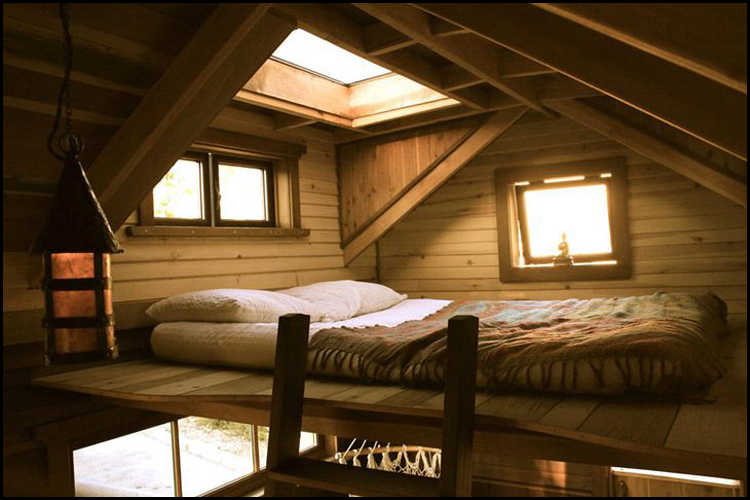 This loft space called Tiny Humble Abode creates a stunning contrast of simplicity and beauty. This kind of simple and clean beauty can only happen if one is truly willing to downsize. There is no storage, no boxes, or anything to crowd up the sleeping space. Just a bed, windows, and the stars.
Dormers over the loft create additional headroom and space for easy movement. If the loft is large enough, dormers allow the head of the bed to be placed in any direction. Here the loft is more narrow, but this opens up the living area below for more head space.
The loft is surrounded by windows on either side providing an abundance of airflow. Not only this, but a skylight over head allows those lounging above to have a nature show 24/7. Skylights can heat up a loft quite quickly, but with a little shading and windows to cool the space down, it can be worth it.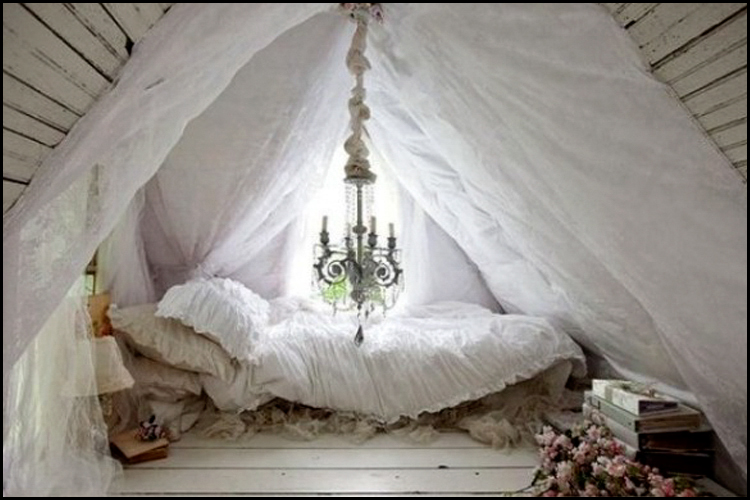 While not a tiny house, it's nearly just as small, and definitely deserves our mention. This studio cabin in the French countryside looks like its come right out of a fairytale, and I can see why an artist would choose to live here.
It's the traditional classic gable roof, but the decor brings it to a whole other level.
Draping walls in cloth can provide a cozy and elegant twist. A matching luscious bed set, plus flowers, books, a lamp and a chandelier are the lofts only other accessories. This keeps the loft simple and clean, while at the same time being incredibly luxurious and magical.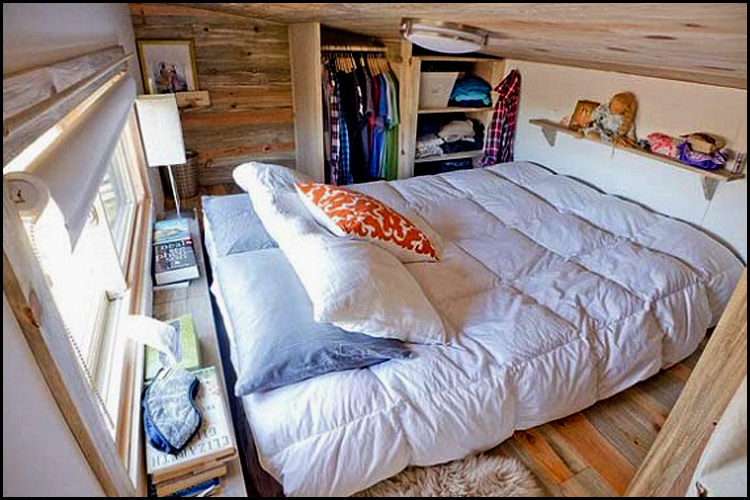 The tiny house built by Alek Lisefski takes us in a dramatically different direction than the Tiny Humble Abode. This isn't just a sleeping loft, it is a true bedroom. Clean modern lines and colors meet a cozy full sized bed and ample, well-organized storage.
It is hard to create storage compartments that work well in such a small space without over cluttering or making the area feel cramped. But Alek managed a closet, headboard, reading lamp, bookshelf, and knick knack shelf all while maintaining a sense of clean space.
The shape of the roof allows head space where it is most important, and the single window would help to keep the loft cool while still providing airflow.
All around this is one well designed loft with an incredible use of space.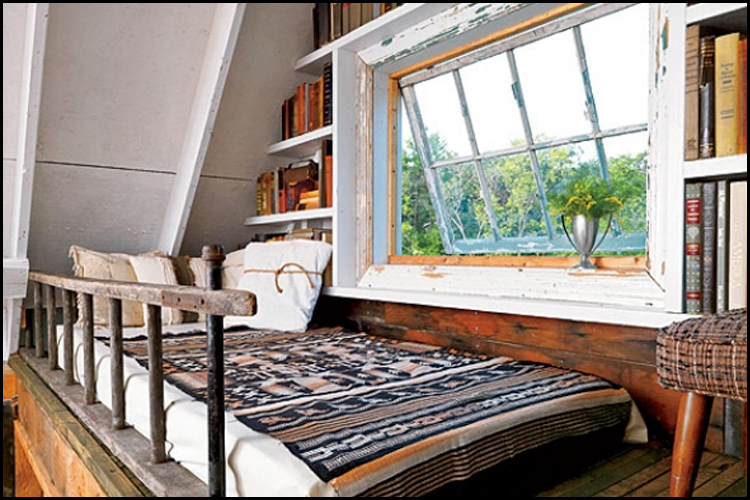 This amazing tree house has a loft space that combines a bed and shelves packed full of books into an ideal little reading nook. The banister can act like a ladder, and the space as a main bedroom or second loft for a tiny house. This simple space romanticizes the idea of what a tiny house is about. Minimal clutter, maximum relaxation.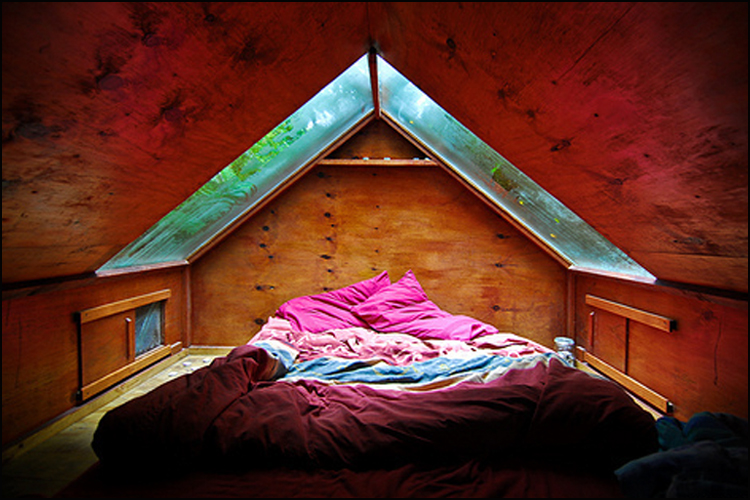 MYSTERY TINY HOUSE WITH AMAZING SKYLIGHTS
This Tiny House simply stuns with the one obvious features.
Its enormous, all consuming, imagination gripping skylights.
You simply wouldn't feel like you were inside at all, but rather staring into space, or floating along with the clouds. This lot just blows our mind with house peaceful and serene it is.
If you manage to drag your eyes away from the windows, you can notice smart hidden storage in the walls. Where the gable roof hits the wall edges, it gets so narrow it becomes difficult to use space, but this creates a storage space that actually looks like a wall.
One thing to keep in mind is that with any skylight, you begin to have issues with either loss of heat, or far too much heat. And with windows this size you will definitely have issues with maintaining a comfortable temperature.  But this can be sorted by using double pained windows, and by finding a way to block out the light in certain times of days.  Also having windows you can open in the loft to help create airflow and cooling is very important.
Either way, this loft creates a treetop feel that is incredibly inviting.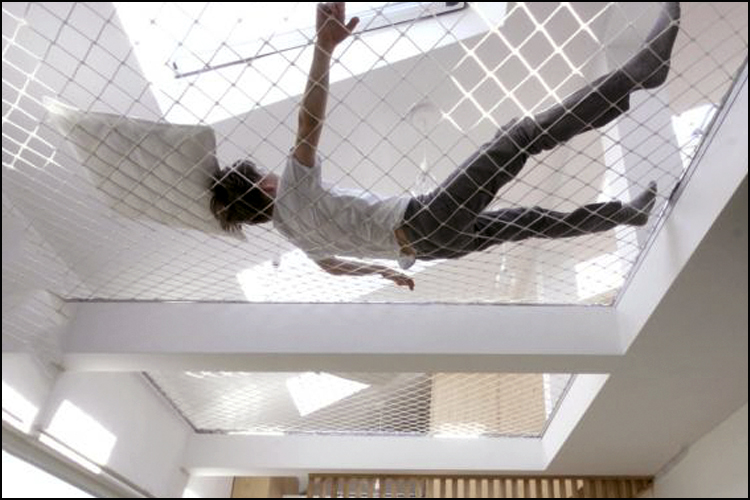 Of course, you don't always have to do the obvious. If you have a double loft and want a fun creative way to connect them, or just a relaxed place to hang out, what about a net loft?
You could span between two, or use it as a type of hammock loft over on one side of the tiny house. Who wouldn't want to have a hammock in their home after all?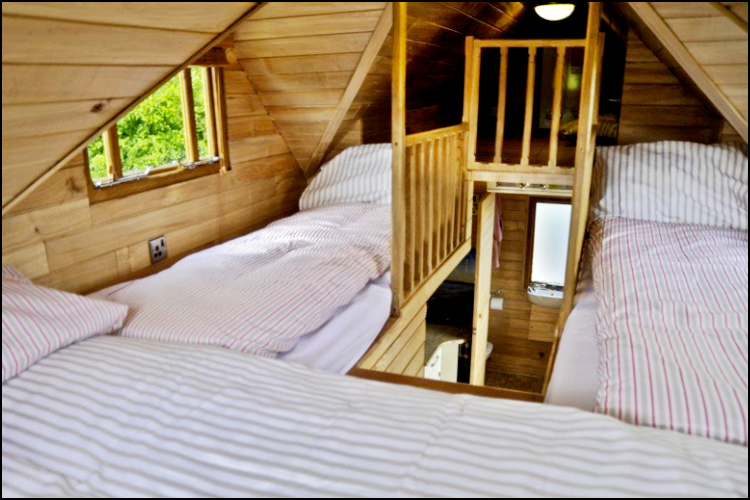 This Loft may look like it is all just a lot of beds, But beyond the mattresses crushed together is something genius.
This is a full loft. Or in other words a two story Tiny House.
The top story actually hosts both a room for the smaller beds on one side of the house, while on the other side is another room hosting a queen bed. The stars come up in the middle, allowing full around access to both sides.
This Tiny Wooden house in Warwickshire, England, is another tiny house that you can actually hire for a vacation. If you have a large family, or simply want more space for storage, then this loft idea could be for you.  It doesn't have to be filled with beds, it can be filled with whatever the imagination can dream up.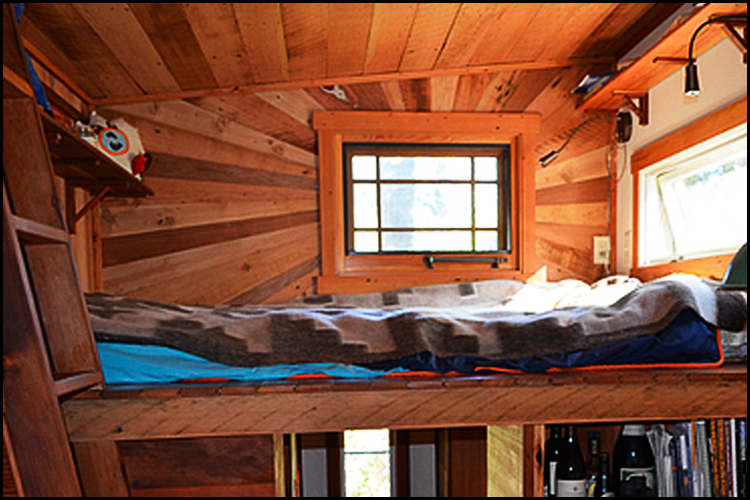 Colin's Coastal Cabin has a real bachelor pad kind of feel to it. At the same time it has elements of such stunning woodwork that one can only be entranced.
The high mono pitch roofline allows for the most possible head space without going for a flat roof. There are two built in shelves at the head and foot of the bed, plus built in lighting.
However, the shining glory of this loft is undoubtedly the fantastic art that is the stunning woodwork he did himself. It goes to show that sometimes it is the simplest things that can really make a part of the house shine. You don't need to buy expensive artwork, or trendy curtains, just get creative with the actual building and woodwork itself.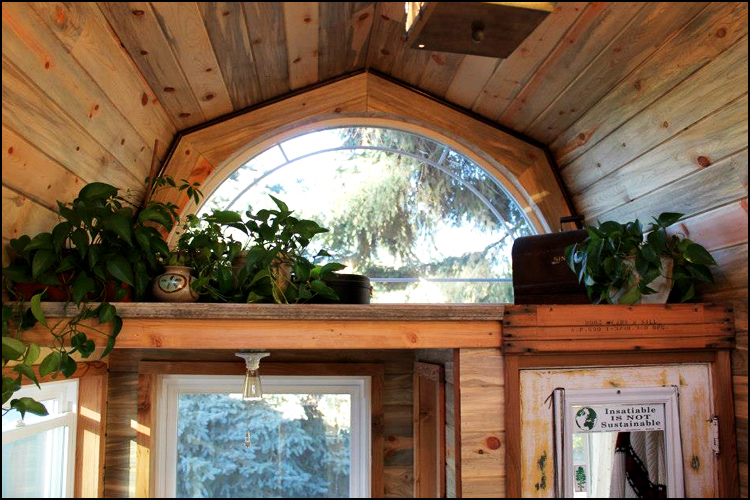 April's double lofts with her Gambrel roof are absolutely stunning. In particular is her second loft featured above. The dome shaped window offset by the half hexagonal shaped roof teaming with green life not only is beautiful, but would help to purify the air in the living space as well.
Not every inch of your Tiny House needs to be used for storage, sometimes it nice just to let things…breath.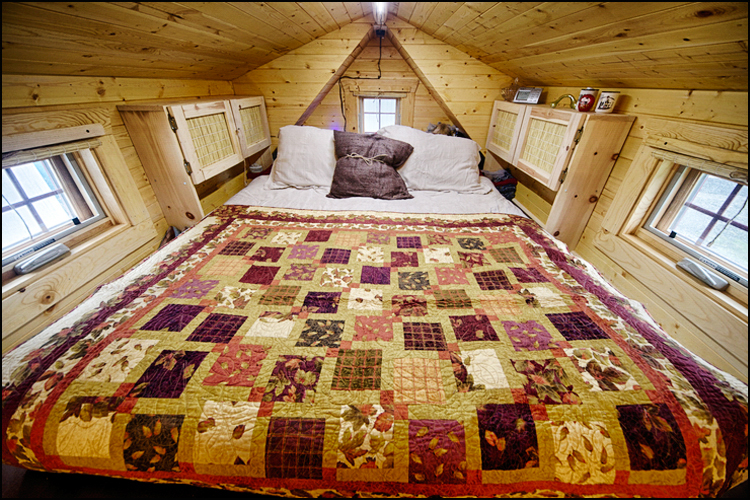 The Tiny Tack house is yet another example of a beautifully designed bed space with storage.
This loft combines high walls with windows on three sides creating wonderfully cooling airflow. The change from gable to dormers to gable again at the very end creates a beautiful artistic flare to the architecture.
Most surprising however is the way they worked in storage. On either side of the wall are beautifully designed cupboards that rise above the bed. Creating easy to access storage space. Even the combination of textures in this loft, from the lines of pine to the woven texture in the cupboards add dimension and beauty to this simple but effective loft.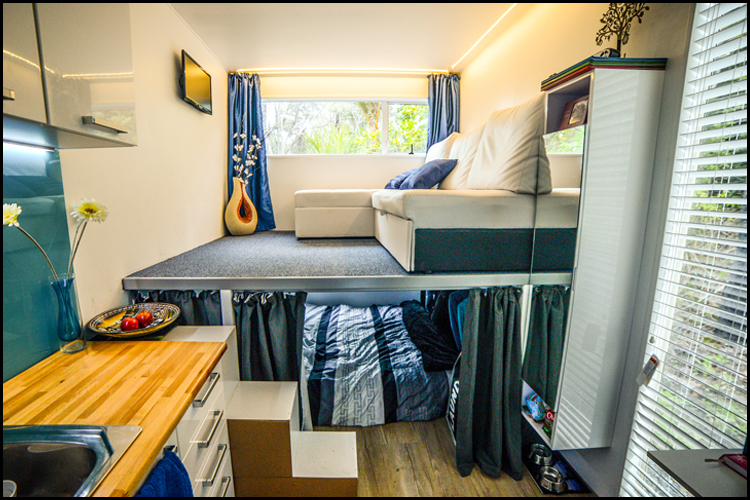 BRENDAS 20FT SHIPPING CONTAINER
When we saw Brendas compact shipping container, we were blown away at how creative she had been with her loft. In other words, she flipped every assumption as to what the loft should be on its head.
Here, the living room is on top.  This means that when you walk into her home, there is nothing hovering over you, just amazing open space.  And in such a small area, we really felt the effect. You could easily access the living room, and while there you felt a sense of openness around you.  In her bed, as she says, you don't need much room to sleep.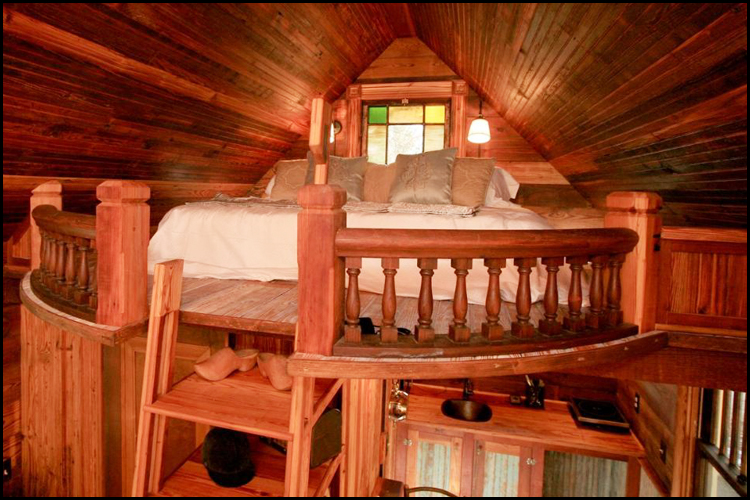 This loft has many stunning features.  From the nautical boat cabin style banister, to the ladder that is also a shelf.  The simple full bead, with dual lights, and contrasting dark wood with hues of amber, mahogany, and pine creates a richness that further enhances the beauty of this incredible loft space.  Who wouldn't want to spend time up there?
Whatever your choice of a loft space is, and whatever your constraints may be, there are endless ways to be creative with your loft space.  Don't be afraid to think outside the box.   This is your time to make your childhood fantasies come true, so go hard.