• Articles
10 Unique Storage Ideas For Your Tiny House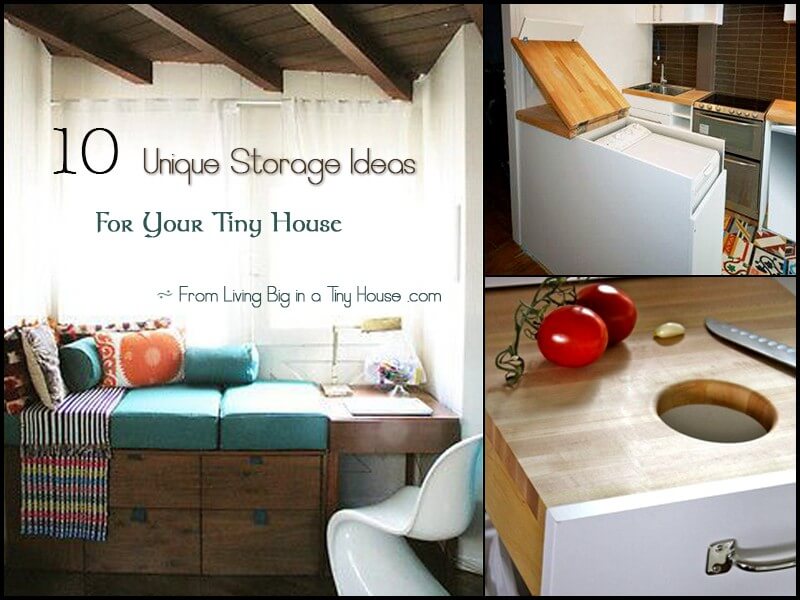 If you're about ready to take the plunge into building your own Tiny House, then you already know that storage, or rather the lack there of, is one of the main concerns for would be Tiny House builders. In today's culture, we are use to 'bigger is better' and 'more is better' mantras, which means we end up accumulating a lot of stuff. For many people this accumulation can seem almost overwhelming. A constant flow of clutter that seems impossible to maintain. So when it comes to the idea of living in a Tiny House, one could understand how such a small space would seem claustrophobic and overwhelming.   And indeed it would be! If we applied the same consumer mentality to Tiny House living.
However, most people drawn to Tiny Houses are attracted to the movement because of their deep desire to live a simpler, cleaner, more environmentally friendly lifestyle. There is a desire to spend less and live more. This means clutter, and the urge to buy more things, is something that will never be harmonious with Tiny House lifestyle.
With that said, we all do have things we need, things we want, or things we simply wouldn't want to do without that make our life enjoyable. And that is what it is all about! Enjoying this precious life in the moment we are living it.
 So, here are some fantastic unique storage ideas to help get the creative juices flowing and inspire you on your journey!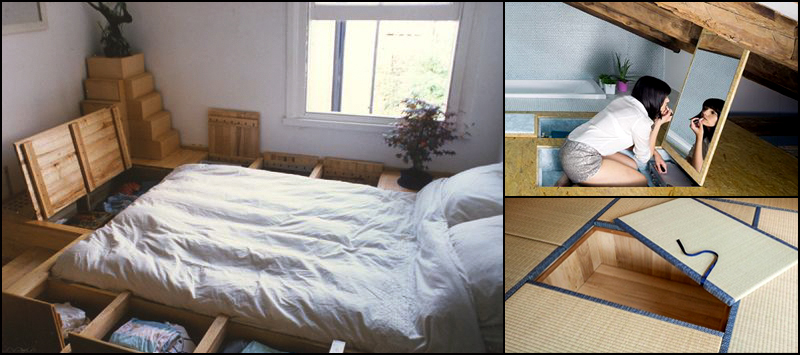 Floor storage- In a Tiny House, space is worth its weight in gold. So if you have room in the loft to build in shallow floor storage, or anywhere else in the house you don't want to fill up with insulation, then why not use it? You can have pop up mirrors, pop up clothing bins, books, hidden whisky flask, you name it.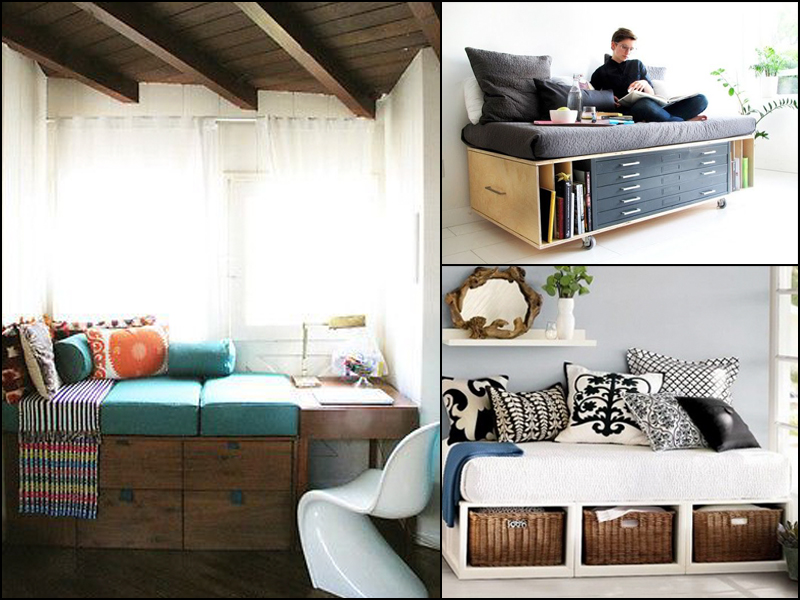 Lounge Storage – Every tiny house needs a place to relax, read a book, or socialize. So if you have a couch or any other form of seating, then turn it into a storage space! Indeed many peoples largest storage space ends up being underneath their couch or other seating area. There are many creative ways to accomplish this. Top lift couches, side drawers, pull out basket, and shelves are all effective and easy ways to add more storage in a clean and stylish way.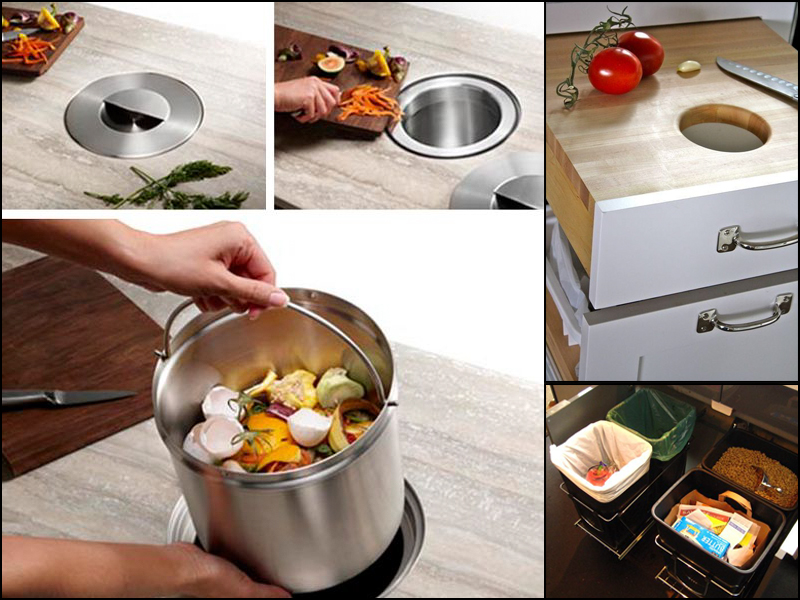 Hidden Compost or Rubbish Bin – As much as we try not to create waste, there are always things left over. Packaging, wrappers, or food bits we can't use or cook with. However, a large floating rubbish bin is not ideal in a small space, and with many Tiny Houses on the move, larger outdoor bins aren't always an option. When things are difficult people tend to get a bit lazy and forgo the extra effort. So it is important to make recycling and composting as easy as possible.   This is why it can be a perfect solution to have a hidden composting bin built right into the countertop, or alongside the recycling and rubbish bin hidden below in the cupboard.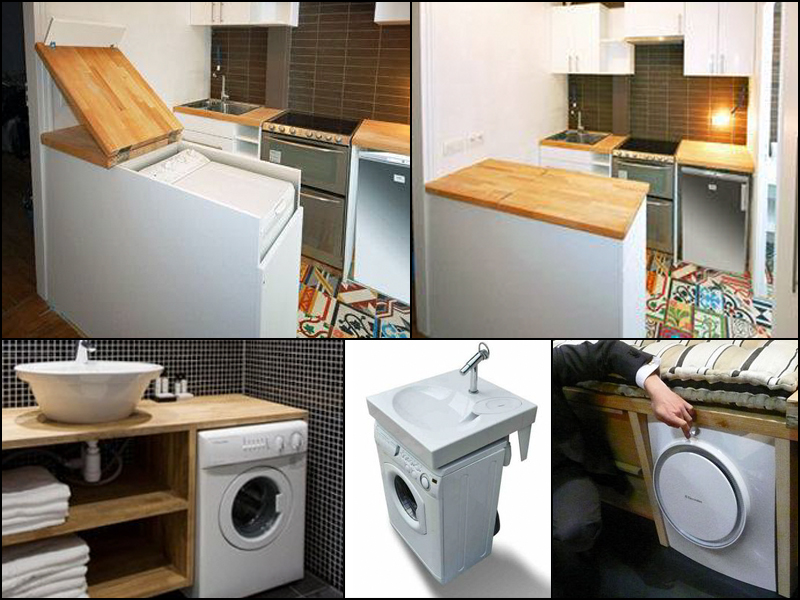 Hidden Washer – Having a washing machine in your Tiny House comes down to personal preference and feasibility. Many Tiny Houses want to be off grid, in which case having a hand turning washer is a possibility, as is simply going to the laundromat (after all, your saving on rent and bills, you can relax and have your laundry done for you!). But for those who are plugged into a water supply and have ample electricity, having the convenience of a home washing machine is fantastic, and for some people, necessary. So the question is where to put them in a tiny house! Many people put them under counter space and cover with regular cabinetry doors. This is a great idea! The above photos are some other more unusual and creative examples that open up possibility.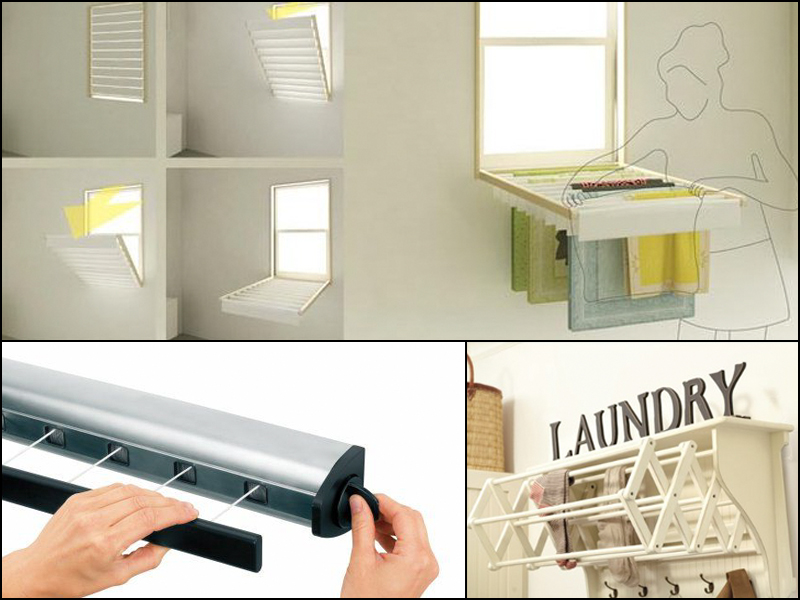 Hidden Clothesline – One of the little thought of things while considering your Tiny House, is how to dry your clothes! Many people opt to simply go to the Laundromat, but for those who can wash at home, a simple pull out clothesline can do the trick! Fold out stand alone clothes lines have the tendency to get in the way, and when they aren't in use you have to find storage for them, not good in a Tiny House scenario. A pull out drying line built inconspicuously into the house can solve this problem.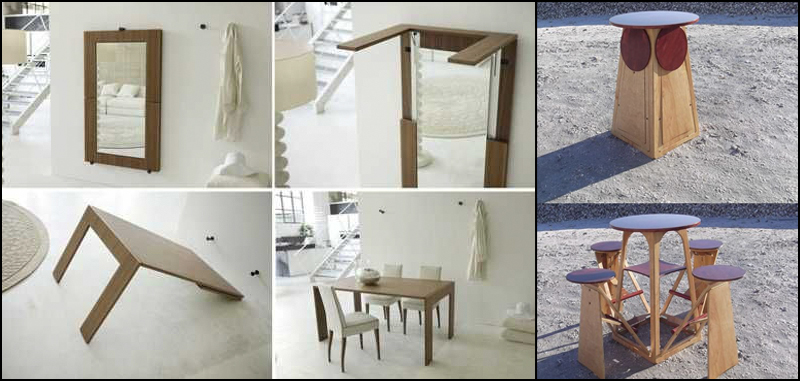 Multi Use Furniture – Many people have seen the tables that fold up from the wall to be used as a counter or table space, and this is a great use of space! But some furniture can be even more multi functional. For instance, a mirror that changes into a lovely dinning table. Or a stool/ side table that turns into a beautiful table that seats four. These furniture pieces are functional no matter which state they are in, and that is key for making the most in your Tiny House.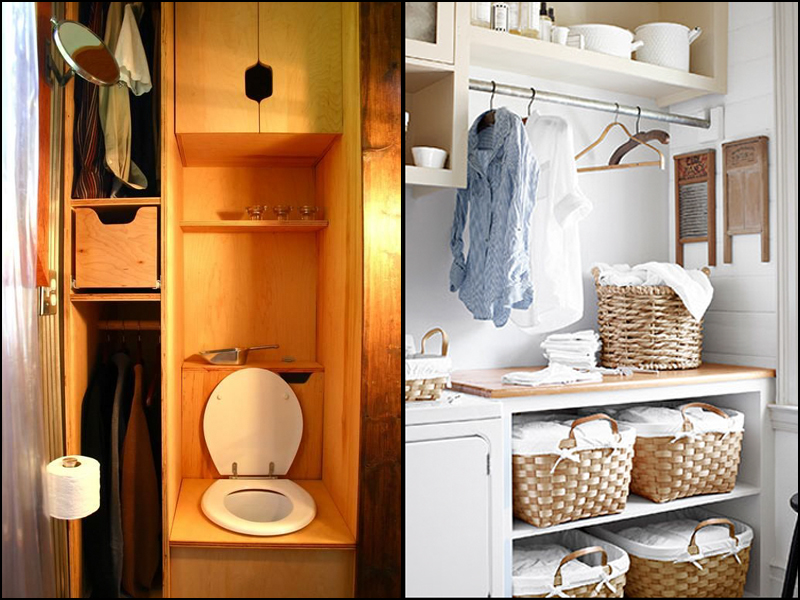 Bathroom Closet – Who has their closet in the bathroom? You may ask. Well actually, it's a fantastic idea. The bathroom is out of the way, there is standing space, and it actually makes more sense then having your clothes in the living room or kitchen. Some tiny house bathrooms are incredibly small, but for those who have allotted themselves a slightly more spacious bathroom and proper ventilation, your new closet could possibly find its new home next to your toilet.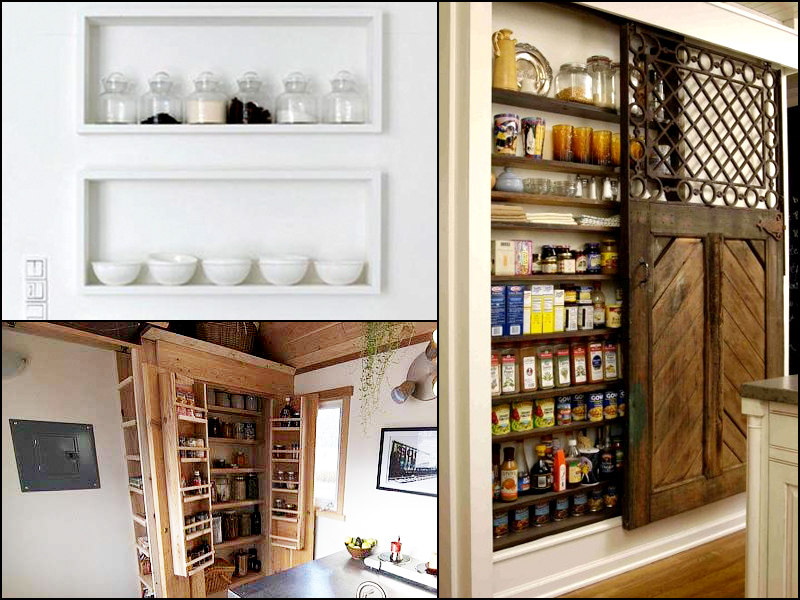 Shallow Storage – There is nothing more frustrating then trying to pack a lot of different things into a deep shelf, and attempting to rummage through past food, pots and pans, or utensils to find what you want at the back of the shelf. This is even more true for Tiny Houses where you are trying to get in as much as possible. That is why shallow storage becomes so incredibly useful. A cupboard with shallow shelves that includes more racks on the inside of the door means everything is easier to see and get too, saving you some frustrating digging. If your shallow storage is exposed, try getting creative with how you cover it! Like in the photo above where an old sliding door is used. Or, be minimal in the truest fashion and turn your shallow storage into art!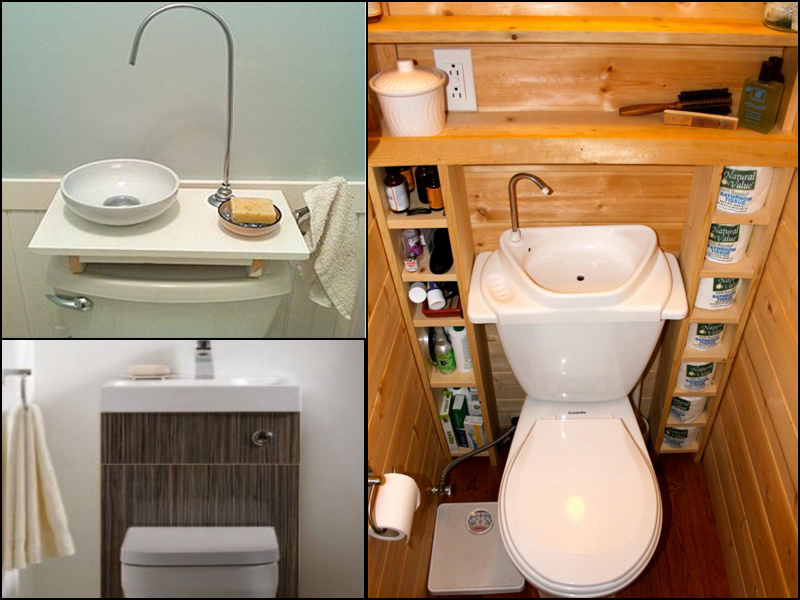 Sink/Toilet Combo- If you're not using a composting toilet, then it's a good idea to think about ways to save water. Even if you are hooked up to a water source, there is no need to dirty more water then need be. This unique idea of putting the sink above the toilet ensures the most efficient use of water in the bathroom, and puts two of the bulkiest items in a bathroom together seamlessly.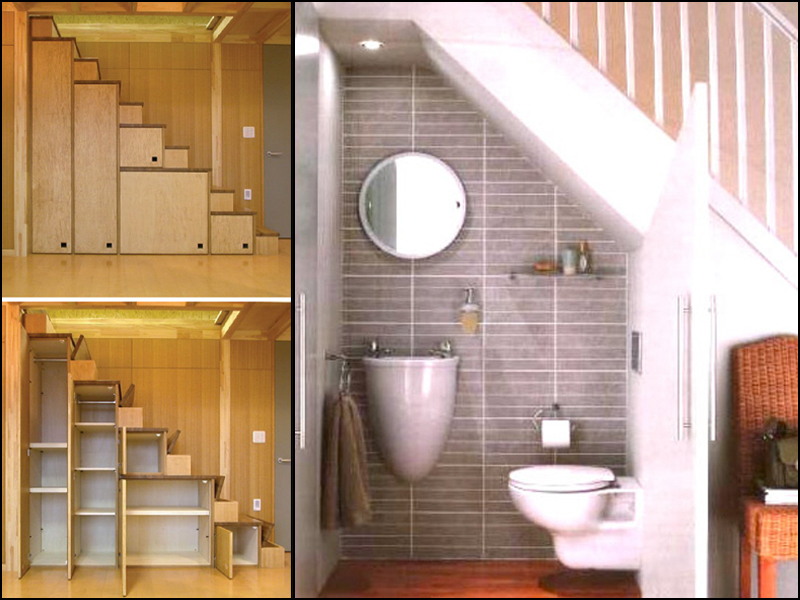 Stair Storage – If you're having stairs in your Tiny House, you have opened up an area to get very creative with unique storage ideas. From cupboards, shelving, and drawers to hiding an entire bathroom, stairs can be your most creative space yet. So have fun with them!
There are many more ideas out there, and more waiting inside your own imagination to come out and be shared with the world. We hope these ideas have got your own creativity stirring, and if they have, don't be afraid to share your pictures with us on our Facebook page!